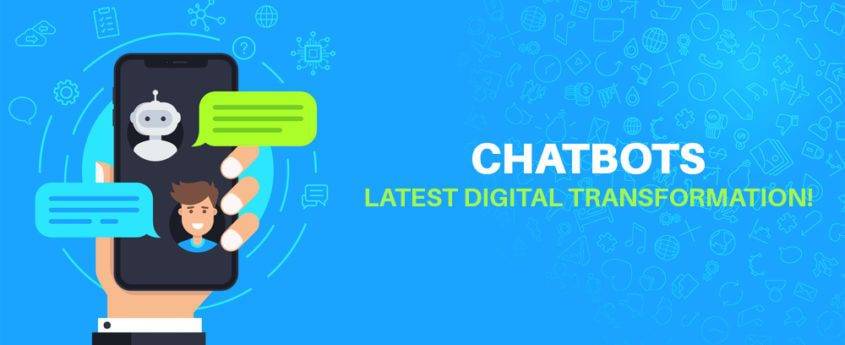 Everything You Need To Know About Chatbots Boosting Businesses Online
The idea of a machine learning system in the 1950s was considered as a myth. But due to radical technological revolution and digital transformation, we are now assisted by Artificial Intelligence (AI) in our daily routine. Businesses are using AI to market their products and services. With chatbots installed, businesses are experimenting with new ways of marketing their services online.
Though the chatbots are rapidly gaining popularity amongst businesses in recent times, the concept was originated decades ago in 1966. It was first termed as Eliza in the USA.
What are chatbots?
The chatbot is a computer program working on the lines of deep learning and natural learning program. It is used to interact with customers and provide basic answers or increase sales, or drive traffic. When it comes to marketing, automation is a powerful tool that allows you to get more in less time. Chatbots run on the basic idea of understanding cue words in a query and answering accordingly with a pre-decided answer to that cue word.
Digital Marketing comprises of SEO, Social Media Marketing, Email Marketing, PPC, Adwords, Search Engine Marketing. These are extremely effective and inexpensive way of driving business online and have taken over the business market. One of the latest developments is integrating digital marketing with chatbots.
According to International Data Corporation, Artificial Intelligence will take over customer interactions by 85% before 2020. This is because of the accuracy and deep learning methods that the chatbots follow. Chatbots tend to become better after every conversation they undergo with the end user.
According to a Forbes Article regarding chatbots, Christie Pitts, Manager of Verizon Ventures says: "Chatbots represent a new trend in how people access information, make decisions, and communicate. We think that chatbots are the beginning of a new form of digital access, which centers on messaging. Messaging has become a huge component of how we interact with our devices, and how we stay connected with the people, businesses and the day-to-day activities of life. Chatbots bring commerce into this part of our lives, and will open up new opportunities."
It is crucial for websites to hold their customers. A simple website with quick information will engage a customer more than a complex website, as, in this busy schedule, people tend to get information in a short time. Hence companies need to upgrade their communications channel and integrate chatbots in the websites and social media platforms. It is an inexpensive and trustworthy way of conversing with the customers and convert it into leads.
Let's hear what Sundar Pichai, CEO of Google has to say: "When I look at where computing is heading, I see how machine learning and artificial intelligence are unlocking capabilities that were unthinkable only a few years ago."
3 Reasons to deploy a chatbot!
"53% people are more likely to shop with a business they can message" and "56% people prefer messaging over calling customer service", from Facebook.
After companies started gaining response through digital marketing, it became hard for them to manage queries and answer them. Apart from that Facebook started telling visitors about a company's response rate which reflects it's quality and punctuality of work. Hence it became inevitable for companies to integrate chatbots to reply to customers' queries at any time of the day and ease the load on their employees. Plus chatbots can reply all throughout the day and at least solve queries from the peripheries which does not require much time. . People also found the chatbots helpful and friendly over the annoying "please hold" tape while calling to customer service centers.
1) Increase SMM traffic:
Chatbots help in increasing traffic on your social media marketing by directing customers and providing them with links meant for a particular conversation. A chatbot can provide information about an address of your company or product information or a path to a blog. Your chatbot can help you increase sales by directing a consumer to an exact location of the website, thereby making it a user-friendly website.
Facebook messenger, which is the 2nd most used messaging app has more than 34,000 chatbots deployed by various businesses. A messenger bot can be personified by giving it an avatar, a human name.
The best example of messenger bot used for marketing and sales is of a beauty brand named Sephora whose bot not only allows you to book an appointment but also choose the beauty procedure you want to undergo and you can even select the artist. Isn't that simply incredible? Moreover, next time you open the app to book an appointment, the bot helps you by making the procedure easy via recalling the past preferences.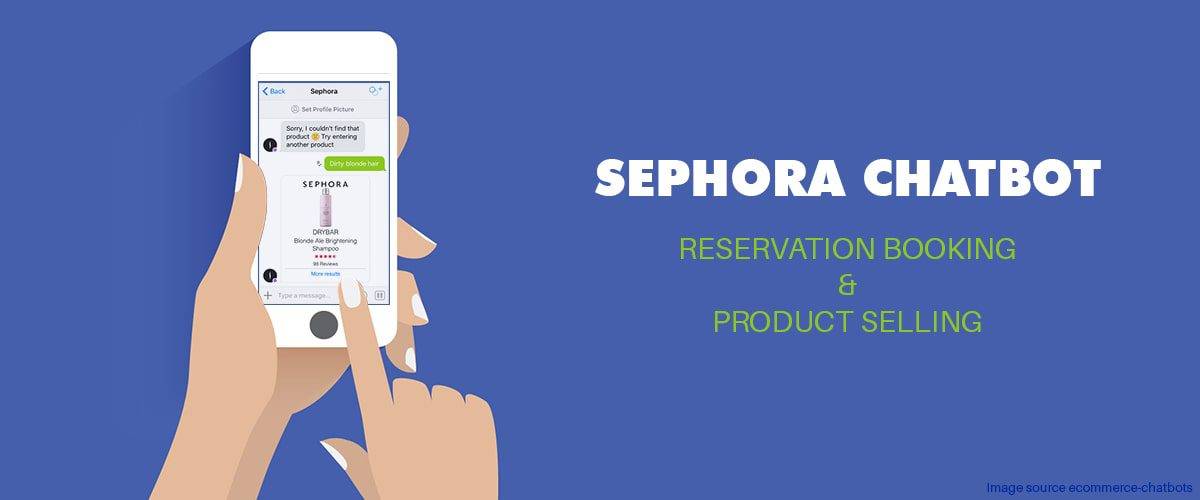 2) Handle multiple customer queries at the same time:
Chatbots nowadays make it simpler for the businesses by taking care of the large sum of queries at the same time whilst a human responder can handle average 3 queries at a time. Also with developing technology and AI, smart chatbots like SIRI, Cortana and Ok Google, provide a 2D feedback to the customers by reading out the information to the consumers or interacting with them.
3) Cost-efficient:
Installing chatbots is a one-time investment and help to reduce your staff expenses. Smart chatbots help you reply to the emails, make calls, play songs for you and also schedule a ride or a doctor's appointment if needed. They are complex and require technology to develop.
Chatbots are like Hootsuite which help you schedule and post articles, pictures and links on your different social media platforms when you are busy. They also analyze and create data for you regarding your posts and help you with trending posts and mentions of your company.
There are different tasks that chatbots are divided into. A bot can help you with lead generation, team development, online research, personalized user experience, sales, and customer conversation.
How do chatbots learn?
Just like a human brain which keeps on learning through insights, chatbots also follow the same method.
On every new conversation they have with an end user, the chatbot remembers the answers and uses the same for another similar query. But a chatbot needs to know initial answers in the first place. For this, previously recorded responses are analyzed and processed then added to the codes of chatbot to make it easier for them to learn. Once live, chatbots figure out the best answer for a particular query or response based on their insights.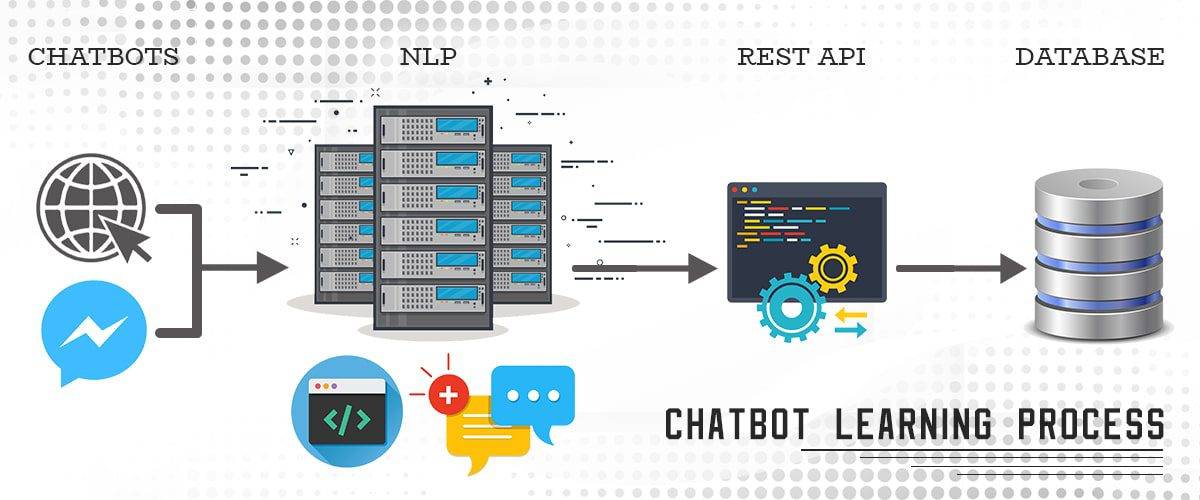 But a chatbot needs to be corrected when it goes wrong because if not corrected, it' ll keep that piece of information as the right one and will answer to the end users. Apart from this, a chatbot keeps learning new things through its journey. Unfortunately, a chatbot only knows what you have taught, hence it cannot answer complex questions which requires human intervention.
A chatbot won't unlearn an answer and will not forget too. It will remember an answer even if the query was asked before a long period of time.
What minimum features a chatbot should have?
The answer here is everything that you can try adjusting in your code. While making/updating a chatbot, try to fit these things to make it most efficient and top rated.
User-friendly: It should be easy to understand by the user.
Visual appeal: Let your chatbots make use of GIFs/emojis in answering queries which attract more attention of the user.
Natural Language Processing: Make your bot smart by having NLP which will make it more like a human responding.
Flexible: Let your chatbots be flexible to its users and not stay rigid in answering queries.
Make it count: Not literally. By this we mean, let your chatbot be good at analytics and be able to make basic calculations.
To conclude, let's just say chatbots are the wave of future because 2018 saw 2.1 billion mobile messaging application users and more than 30 trillion messages exchanged in the year 2018. Investing in chatbots now can prove a business development tool for future. Chatbots can always help you in expanding your business and breaking the borders.
We have a quote by CEO of Amazon, Jeff Bezos on chatbots: "It's hard to overstate how big of an impact it's going to have on society over the next 20 years."