Remarketing Through LinkedIn: The Marketing Strategies You Must Know
There's always a way of generating leads.
You just need to dig deep and find out how you're going to do that.
Well, it will take a lot of effort to find how to generate leads through LinkedIn, so we decided to pick out some of the best strategies, and collect them in this article.
Here, you will learn how to market your B2B business on the platform that has become an enormous success in the last couple of years.
Considering the number of business professionals on this one particular platform, generating leads should not be a problem.
If it is, don't worry, we got you!
Keep reading, and you will be able to become the wizard of LinkedIn remarketing strategies, generating tons of leads for your business.
Brace yourself for the ride ahead.
Here we go!
The Importance
Learning about the "Why" before jumping onto the "How" is something very important. You want to begin by understanding why remarketing or retargeting is a vital part of your marketing strategy.
To be honest, remarketing is just a fancy way of saying, "Hey, you've got a second chance! Don't blow it this time!"
For a business that sells SEO services and posts blogs about the same, they would want for a viewer to send an inquiry. If that's not happening, then you'd begin to wonder about the whys and the whats that are going wrong.
Well, the solution is simple. Running an ad could bring them back. LinkedIn uses web technology to track all the people who have visited your website, and show them ads of your business, as they browse through the Internet.
You can increase the response rate by at least 400% by the right retargeting way.
If you're going to be investing in advertising your business, you might as well invest in retargeting as it can prove to be of great help in the future.
The Click-Through Rates (CTR) were higher for retargeted display ads by at least 10 times than those that were non-retargeted ads.
Answering the "Why"
Do you know how much time a professional spends on LinkedIn every month? The average comes to about 2 hours!
Professionals of this platform can be known as warm leads since they would be far more open to using your products and services.
We can tell you for a fact, that at least 4 out of 5 users on LinkedIn drive business decisions, and have 2 times the power of buying your services than an average website user.
Take a look at a few numbers, so that you understand why we're saying what we're saying:

CTR increased by 30%
Contact targeting increased the click rate by 37%
The post-click cost-per-conversion rate reduced by 14%
Post-click conversion rates increased by 32%
Remarketing to Matched Audiences
You must have heard the phrase Matched Audiences while referring to LinkedIn remarketing. If not, then that's okay.
Matched Audiences is used to take into consideration all the retargeting options, reaching out to people whom you already know.
You are supposed to be targeting people who have visited your website, send out promotional messages to your existing contacts, and reach out to the key people in your targeted companies.
All of this can be done through LinkedIn advertising and it works wonders, you can see for yourself.
Does Your Business Need It?
Retargeting takes effort. So before you consider investing in the whole idea of LinkedIn retargeting, make sure you figure out a couple of details first.
Retargeting takes effort. So before you consider investing in the whole idea of LinkedIn retargeting, make sure you figure out a couple of details first.
Here's the deal, adults who have LinkedIn accounts (about 45%) are known to make over $75,000 a year.
If you are a B2B company, then there's a higher chance that LinkedIn remarketing works for you.
Alright!
Now that we're done with this, let's move onto the strategies that can be employed for retargeting purposes.
Reaching Customers
LinkedIn makes your life easy in terms of remarketing your business.
Have you ever heard of the LinkedIn Insight Tag? Well, you might want to check it out and add it to your website.
Essentially, it is a LinkedIn remarketing pixel that works like the Facebook pixel. It can track people who have visited your site with a piece of code that has been built into it.
The first step will be to sign in to the Campaign Manager to begin the process of using the Insight Tag. Click on your account name and then have your mouse hover over Account Assets.
This tab will be in the upper right corner of the screen. From here, you will see a drop-down menu where you will click on the Insight Tag button.
Next, you will see a JavaScript code appear on your screen. This code snippet will have to be copied to your clipboard.

You know the file that appears on every page of your website? You will have to paste the entire code into that file.
If you're wondering where to place it, then paste it before the closingtag.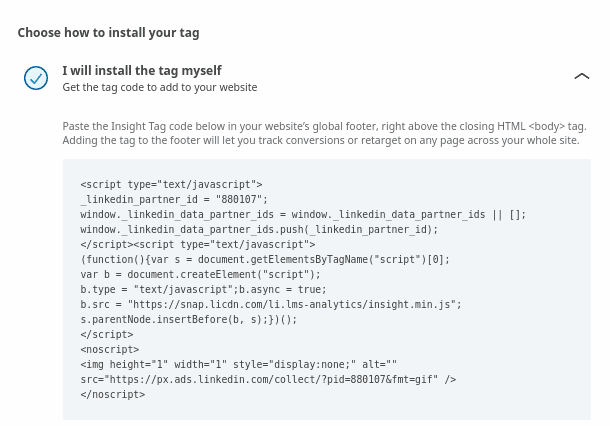 For all the WordPress users, you must paste the JavaScript code in the footer.php file. To ensure that this is the right step, check in with your development team.
This enables your site to begin the LinkedIn remarketing campaign.
Next, you want to actually launch a campaign, for which you will move to the Campaign Manager.
In the drop-down list of Account Assets, you will find Matched Audiences. Select the option that can be seen besides "Use a matched audience."
Now you will click on the button that says "Create an audience retarget button."

Since LinkedIn lets you segment your market audience very easily, it would be a smart decision to take advantage of this feature. Naming your audience based on the segment you're targeting is better than using a random name.
You can run specific ads for each segment with ease.
The URL of your blog page will now have to be added to the page that appeals to your audience.
Once you click on the save button, you will be asked to set up the Insight Tag. But we've already done that!
At this point, you're going to need all the patience in the world. LinkedIn will begin its process of verifying your business website.
This process could take as long as 48 hours.
To check whether the verification process has been completed or not you will have to go to Campaign Manager>Account Assets>Matched Audiences.
If you see the Verified written on the next screen that appears under the Tag Status column, you're done. If not, you're going to have to wait.
Once the audience is verified, you can add them to your campaign by clicking on the Audience tab.
Since your aim is to include a certain group of people, make sure that the default selection isn't excluded. You might mess things up, if so.
In the end, when you've set everything up, you will launch the campaign, and your ads will be seen by the people you've targeted with Matched Audience.
Company Page>Lead Generation Page
A lead generation page is the best thing that will have happened to you in a while.
When you change your company page into a lead generation page, people will be inclined to visit your actual website.
You want to structure your page in such a way that you get a click-through to your website. This could be either from your recent updates or the company description.
The first thing:

What you want to do in the first step is to add an attractive image for your header.
This image should not only be attractive but also provide information that your consumers would be looking for.
You want to provide something that will have the viewers read further and get to know more about you.

Second:

Create a pitch that is compelling, speaking to your audience, asking them to convert.
The beginning of this paragraph will carry most of the weight because if that's not good enough, people will leave.
A lot of businesses fail to grab their audience's attention in the first two lines.
Your description will HAVE to be audience-centric. Without having something to hold onto and go by, you will not be able to attract the right audience.
Your viewers are your prospective clients, they should be interested in knowing more about your business.
Using Advanced Searches
It's not necessary that your prospects will come and find you. You will have to get yourself going and put in a bunch of efforts to make it happen.
LinkedIn has a feature that uses advanced search to identify the kind of people that could become your clients and consumers.
Here's what you do: Header menu>search people>advanced.
You can easily narrow down your search to get what you want.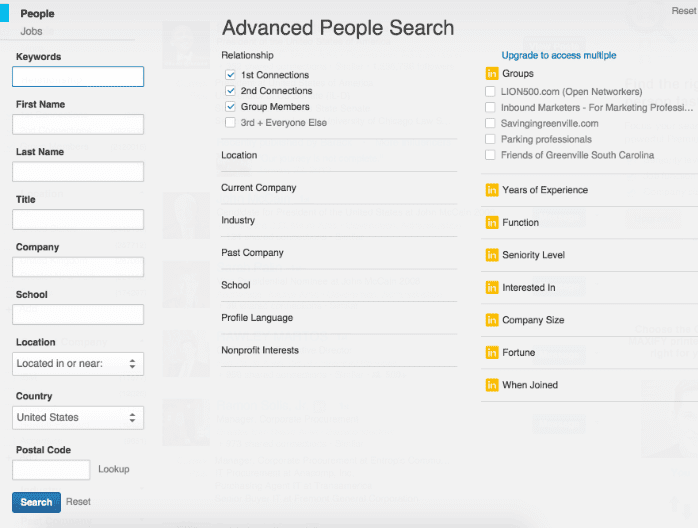 The central column has to be the most appealing factor of the Advanced People Search feature.
Here you will be able to filter out parts like industry, location, profile language, nonprofit interests, etc.
Reach Employees of the Targeted Company
This is also known as Account Targeting.
If your business wants to reach out to people who work at the companies you're trying to target, then read along! It's sure to help.
To get on with the process of setting up account targeting, go to Campaign Manager and then to the Targeting page.
You will have to specify a location, it may be all of them, but you will have to write them down.
For a finer search, Sendyou will specify company employees, or go with the company name targeting option.
As we did in the first step, you will have to add an audience name to your list. For this, you will upload a CSV file, which could contain the names of about 30,000 businesses.
Once you're done with this, click next to begin the verification process. Again, this could take 48 hours as it did with the part where you added your audience names. The checking process remains the same, so you can refer to step 1 for it.
After the verification is complete, you can add the names to your campaign and let the retargeting begin!
Targeting Email Contacts
Hey, there is another way to reach out to people! This method also uses the Matched Audience feature.
You must have an already established email list sitting on your computer, right?
So, upload this list onto LinkedIn. Make sure this list includes all the professional emails and not the personal ones, or your attempt at retargeting would be a fail.
The email list that you are uploading as a CSV file will have to be in a single column. The first entry in the file should have a header labeled as "Email" for your convenience.
LinkedIn has certain restrictions when it comes to emails. Don't worry; it's not a lot to handle. Your email list has to be a minimum of 300 contacts, but less than 30,000.
Go to Account Assets to reach Matched Audiences and then go to the Uploaded List Audiences tab. From here, you will click on the Upload a List button, after which you will have to select Match Based on List of Contacts. Finally, you will be able to upload the CSV file.
Yet again, you will have to go through the process of being verified, and it is only after this that you will be able to release your campaign.
Okay then!
We're hoping that by now you have understood the essentials of remarketing, whether or not you should go for it, and the strategies that come with it.
LinkedIn is THE platform for businesses, especially for B2B businesses, that can prove to be highly beneficial.
We hope you take advantage of the same.
Good luck to you!