December 2020 Core Update – Third Core Algorithm Update of 2020
The Big Announcement:
Google has released a new core update – December 2020 Core Update after 7 months
Probably, that's what everyone is feeling right now after the May Core Algorithm Update!
On 3rd December 2020 @ 1 pm ET, webmasters received the last (probably!) shocking news of 2020 after Google announced the December 2020 Core Update rolling out live after the May 2020 Core Update and January 2020 core update.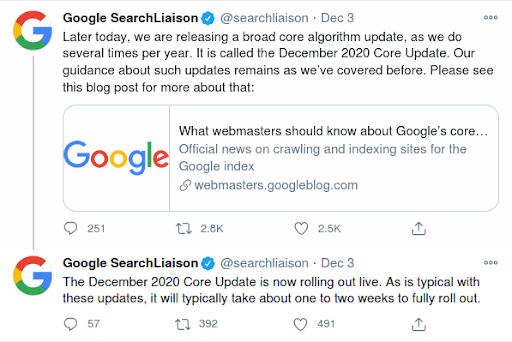 Disclaimer: The update will take about one to two weeks to roll out fully.
What does this Update Mean to the Digital Marketing Industry?
Google activated the last major core update 2020 that seems to have the teeth of a true Google broad core update.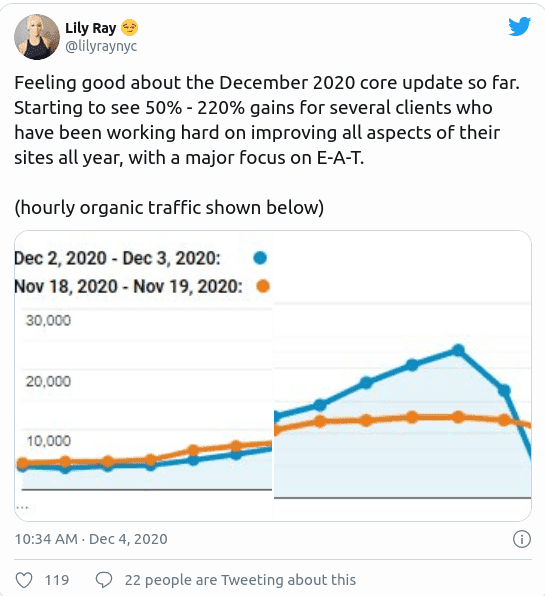 Many sites have been reporting an increase or decrease in their rankings. The last update took over 2 weeks to roll out fully, but many witnessed the previous update within 24 hours after it rolled out. To be specific, the May core update started from May 4th to May 18th, i.e., 2 full weeks. 
For all webmasters, the directives are the same as per Google's explanation that broad core algorithm updates are done to reassess the quality of pages ranking high on Google.
In simple words: The websites that aren't ranking high on Google despite publishing high-quality content will witness a boost while some websites will decline. Webmasters have to find out the reasons for the drop and work on it accordingly.
If you experience a drop in your rankings, then Google says that a drop in ranking after the core update doesn't mean that your content is bad. Instead, it means your competitors have written fresh content or data that your users are more interested in reading.
The most significant thing about this update is that it rolled out after 7 months, whereas since 2018, Google rolled out an update after every 3 months. I know what you're thinking now. Let me introduce you to the ins and outs of the recent update.
What will Change After the Update?
As said earlier, it would take a few weeks to see the full impact. However, digital marketers need to take a step back, look through their data, and intuit the May Core Update changes. This will help in identifying the loopholes and working on it.
I would advise you to focus on publishing high quality, meaningful, and in-depth content that makes you look like an industry expert.
Thin Content is a Big N-O!
This new update accelerates the departure of thin content by penalizing and demoting it. Thin content means small, poor quality content, or an article that doesn't justify the topic extensively. Also, keyword stuffing and publishing poor content with backlinks has become a thing of the past.
If you're noticing any fluctuations or content dropping in SERPs, make a point to examine your content w.r.t its length and depth. High-quality writing and in-depth industry knowledge are the need of the hour. It's time to hire and restructure your content marketing department for the best results!
Unsupported Backlinks are Useless Now!
Earlier, thin content was often retrieved using good backlinking. Even today backlinking is an integral part of Google's algorithms for Search Engine Results Pages (SERP) results. After the May 2020 Core Update, content that was supported by backlinks plummeted drastically.
Make sure you adhere to proper backlinking practices using high-quality content. However, the new algorithm is smart enough to recognize the mismatch between your content and link quality.
BEWARE OF POOR AND KEYWORD-STUFFED CONTENT!
Directory Listings are More Important than Ever!
Many of you might have seen a growth in your directory listing; that's because Google is promoting directories to users to find information efficiently. Directory listings will amp up your SEO efforts. While old or incorrect information, spelling mistakes, duplicate listings will reduce your visibility and popularity.
How will the December 2020 Core Update Affect your Business?
News outlets have seen an increase in traffic and almost no drop in SERPs, thanks to the pandemic and elections 2020.
Today, people are searching for more relevant news than ever. By saying so, I wanted to say that not all industries are affected by Google's algorithms.
Although, industries like travel, health, real estate, etc., have experienced a significant change after the May 2020 Core Update, according to a study by Search Engine Land. Whatever industry you belong to, the May and December Core Updates should be taken as a motivation to look into your digital marketing practices and re-evaluate them accordingly.
To Round It off… 
The new update is the best Christmas gift for webmasters who have always aimed to create high-quality content and are rewarded in the form of high SERPs. The main goal of Google's algorithms is to make the user experience as seamless as possible. It's time to get started with producing relevant and informative content for the year 2022.
Till then, your rankings are likely to flip up or down a bit over the coming weeks. If you need guidance on recovering from a Google Algorithm Update, listen to this podcast by SEO Director at Path Interactive, Lily Ray. She will help you to recover from a core update and improve your SEO performance.
Read this: Recovering from a Google Core Algorithm Update with Lily Ray [PODCAST]