Google rolls out May 2020 Core Algorithm Update : A different perspective to SEO
On 4th May, Google's Danny Sullivan announced to roll out the second core algorithm update of 2020. Google announced another update after its first core algorithm update in January.
"May 2020 Core Update" is the official name of the update announced on twitter.
Unlike the daily updates that Google launches, the broad core algorithm update has vast inferences as it is well known for shuffling the organic results, causing variations in the organic rankings of websites.
The world has changed with the hit of Covid-19. Thus, Google rolls out another update looking at the changing behaviour of users.
The First Core Algorithm Update since COVID-19
The last core update was in the month of January 2020, wherein 'coronavirus' and 'COVID-19' were hardly the known roads for people. Now with the world suffering from 'coronavirus', which is declared as a pandemic worldwide, there has been a significant shift in users' search behaviour.
According to Google, COVID-19 is the most searched topic on the search engine than any other topic been searched any time before. Users are exponentially searching on Google regarding topics surrounding COVID-19. Information and updates about the pandemic, places offering remote services, buying essential products online or learning at home. On the contrary, topics that were pretty much relevant earlier aren't searched much now. Searches related to travel, tourism, events, movies have all declined.
If you are seeing massive traffic drop or keyword positions decreasing, avoid making a series of changes at this point.
The rollout was pre-announced through the Google Search Liaison official twitter handle: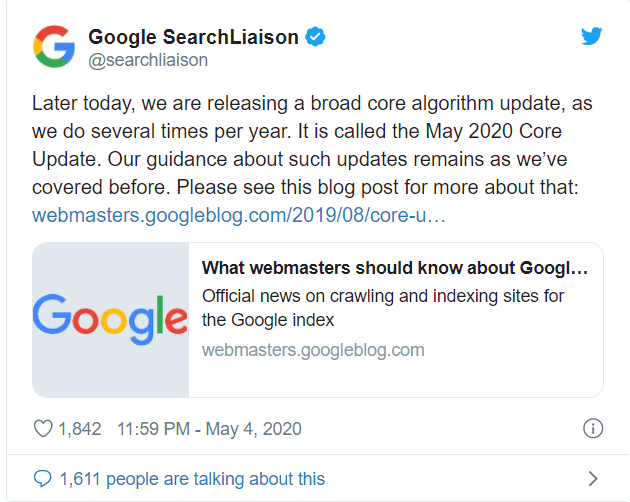 SERP variations in Algorithm Trackers for April-May 2020
Considering the algorithm trackers, there are high fluctuations each day. The world is facing unforeseen circumstances and the same is happening in the search landscape.
AccuRanker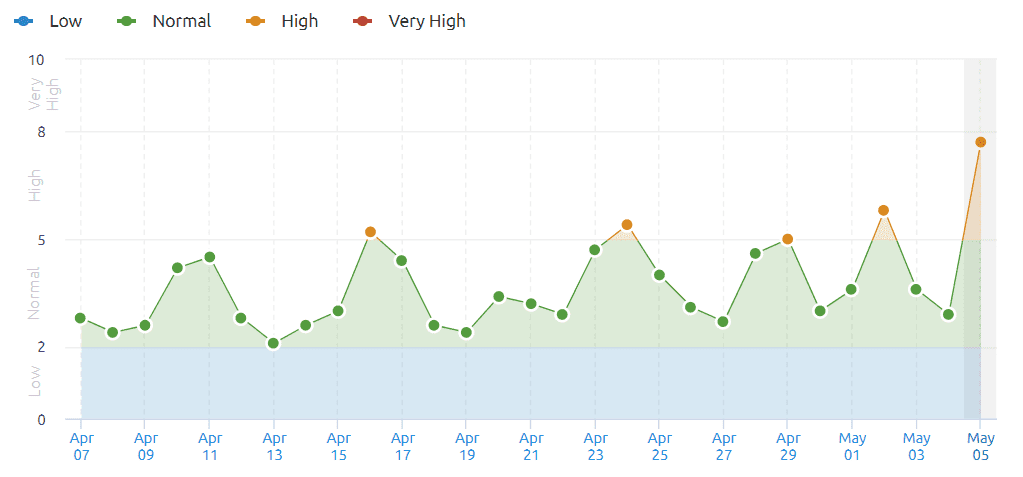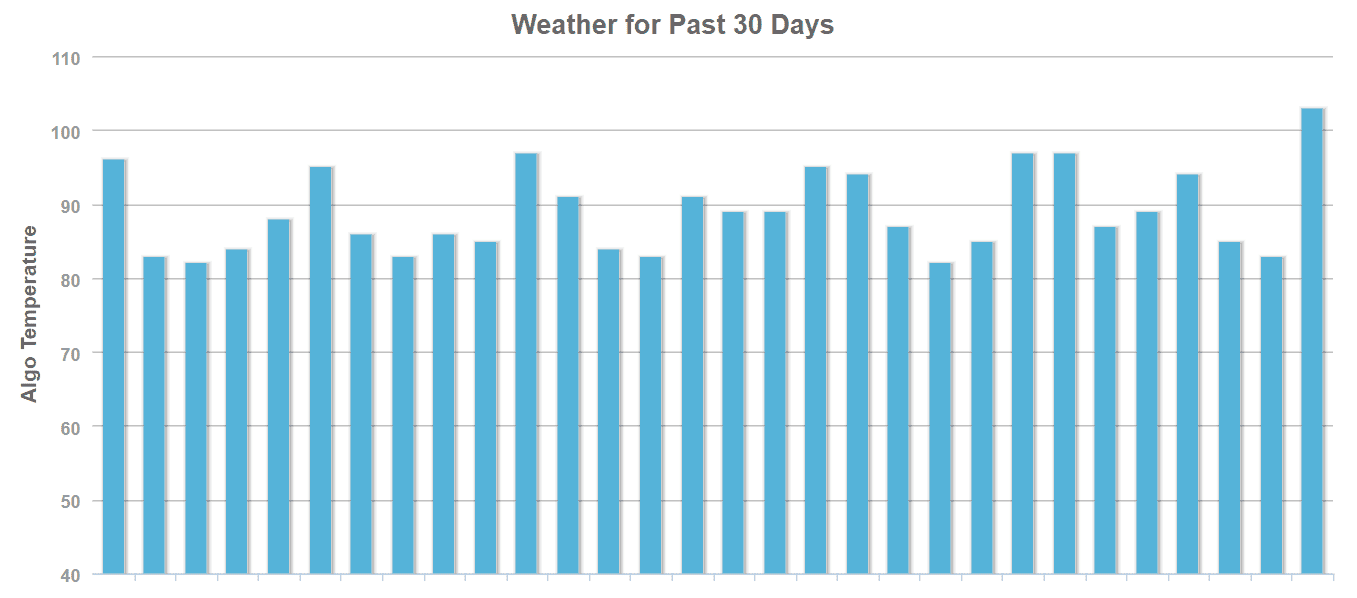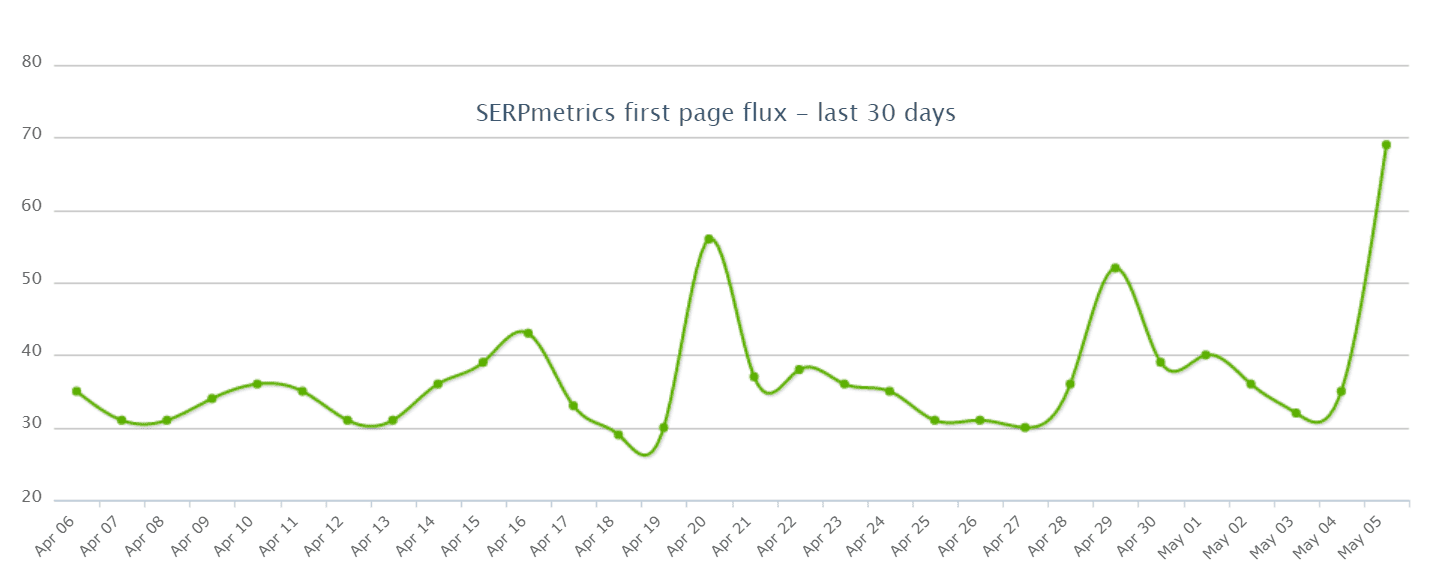 What is the motto of the core update?
Google rolls out a variety of algorithm updates each year and the search engine giant announces a few of them that have a widespread impact on the SERP. The aim is to present relevant and authoritative content for searchers. It is inevitable for sites to experience drops or gains with the implementation of broad core updates and rankings can move around quite a bit.
SEO Industry's take?
It would be advantageous for SEO if the "May Core Update 2020" proves to be profitable looking at the potential it holds.
We are aware that amid the economic crises, people are unemployed, companies are laying off staff and clients have paused their services. SEO services shall be valuable in running the businesses, which in turn would help in uplifting the economy. The more volatile the update, the more valuable those services turn out to be.
SEOs may soon experience where there's an exponential rise in demand for their work.
It will be intriguing to see how many businesses will suddenly have a room in their budget for SEO when the May 2020 Core Update fully rolls out.
Here is what Google has to say!
As such there is nothing to fix if rankings drop after a core update. Site owners will have to strive to make their every content that most holistic approach on the web for users' queries.
Impact of May 2020 Core Algorithm Update
Sistrix Top 3 Winners and Losers
Winners:
News-medical.net 116.27%
Carbuyer.co.uk 90.09%
Topgear.com 85.59%
Losers:
NYPost.com -36.21%
Allmusic.com -39.03%
Last.fm -38.03%
Lily Ray from Path Interactive Analysis used the Sistrix US Visibility Index to discover the areas in the web which are experiencing the most of the changes.
Observations:
Music-related sites and companies like Spotify has discovered a drop of 13.72%
Pandora has dropped by 2.95%
Last.fm lost by 15.33%
MasterMuse Data, a content planning and optimization company, has a comprehensive ranking data on search results across millions of keywords.
Observations:
Thin content landing pages have a more challenging time to sustain their position in the competitive search engine result pages.
SERPs with multiple search intents or the Google favoured intent in the search results isn't clear. Therefore, weaker landing pages are highly losing ranking positions.
Local search is facing a transition period.

Sites with a high rate of link acquisitions have earned a victorious position in the search results.
Low-quality sites with an aggressive high rate of link acquisitions in less competitive areas were also winners.
Aggregators and directories in such markets also had won in the same competitive landscape.

Reviewing changes in SERP Features which may face a high flux. This update bought some of the drastic changes in health, technology and food sites.
Making the core algorithm update sounds like a memorable one in the future; it is also known as "Corona Update" or "Pandemic Update."
Industry-wise impact
Webmasters have reported diverse effects of the Google Core Update. There are several industries which are expected to be affected by the changes from recipes to technology, health or finance. Many recipe webmasters have noticed significant traffic losses because of the disappearance of URLs from the recipe carousel and rich snippets.
Look at the Twitter comment below: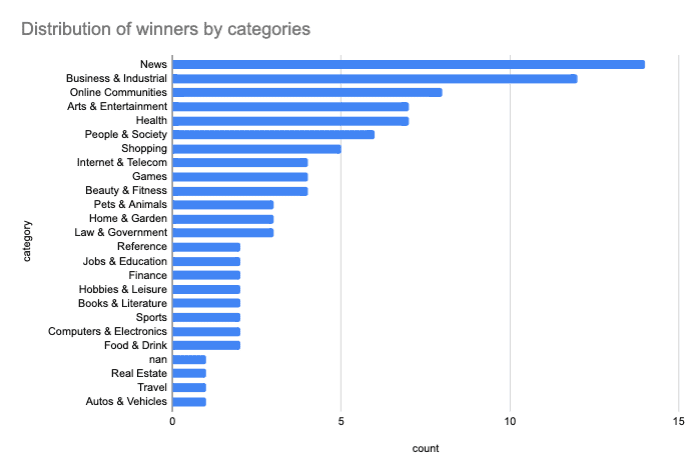 Everyone is engaged continuously in watching the news since the last few months, which clearly defines the News sector as the clear winner.
According to SEMrush, in the news category Indianexpress has gained immense popularity: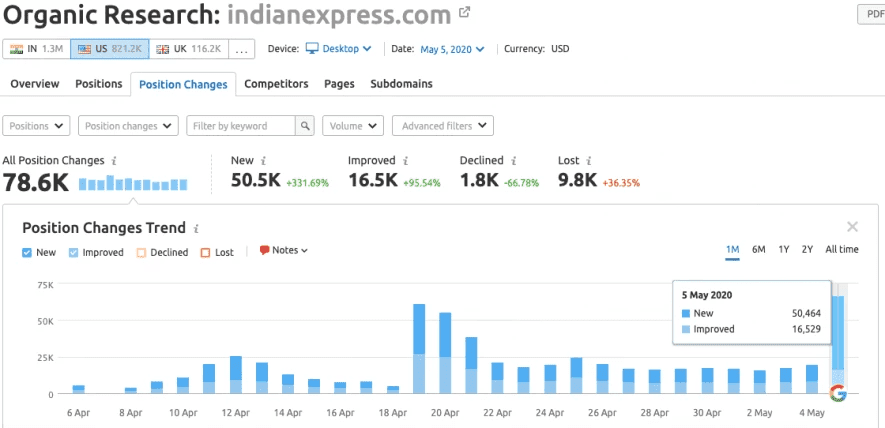 When we talk about the Business sector, sites like PR Newswire, Businesswire and GlobeNewswire have gained well with more than 50 positions each.
SERP Losers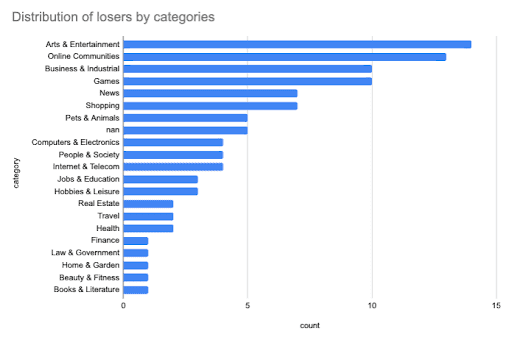 The Entertainment Industry has seen a significant drop, so are the websites related to it. Sites like eventbrite.com have lost around 44 positions.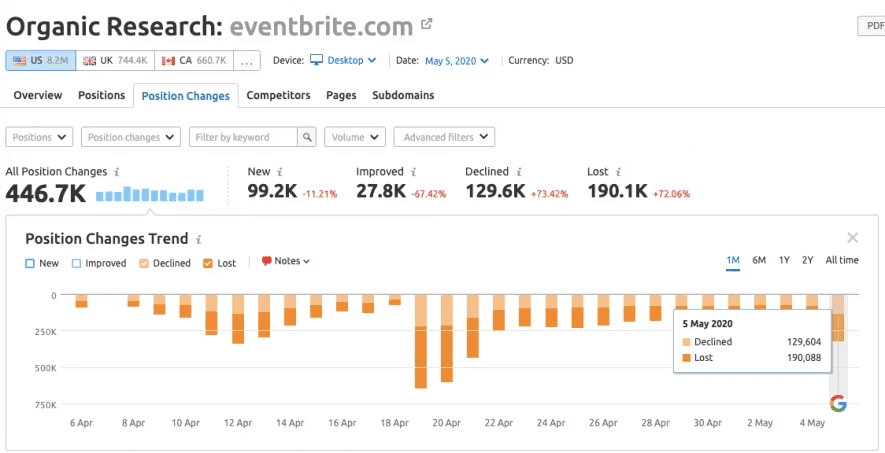 Things to Keep in Mind
Determine whether your content is reliable, helpful to users, formatted in a way to help users and search engines, and also to ensure that SEO mistakes are fixed and avoided.
Lastly, I urge you to wait until the full update is done with rolling out before making any big decisions about changing your website. Or else you might end up violating Google Guidelines which you might need to fix it.