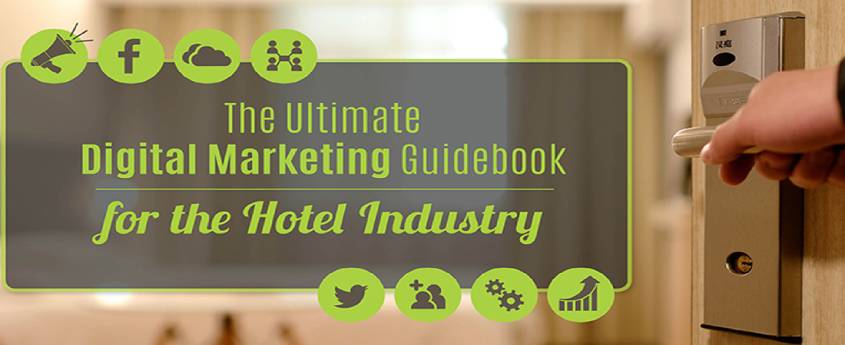 The Ultimate Digital Marketing Guidebook for the Hotel Industry
DISCLAIMER: Buy yourself a bigger welcome mat before you start reading this guidebook,because you're going to need one pretty soon!
Like other niches, the hoteliers are adapting to an all-new 'digital-native' generation of tourists,travelers and guests. Not only the Millennials, online consumers of all ages are fast becoming mobile- and web-savvy. As a result, their hunger for better deals has increased more than ever.However, on the other hand, their patience levels have gone way down, with any hotel website that they visit. Gone are the days when consumers will pick and choose from the almost identical standardized packages offered to them by various hotels. When they come on a hotel's website,they want to see a landing page, which shows them only what they want to see.
In other words, travelers of today want highly personalized deals from the hotels. May it be a hotel or an airline or a cruise line or even a restaurant, the consumers expect them all to know who they really are, and as a result only present them what they actually need. Yes, as always, consumers want deals, good deals… better deals… best deals… all of them. But, above all, today's online hotel customers want "a smooth experience" when they come across any content from the hotel anywhere on the Internet. They expect satisfying and proficient experiences, to be more precise – digital marketing experiences.
What Does This Guidebook Cover?
What can you expect to learn after reading this guidebook?
#1 You can connect with your hotel customers the way "YOU WANT", but offer them what "THEY WANT.
The hotel industry is taking a huge shift as we speak. Owing to the increasing penetration of the Internet and mobile technologies, along with social media websites, the customers are gettingsmarter by the day. And so, the competition isn't about who gets the most customers. No, it's not the question anymore. What the competition has really evolved into is, which hotel gets the most qualified customers. And this happens when you match your hotel products (packages and deals) with the personal profile of each individual hotel customer. So, this guidebook will help you get right under the skin of your web-savvy hotel customer and tell you what exactly he or she wants from your hotel.
# 2 – You can design a sole seamless digital experience for your hotel customers.
Your hotel customers come across your hotel's deals and other content on the Internet at multiple points. And believe it or not, they do remember your hotel if you provide them with a single seamless digital marketing experience. Whether it's on your hotel's website or on the mobile app or on the social media pages or third party booking websites, you should make them aware that you know who they are and offering them what they really are looking from you. This guidebook will help you develop a 360-degree digital marketing plan for your hotel business that can help you develop campaigns which can proactively offer your customers what they want, when they want it,
the way they want it. And finally…
#3 A realistic strong plan of action for your hotel business on the Internet.
We offer the latest hotel industry trends to you in this publication. We, then, tell you what the ways your customers prefer to interact with your hotel's digital assets across different places on the Web are. We follow it up with different types of hotel digital marketing options for you to choose from.We, at the end, show you the real life digital marketing success story in the hotel industry. But, above all, after reading this guidebook, what you will surely take away with you is a solid and straight-forward call-to-action plan for your hotel's digital marketing initiatives in 2017.
So, without wasting any time, let's right get into it.
Chapter 1: The Hotel Industry Outlook
The hotel industry across the world has entered into a massive transformation era, what we popularly call, the digital era. And it has changed everything, growth… profit… service… demand… you name it! Travelers' pockets are getting bigger year by year with over 5% y-o-y growth in spending. Consumers are seen to spend higher on intangible products (experiences and services) than on tangible products (households). Disposable personal incomes of consumers are up 5% in the current year, and average hourly earnings are accelerating too. And that's great news for the hotel industry, isn't it? With the increase in the consumers' travel spending, their demand for hotel bookings are also soaring high. And this increase demand for different hotel bookings among consumers will only grow from here. There's definitely no looking back!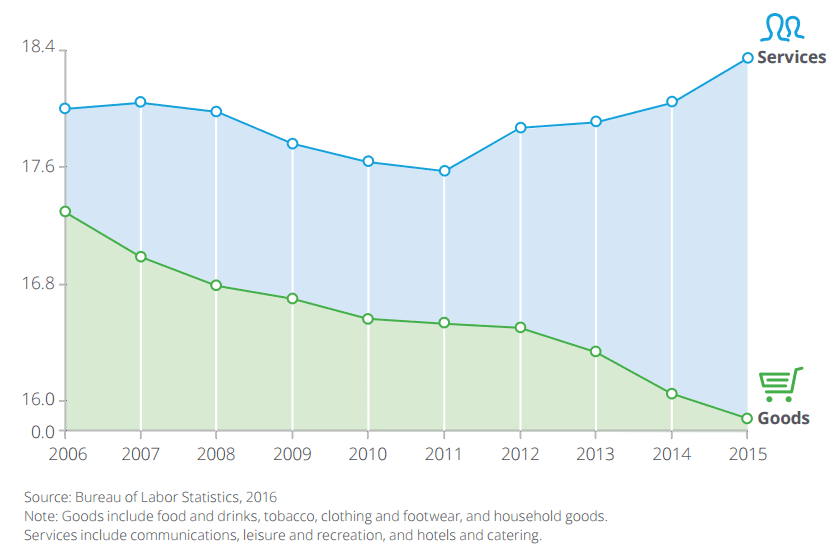 What's the biggest advantage of the Internet to the hoteliers? The removal of the dominance of the big brands in the hotel market, of course! Let's rewind to five years back in the time, to 2011-12. The hotel industry was solely dominated by the well-established brands back then. Not only did they enjoy the monopoly over the local and small-scale hotels, more annoyingly they made the customers buy what they had to offer and not what customers really wanted. And fast forward to the present day now! What difference do you notice the most? Well, the monopoly is long gone.The established brands cannot afford to ignore or underestimate the power of small and local hotel startups. That's because on the digital battlefront, everyone is the same. It's the game of attraction-and-impression really on the Web for the hoteliers. And whoever excels at that gains the larger chunk of the pie.
As with any other industry, the hotel industry is vulnerable to both ups and downs. And this happens because of a combination of factors. For example, the global economy shifts, new media and technology innovations, turmoil in political environment, natural disasters and environmental issues, changing tastes and preferences of travel consumers, etc. The hotel industry is going through this epic disruption and no hotelier can miss it. The trick is to hold on and adapt fast to the changing ecosystem. In 2017, those hoteliers who'll stay vigilant will end up commanding the demands in the industry.
The global hotel rates are witnessing an inflation rate of 1-3% in 2017. And this is even stronger in the North American region, along with the Southwest Pacific and the Middle East. While the Asian countries are picking up fast on this increasing rate, the African subcontinent region still is undergoing a softer demand market.
The global economy on the other hand is picking up on its momentum after a few bumps during the previous fiscal year. The stronger economic performances in some markets and helping to offset the slower growth rates in other hotel markets. If we talk about how the hotel business suffered after the Brexit, we must also talk about the skyrocketing hotel and travel demands in the USA. And ignoring the current political scenario, the Latin American hotel industry seems to have benefited from the  shadow of the US market's growth. The emerging countries' hotel industry is also experiencing growth in demand, with the average growth rate being over 4%  annually.
One factor that directly affects the demand-supply trade-off in the hotel industry more than other industries is the increase in the oil prices at the global level. With an expected 19% rebound from the slump in the prices over the last year, this is bound to effect the air fares, and as a result, the hotel rates. But, not all hope is lost, especially with the upsurge in the supply side of the hotel and travel industry products. This will help offset the increasing rates to a considerable extent. According to the recent hotel industry reports, the higher supply growth rate than the demand growth will make the market moderately placed in 2017.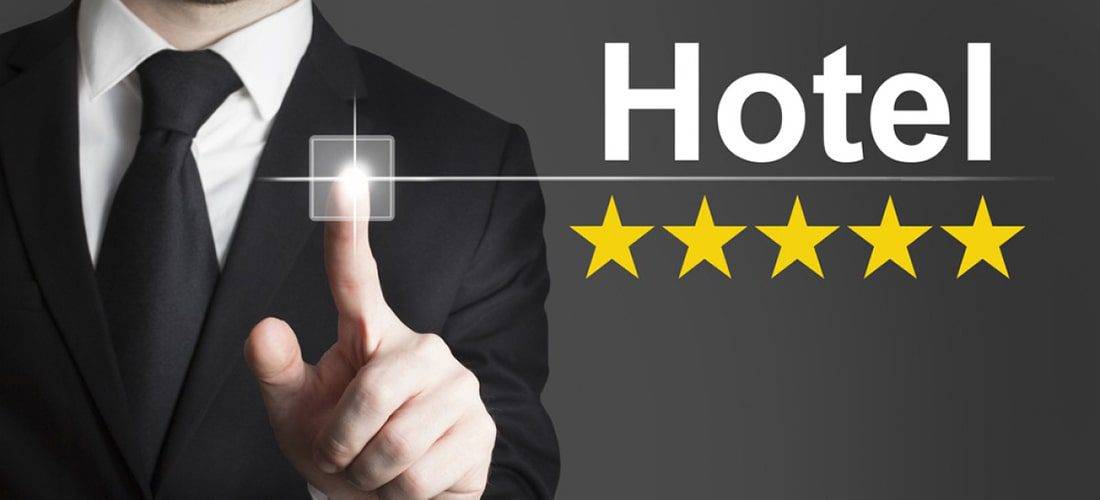 The competition in the hotel industry, today, more than ever has gone really fierce. Hoteliers are no longer competing for customers with each other. They are also competing with the customers directly through the alternative accommodation platforms, such as Airbnb, HomeAway, and many more. The customers seem to prefer buying travel options from their peers more that they would through a traditional chain of interacting with hoteliers directly. And this has changed the outlook of the hotel industry completely.
The hotel business' only chance to improve the performance in this densely competitive market is to cut down on the operational costs drastically. What this means that they need a direct traffic of bookings toward them in a more direct marketing funnel or channel, but of course through a diversified digital promotions portfolio.
So, the bottom line, looking at the ongoing hotel industry trends, is that hoteliers need to really go after the direct bookings in 2017 and even moving forward.
Having looked at the prevailing scenario in the global hotel industry, now let's take a look at what's changing in the hotel industry in 2017. In the next chapter, we will talk about the key hotel industry trends.
Chapter 2:The Hotel Industry Trends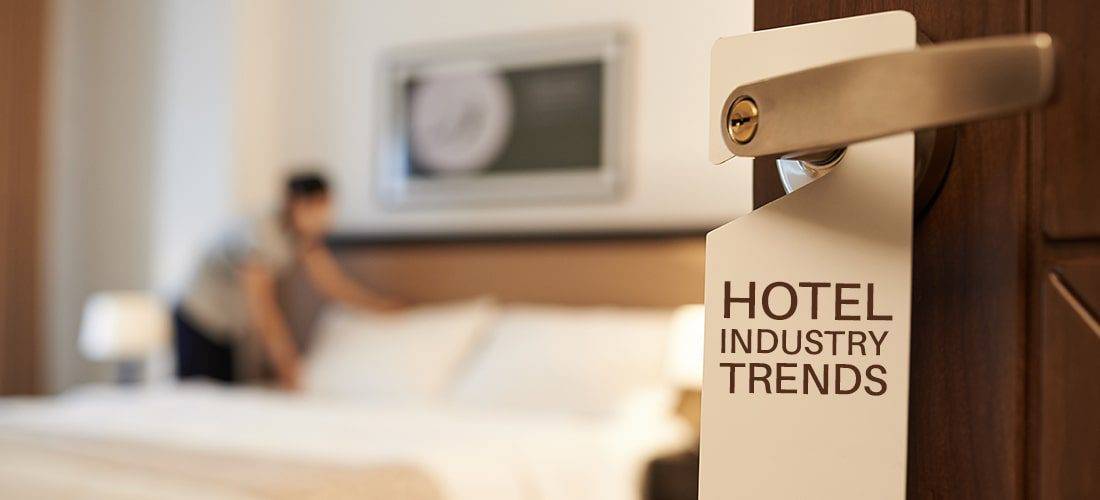 There are certain trends in the hotel industry worldwide that have taken the hoteliers by stride and made them rethink their whole game plan. Let's take a look at some of the key influential factors that hotel businesses should account for when determining their digital marketing campaign and other initiatives for 2017.
# 1 The permanent shift to mobile from desktop.Much of the travelers and guests now prefer interacting with your hotel business through their smartphones. They are so used to using different types of apps that they almost have become dependent upon them for the heavier chunk of communications. Consumers don't just stop at searching for hotel related information on their phones. No, that's just pit-stop # 1. They continue to engage with hotels through their mobiles even during as well as post-travel.
# 2 – Direct bookings take over bulk bookings.We have already established the growing significance of the direct bookings in the hotel industry. As lucrative as these direct bookings appear to the hoteliers in bringing their costs down to a great level, not many businesses have attributed a dedicated marketing plan toward achieving them. And a major reason for them not trying to go for direct bookings is their fear of breaking the status quo. The need for hoteliers to steer away from OTAs to direct bookings has never been so prominent before.
# 3 – Multi-channel and multi-device travel marketing is the new bare minimum.Long gone are the days when only one website visit or one interaction touch point with hotel consumers would close the deal for businesses. As per a recent report published by the search giant Google, a typical consumers takes about 24 days before making a hotel-related decision and during this period, he or she accesses hotel-related information 21.5 times on an average, across multiple platforms on the Internet. So, the ideal strategy for businesses is to have an all- encompassing digital marketing plan, including, but not limited to, SEO, PPC, SMM, email marketing, content marketing, and many more.
# 4 – Personalized experiences are the deal breakers.In 2016, the hotel industry has witnessed it firsthand that personalizing the customers' experiences online would contribute toward increasing bookings and re-bookings. Consumers not only want to interact with hotels at different online media touchpoints, they also want the content to be personalized according to their tastes and preferences at each of these points. If a hotel provides the exact same or even similar content across channels on the Web,it constantly runs the risk of boring the customers, and as a result, losing them to the competitors. It is important for hoteliers, now than ever, to know the exact demographics and psychographics of the consumers to feed them with the personalized content as per their expectations.
# 5 – Storytelling, storytelling, storytelling.The hotel consumers not only want unique content from the marketers, but more importantly, they want it in form of stories… lots and lots of stories. Because they are tired of reading good ole' marketing messages. Deals don't excite them much either anymore. They crave for stories. In stories, they seek experiences. They want to understand the story behind your hotel, your promotions, your prices, everything. So, hoteliers need to incorporate such value-rich stories in their digital marketing arsenal. Engaging consumers at all levels of the funnel is now a necessity for the hoteliers.
# 6 – Smart analytics driven hotel digital marketing.Data, in today's day and age, is everything. Continuing from the above point, if the hoteliers want to engage their consumers at each stage of the funnel, they need to have solid meaningful data at their disposal. Data, more importantly in 2017, has gone real time. It is imperative for the hoteliers to have different types of owned as well as third-party data analytics tools to better understand what their consumers want, how they want it, and when they want it. Real-time hotel planning and analytics data can help hoteliers reach their customers at the right time in the right place and in the right way.
Having understood the key digital marketing trends, now let's look at the action plan for coming up with 2017 hotel digital marketing plan and budget in the next chapter.
Chapter 3:The Hotelier's Guide to Creating Digital Marketing Budget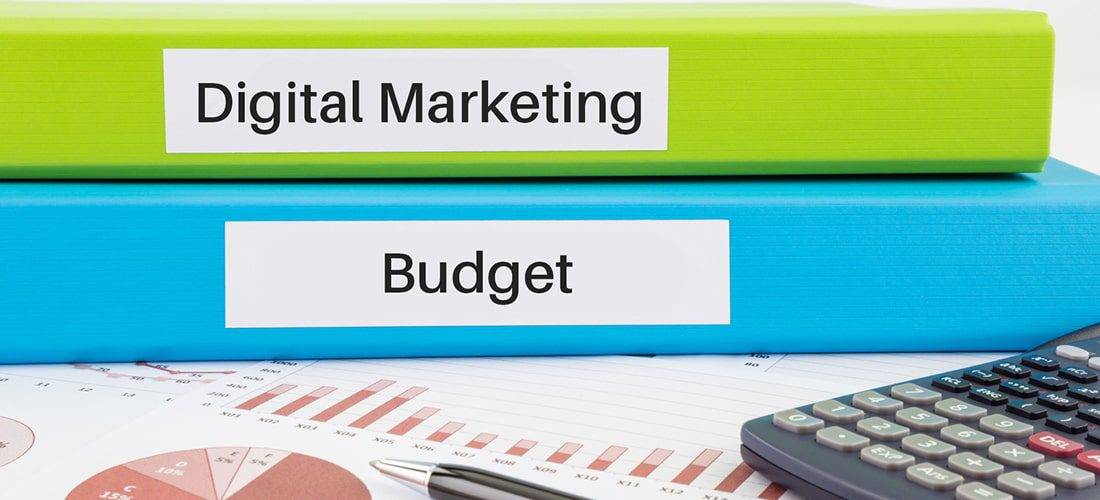 It should not come as a surprise to the hoteliers when we say that digital marketing is the single most effective and cost-effective marketing channel for them. The increasing demands among consumers for responsive websites, unique content, active social media pages are a few of the proofs of this scenario. Many hoteliers fail to understand this most important trend and therefore struggle against the new media enabled competitors in the niche. Let us put some simple numbers in front of you.
As per the recent hotel industry report from Google, the hoteliers should aim at spending nearly 5% of their room revenues on different types of marketing and advertising initiatives. And outof this 5%, roughly 80% should be spent on digital marketing platforms. Now, let's do the reverse calculation. If an hotelier is to spend 5% if his or her room revenue on marketing and promotions and nearly 75% of it would be attributed to online marketing, then in other words, the expected ROI for the hotelier from web-driven initiatives is over 2000%.
Now, that's some eye-opening figure, isn't it? Well, the good news is that we've just about entered the new fiscal year in most parts of the world. And in the other regions, we are entering the third and the crucial quarter of the year. So, there could not be a more apt time than now to rethink your overall marketing budget and include digital marketing as a major part of your campaigns.
Having said that, let's take a look at a typical digital marketing breakdown of your hotel's budget.
Chapter 4: Breakdown of Your Hotel's Digital Marketing Budget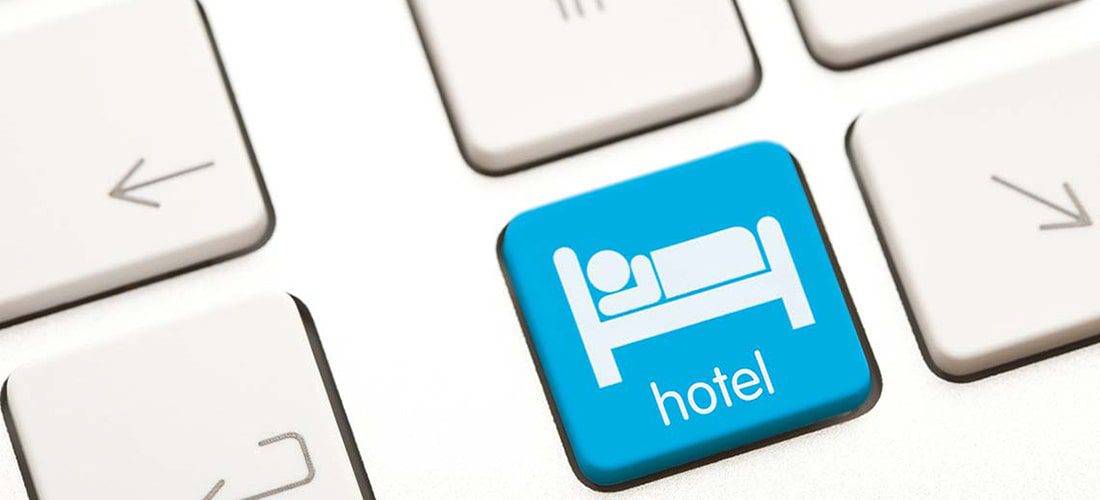 In this section of the guidebook, we present different digital marketing initiatives that are aimed at helping the hoteliers in optimally utilizing their budgets, lowering the costs significantly and attaining drastically improved ROI. We will investigate into each type of digital marketing tactic for hotels in detail and layout their plus points along with some practical insights.
But, before moving forward, let's define what digital marketing means for the hotel industry. You might have come across this term several hundred times. Or if not this term, you would have heard others talking about online marketing, internet marketing, web marketing, and digital advertising, etc. While these terms are used interchangeably, the essence lies in the function. Digital marketing, in a nutshell, is using the Internet and mobile enabled technologies to deliver marketing messages to hotels' customers and engage them in different ways possible.
So, having defined digital marketing, the next question that arises could be why is digital marketing important for hoteliers? The answer is in the fact that most of the travelers make their reservations online. And more importantly, over half of these travelers make their bookings while they are on the go.
The internet has become the primary source of hotel related research for more of the travelers. They look up at different places across the Web before they make their bookings, such as, the hotel's own website, Google search engine, Tripadviser and Yelp for reviews, third party travel reservation vendor websites, consumer generated platforms such as Airbrb, mobile only native booking and research apps for hotels, Facebook and other social media websites to find out their friends' feedback about hotels, YouTube and other video search engines to view hotel related videos and vlogs, etc. So, as you can already notice, the Internet offers a huge variety of promotional channels for hoteliers as compared to the traditional marketing mix. At the same time, running their promotional and advertising campaigns on the Web is extremely cost effective. In other words, digital marketing for hotels has a significant impact on the overall ROI. Some hoteliers have witnessed over 1000% return on their digital marketing campaigns.
# 1 – Hotel websites
The most important aspect of any hotel's digital marketing campaign is its website. Without a website, the hotel has pretty much no existence on the Web, Similarly, if a hotel has a website, which has not been updated in the last 2-5 years, then no customer would want to visit such website, let alone re-visit it. So, it's an absolute must for the hoteliers to have an attractive and high-in-function website.
What makes a good website for any hotel business? Well, it varies from case to case. There is no right or wrong answer about it. When people look up a hotel's website, they don't necessary seek a visually compelling creative art work. No, even the simplest of the websites can quench their thirst for the right type of content. Whereas, some travelers are easily pleased by the aesthetics of a hotel website, meaning the prettier it looks, the greater are the chances that they would make a reservation with it. This is based on their assumption that if the hotel invested so much effort and resources in creating such a compelling website, it is safe to assume that it will have superior levels of infrastructure and guest servicing and relationship management.
On the Internet, a hotel's website is its brand extension. Think of it like the lobby of your hotel. What's your goal in finalizing the interior design of your hotel's lobby? It's twofold really: One is to mesmerize the guests and visitors; and two, to make it easily accessible. Right? Well, the same logic goes into designing a website for your hotel. Your website is the place which is going to set the stage for your customers' experience with your brand on the Internet. And what your consumers seek here is simplicity in functionality and at the same time, it should be aesthetically pleasing.
Functionality for a hotel's website is really important. It should instantly help your customers and guests in meeting their goals, the most common among which is to make a booking. Therefore, it is important that your website should be interactive. Not only should it accommodate different types of functions, it should make it as simple as possible for your visitors to carry out and
accomplish their expected tasks.
So what are some of the important traits of a good hotel website?
Firstly, it should be extremely simple and uncluttered. The layout should be very easy for the customers to understand. It should not be too busy, as it may end up confusing the visitors.
Secondly, the navigation structure of the website should be pretty straightforward. What this means is that the visitors should be able to navigate to different parts of your hotel website without wasting too much of time and energy.
It should be extremely interactive. There should be multiple elements on the website that engage the visitors and compel them to make reservations.
Fourth, it should bear several calls to action. They could be in the form of buttons or images or videos or even plain text. The users should be able to take an action after viewing the content of your hotel website.
It should be eye pleasing. There should be several aesthetic elements added onto different parts and pages of your hotel website, which would help engage your consumers more.
# 2 – Mobile websites and apps for the hotel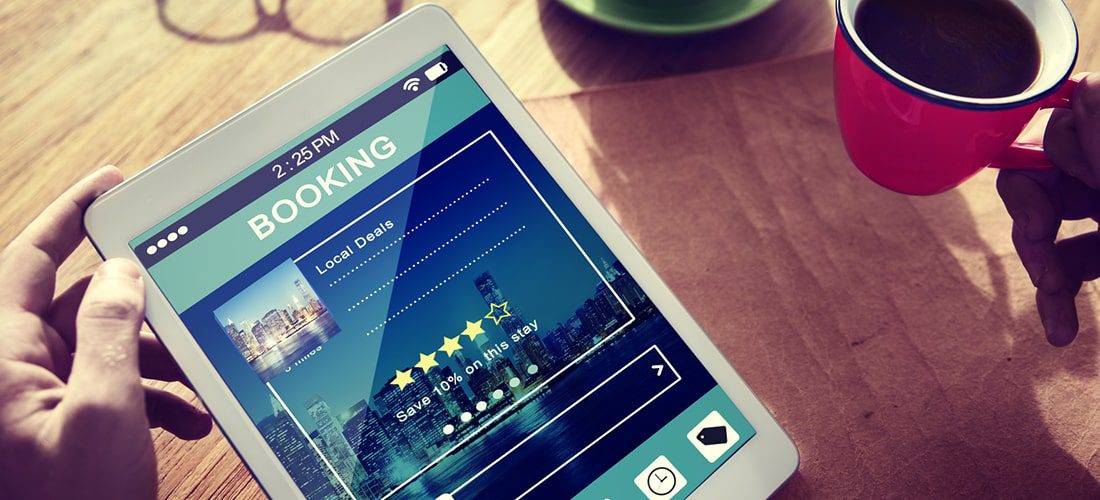 Mobile has received a lot of attention amongst the hotel customers and travelers recently. They are always on their smartphones. While this has added to consumers' convenience, it has made the lives of hotel digital marketers all the more complicated. Customers use different devices to access hotel-related information. And mobile, believe us, is not a fade. No, not at all! Close to 60% of global travelers make their reservations with hotels through their mobile devices. This is as per eMarketer's recent industry statistics. And when they access a hotel's website on the mobile phones, they want the website to be completely mobile ready. This means that you need to make your hotel's website mobile-responsive. No matter the size and shape of mobile device your visitor uses, your website much adapt itself to different specs.
Another leader industry body recently established that if hotel visitors are dissatisfied with its poorly designed mobile site, they would never return to the website. There are millions of smartphones that consumers across the world have and use for making bookings. Can you afford to let this traffic flow to your competitors?
On the other hand, many hoteliers mistake a mobile website with a mobile app. They are completely different tools. A mobile site is a site that needs to be accessed in a web browser on your mobile. Whereas, a mobile app is something that you can download directly on the phone and use it. Mobile website is typically an extension of your hotel's main website. Whereas, a mobile app is much more versatile than that as it offers multiple functions in a single place.
No matter what your purpose is with your hotel's website and the mobile app, the central focus should be on generating higher user engagement. Hotels can use both mobile site and mobile app in creating a superior experience for customers and capture the hotel's audience and compel them to take an action, in terms of making a booking, or calling the hotel customer service number or dropping an inquiry in the form, etc.
# 3 Hotel SEO
Over 75% of a hotel website's revenue comes from the search engine traffic. This makes it imperative for the hoteliers to include SEO in their overall digital marketing initiatives. But, just having a good ole' SEO campaign in place for your hotel website won't help cut it either. If you have an in-house team that manages your hotel's SEO, then they need to keep a constant tab over Google's changing search algorithms. Other than that, keeping the website optimized for SEO is equally important for hoteliers. For example, a hotel website with stagnant content would adversely impact the search rankings. Simultaneously, having a mobile-ready website is essential for hoteliers.
Not only users want it, Google and other search engines base your hotel's search ranking on its mobile-responsiveness.
From SEO point of view, it is very important that your hotel website has geo-specific content.Your customers or guests don't look up your website by its name. Instead, they search for the destination they would be travelling to and then look through the options available to them in the search results. So, it's important to create your website's copy (content) accordingly.
Analytics plays a crucial role in your hotel website's SEO performance. Google Analytics, Google Search Console and many such other third party analytics tool help the hoteliers in identifying an optimal hotel SEO strategy. Good analytics tools help you with insights which in turn help focus on content related strategies to improve the overall visitor engagement on the site.
Local SEO plays a very crucial role in your hotel's overall visibility in the search engine results. Hoteliers should update the local listing citations of the hotel website and revisit them regularly.
SEO, as a stand-alone tool, may not be as effective as it would be when combined with other digital marketing tactics such as paid advertising (PPC), social media marketing, content marketing, email marketing, etc.
# 4 Paid advertising for hotels(PPC)
You might have come across this term, PPC, often times, but may not completely understand its significance in a hotel website's success on the Internet. PPC campaigns include ads run on search engines like Google or social media sites like Facebook. These ads can be just plain-text ads, or image-ads or even video-ads. These could also be different small or big ads that may appear on different travel and leisure industry websites and blogs.
Why is PPC advertising important for your hotel?
PPC helps your hotel website in capturing the visitors while they are the most active in their research for making reservations. In real sense, PPC is the best bet for the small-sized hotels to give the bigger multinational hotel chain brands a run for their buck. That's because there is absolutely no limit, both at lower and higher ends of budget, when running PPC campaigns for hotels. And unlike traditional TV, radio or print advertising, PPC allows hotels a chance to target the customers and travelers as per their geo-, demo- and psychographics, thus eliciting the highest engagement and responses in terms of calls to action.
How to set up PPC campaigns for hotels?
On Google, you can use Google AdWords tool to set up and run your PPC campaigns. Different search engines, social media sites and private websites have their own tools for running PPC campaigns.
The first and the most important thing in setting up the hotel PPC campaign is to know your target audience. Who are your visitors, where do they come from, what do they look up on the Internet when they want to make bookings with hotels, etc. The trick is to segment your customers into different batches as per their unique traits and then run individual split-test campaigns to see which set of audiences give you the highest bookings.
Next, you need to identify the most profitable keywords for your hotel's PPC campaign. For this you would need to do extensive keyword research and figure out the best terms to invest your budget into. For example, choosing long-tail keywords with location included increase your chances of appearing higher in the search result ad listings and also get greater conversions compared to your competitors.
And then, you need to work on creating your ad copies or images or videos. Invest a great deal of time in drafting the PPC ad copies of your hotel websites. A secret tip here is to spy on your competitors ads who are already ranking on the search results page.
It is equally important to have dedicated hotel PPC landing pages to support your ads. When you design your landing pages, they should be mobile responsive. They must include all the keywords you have targeted in your PPC ads. The landing pages must have multiple and highly engaging calls to action buttons. The landing pages should have videos to engage your visitors. And finally, your PPC campaigns should have more than one landing page to measure and compare the effectiveness of different tactics used.
Retargeting plays an important role in your PPC campaign for the hotel website. It is a great way to capture your visitors at different stages of sales lifecycle. Since your customers have already visited your website once, a retargeting PPC campaign helps you keep at the top of their minds when they are making booking related decisions. The idea with the retargeting campaigns is to provide a seamless experience to your customers at different platforms through multiple content forms.
# 5 Hotel Social Media Marketing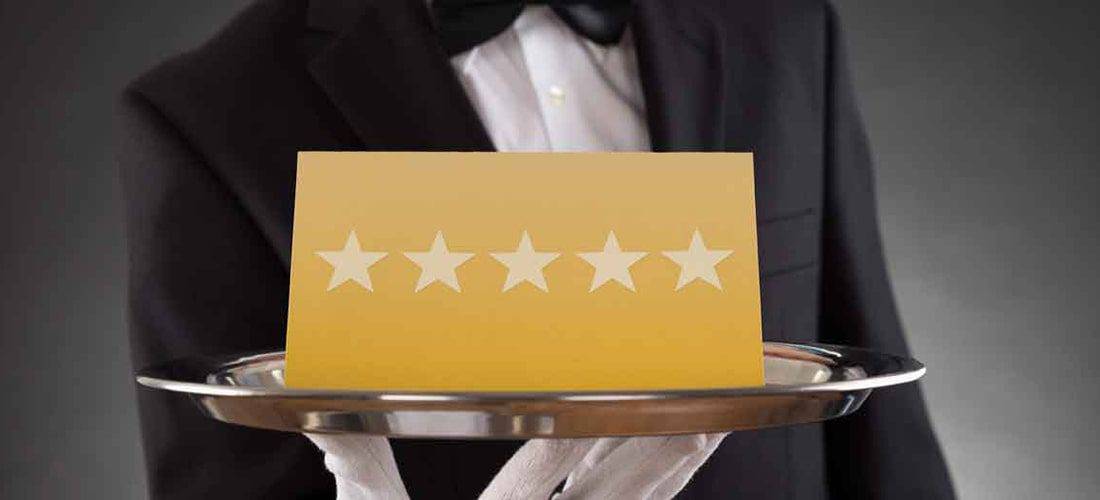 Social media websites like Facebook, Twitter, Instagram, etc. are said to be your hotel customers' interaction touch points on the Web. They use these websites to create and share information, ideas, feedback, etc. about your hotel.
When used optimally, social media marketing can help engage your hotels consumers to a great extent, past, present, and future customers alike. Social media helps in creating a brand awareness and also helps build brand loyalty of your hotel on the Internets.
Your hotel consumers are literally leading their everyday lives on social media websites. That's where they are the most active and also the only places where you hotel brands can get in touch with them at a personal level.
Social media also brings with it a wave of reviews and feedbacks about your hotel. There are all kinds of reviews available on social networking websites about your hotel. Positive, negative, neutral, etc. This is not necessarily a bad thing for your hotel, as long as you respond to their comments and remarks about your hotel, genuinely and honestly.
What are some of the useful social media websites for hotels? Facebook, to start with, is a very useful platform, simply because it's the world's largest social media website. At the same time, Facebook offers comprehensive business advertising solutions to hoteliers. Facebook has redefined the traditional online search patterns of hotel consumers, by introducing the concept of social search engine. Twitter is more real time and personable than Facebook. Here's where you can share the quick snippets about your hotel deals and run hashtag-driven ad campaigns.
You can visually engage and entice your hotel customers by sharing appealing photos of your properties, amenities, food, etc. on different websites like Pinterest, Instagram, Snapchat, etc. You can create and share your hotel related blogs on websites like LinkedIn and Google+. And, since consumers are becoming increasingly hungry for video content on the Internet, you can produce and share catchy and highly engaging videos on YouTube, Vimeo, etc. for increasing brand engagement and loyalty, and ultimately greater conversion rates for the hotel website.
# 6 Hotel Email Marketing
Emails has proved to be a vital channel of revenue generation for hotels around the world. Emails are used by the hoteliers to create greater consumer engagement and experiences. You can send out reminders to the guests who have made reservations. You can re-approach those website visitors who did not end up booking a room. You incentivize your loyal customers through emails. You can also send out seasonal promotional deals to them through emails.
There are many email marketing tool available out there, which you can use for your hotel, such as MailChimp, Constant Contact, etc. When you design an email marketing campaign for your hotel, like your website, the look and feel matter. They should be consistent with your other online marketing collateral. Emails should have a simple and clear layout. They should be mobile responsive. They should be highly interactive too. Emails should carry multiple calls to action to elicit actions from the consumers in terms of booking a room, making an inquiry, etc.
To run successful email marketing campaigns for hotels, it is inevitable to have a solid email marketing list. And a comprehensive email marketing list of hotel consumers is built over years. Once you have your full list, you should segregate different guests as per their different stages of purchase life cycle, to receive the most response.
You should run multiple split-test email marketing campaigns for your hotel website to gain the optimal ROI.
# 7 Hotel Call Tracking
You can track all the calls that come to your hotel's customer service office through your website or through different digital marketing channels. This way, when your guest call up your customer care desk of the hotel, your team is well-equipped with the information they need such as where did the guest come from, what pages did they look on your site, what keywords did they use, etc.This way they can better personalize the interaction with the guest, which in turn, increases your conversion rate from the digital marketing campaigns.
It's very easy to get started with your hotel's call tracking campaigns. First, you need to sign up with call tracking companies, such as Call Rail. You, then, need to decide what all marketing channels you want to track calls from. Once that is decided, you need to allocate dedicated phone numbers to those channels. You need to place those unique phone numbers on the specific digital marketing collateral. This way, you can easily monitor and review incoming call reports and trace them back to the original sources of referrals.
# Review websites for hotels
Your guests constantly place reviews about your website on the Internet. They do it on social media websites. But more frequently, they do it on review websites like Tripadvisor. This is their way of reflecting upon the interaction they had with your hotel, both online and offline. While such review websites can be a great source of traffic for your website if all reviews on them about your website are positive or neutral, it can get a little tricky if your users are placing a lot of negative reviews and feedbacks. On review websites too, you can run display ad campaigns and create listings for your hotels. You can respond to the reviews of your users on these websites.But, the trick is to differentiate between genuine and fake reviews, posted by humans or robots.
So, this was a quick breakdown of your hotel's digital marketing budget. Now, let's take a look at a hypothetical fiscal digital marketing budget for your hotel business.
Hotel Digital Marketing Budget Snapshot 2017
| | |
| --- | --- |
| Hotel Website Design & Development | 25% |
| Website Design & Content Development | 9% |
| Website Revenue Optimization | 8% |
| Social Media Optimization | 2% |
| Website Technology Specific Solution (Guest Portal ,CRM, Blog etc.) | 4% |
| Website Hosting & Maintainance | 2% |
| Hotel Digital Marketing Campaigns | 59% |
| SEO | 6% |
| PPC | 19% |
| Display Network Advertising | 8% |
| Programmatic Advertising | 13% |
| Meta Search Marketing | 2% |
| Email Marketing | 3% |
| Conversion Optimization Campaigns | 8% |
| Special Deal Digital Marketing for Hotels | 16% |
| Occupancy Needs Deals | 9% |
| Demographic Based Deals (Family deals,Couple deals,Corporate deals,etc.) | 4% |
| Event & Hotel Deals | 3% |
| Total | 100% |
Chapter 5: Hotel Digital Marketing Case Study
Case Study #1 : The Zuri Hotels & Resorts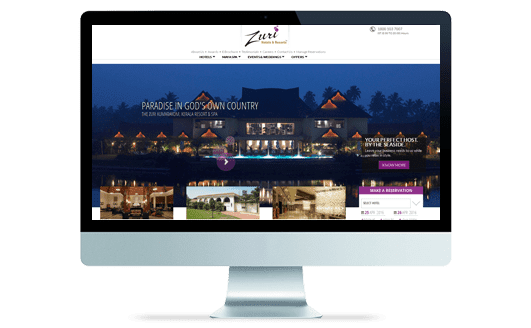 The Zuri Hotels & Resorts a Premium International Group of Hotels & Resorts, stands as a creation, confident of welcoming back its guests every time with a promise of a unique experience of opulence, pleasure and comfort. The Zuri Group comprises of an eclectic collection of resorts that connote luxury in every form.
The Objective
With properties situated in key Indian destinations, The Zuri Hotels have established themselves as one of the leading hotel chains in the country and even internationally. Prior to approaching e-IntelligenceTM, they had never tried PPC to get direct hotel bookings through their website. Their basic objective was quite clear and simple: to increase the revenue from online bookings through the Google AdWords paid advertising campaign. The top management of the Zuri Hotels was introduced to e-IntelligenceTM by another client. The hotel chain was impressed with the agency's past work and overall experience and extensive expertise in managing PPC campaigns for varied niches. Trusting on their deliverable, the Zuri Hotels was ready to make a larger investment in their online initiatives.
The Zuri Whitefield – Bangalore, also wanted to drive engagement and enhance brand visibility for its New Year's Eve party 2013 hotspot 'Bling'. With a fantastic reputation for hosting some of the best News Year's Eve parties in the city of Bangalore, the high-end hotel was all set to use Social Media platforms to reach out to more people and offer them exotic deals. Zuri contacted e-IntelligenceTM for helping them build up on their already established social presence and drive more foot-falls for the party. Having successfully worked on similar projects in the past, the e-IntelligenceTM Social Media Marketing experts were all buckled up for the challenge. Unlike Zuri, they knew exactly what needed to be done!
The Challenge
The biggest challenge was that the Zuri Hotels had different websites for different properties that were never before linked internally to each other. As a result, they were competing against each other for the organic traffic. Having identified this issue, the first phase of the PPC campaign run by e-IntelligenceTM would include creating a landing page that would seamlessly provide the details of different properties and also increase the chances of bookings. Since the client had never tried a hand at PPC before, they were eager and a little impatient to learn how it would perform for them, in terms of overall ROI of the campaign. Although they were willing to spend higher amount of money on the campaign, they were constantly watching the average cost per click and the cost per new booking to ensure that they money was going in the right direction.
For the social media campaign, the challenge was to earn attention for Zuri's NYE party from the local audience that was exposed to hundreds of other similar party promotions on social platforms. At the same time, e-IntelligenceTM was tasked with a responsibility of building the brand's personality across a number of social networking websites, namely: Facebook, Twitter, Flickr, Google+ and YouTube.
The Solution
Here are the key highlights of the PPC solution offered by e-IntelligenceTM to the Zuri Hotels as part of their campaign:
They carried out a comprehensive industry and competitor research before starting the campaign
They created dedicated conversion-optimized PPC landing pages
They conducted a thorough keyword research analysis to identify the highest converting keywords for the ad campaign
They drafted strategic ad copies to increase CTR and conversions.
They split tested the landing pages as well as the ad copies to maximize conversions.
The focus was always on improving the relevancy.
They created tightly-themed campaigns in the AdWords account, including a mix of branded and non-branded traffic.
For social media campaign, e-IntelligenceTM Social Media experts designed a campaign blueprint for Zuri, targeting the local Bangalore audience. An efficient execution plan was the deciding factor for the success of the project. The first project pit stop for e-IntelligenceTM was to build or revamp a user-friendly and unique social media branding pages for Zuri on each platform. This was followed by creating compelling content to ensure higher reach and engagement.
e-IntelligenceTM leveraged all the organic and paid tools available on Facebook for this campaign. They promoted posts several times a week and at the right times featuring photos and videos of its previous year's NYE and Christmas parties. The idea was to bring the event to life and give people a reason to attend it. The agency also used Facebook Ads to acquire new likes and drive leads to the party-landing-page on Zuri's website. For this they used Facebook's advanced targeting options to select the exact demographics to catch attention of people interested in attending NYE parties. e-IntelligenceTM used various products such as page promotion, newsfeed ads, promoted posts, event ads to name a few. Their team also made sure that Zuri's PR team was always in the loop for their Facebook campaign, by providing them with the insights on a regular basis.
The idea was also to generate excitement around the Bling NYE party 2013 with Zuri's existing followers as well as local Twitter users in Bangalore. e-IntelligenceTM helped Zuri tap into the passionate base of followers to stimulate interest in their event. To spur the excitement, the social media experts at e-IntelligenceTM ran promotions using special Twitter-based offers, coupon-codes and tweet-contests. With a combination of organic as well as promoted tweets in timeline, they were able to reach users who might not have heard of their party. To reach an engaged audience, they also used Live Tweets with the DJ for the party. Effective tweets about booking offers successfully directed the users to the online-ticket-purchase landing page.
To start buzz and unlock emotions around the NYE party at Zuri Bangalore, e-IntelligenceTM seeded the teaser videos on their YouTube channel. They also encouraged the users to upload their videos from the previous year's party. This helped generate a higher level of engagement and sharing among their followers and their friends.
In stage 2 of the promotions, e-IntelligenceTM spread the news about Zuri's event across the major online PR platforms and event directories. This helped them reach out to the audience who might have been missed out on the Social media platforms. e-IntelligenceTM also efficiently helped Zuri's offline BTL promotions by bringing them online.
The Results
The Zuri Hotels started noticing a significant but steady increase in their online bookings after the launch of the PPC campaign. The return on advertising spend (ROAS) was consistently above 200% than the original target. The campaign was able to bad over two-hundred thousand impressions in the first few months itself thanks to a highly targeted strategy. The CTR was quite magnificent and continuously stayed above 8%. For an average booking value of over USD 150, the CPC (Cost per click) was below a dollar and cost per booking was barely over USD 20. The ad consistently ranked at the top of the search results. The website on an average would get 200+ bookings from the PPC campaign ads on a monthly basis. The number would be even higher during the peak season. Social media campaign was a huge success as well with an average of 65% overall fan engagement rate on each platform.
Case Study #2 : Diani Reef Resort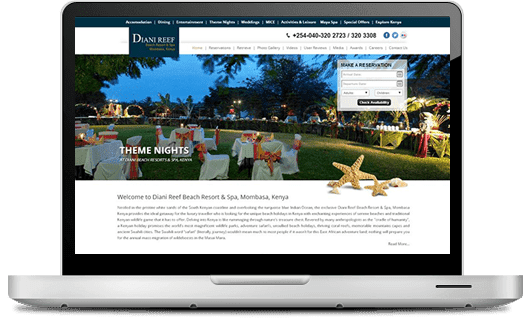 Diani Reef Beach Resort & Spa, Mombasa, Kenya, provides appealing opportunities to luxury travelers looking for unique beach holidays in Kenya with enchanting experiences of serene beaches and traditional Kenyan wildlife game. One of the finest beach resorts in Kenya, Diani Reef Resort & Spa sprawls over 35 acres of sheltered property set amidst the Kenyan sea coast overlooking the Indian Ocean. The resort offers 143 tastefully designed rooms and suites equipped with modern facilities. Diani Reef Resort & Spa also hosts beach weddings, honeymoons, and business conferences and meets.
The Objective
DianiReef.com had a good online presence and was already ranking high on the first page of organic search results for many keywords. However, despite its high visibility, the website was seeing very low number of visitors and even lower conversion rate. This occurred due to amateurish website design and lack of optimization. In order to improve their online performance, they decided to work with e-IntelligenceTM. The objective of the campaign for e-IntelligenceTM was to help DianiReef.com capitalize on its high search ranking by attracting more visitors and promoting conversions.
The Challenge
DianiReef.com was faced with strong competition from other resorts and hotels in Mombasa due to its location at a prime tourist destination. The SEO experts at e-IntelligenceTM had to attract the attention of a distracted audience since the presence of competitors was diluting traffic to DianiReef.com. The campaign required an understanding of the visitors' expectations from a resort's website. Moreover, visitors were unable to find any related information on the resort from third-party sources, which they could use as reference before making the purchase decision. The principle campaign challenges were:
To revamp the website design in order to give the visitors exactly what they needed.
To decrease the number of bounced visitors.
To increase conversion rate of the website.
The Solution
Taking up the challenge with enthusiasm, the SEO experts at e-IntelligenceTM performed a broad research on the hotel industry standards in Kenya to understand the competitive landscape. The redesign project was undertaken to optimize the website design according to SEO principals. The website was made more user-friendly with better navigation and richer content so that visitors could find all information regarding rooms, venues, facilities, packages and tariffs easily at one place. The team also added an online reservation feature that allowed visitors to book and pay for rooms and venues from the website itself. The content was also redesigned to focus around the target keywords. Once the website went live, the SEO phase was continued in the form of effective link building techniques.
The Results
The redesign and continued SEO efforts by the ace team at e-IntelligenceTM led to significant improvement in the website's performance. Not only did DianiReef.com start attracting more visitors, the resort also found the website providing them with leads and, even, new customers. The website claimed top spots on Google for most of their targeted keywords. They got over 1000 conversions in 6 months' time. The boost in traffic led to more than 480% increase in the number of unique visitors. Additionally, the bounce rate of the organic search traffic also reduced by more than 15%. Their overall revenue with the help of digital marketing campaigns increased by a whopping 754%.