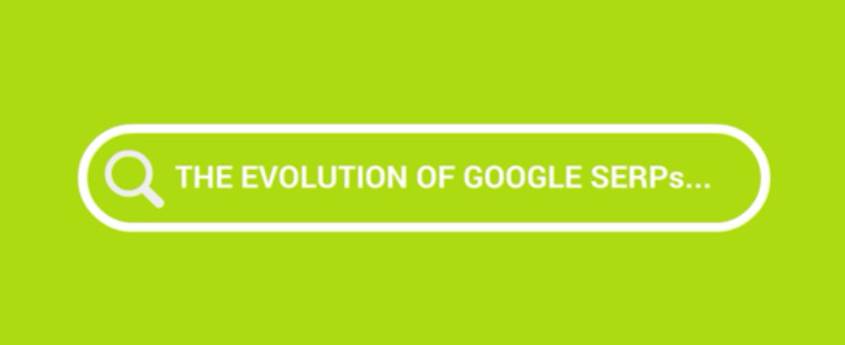 Infographic: Google Search Engine Result Page Changes Timeline
Google rolls out several changes each year to its SERPs. In this infographic, we look at the year-by-year evolution of Google's search engine results page and highlight the most important changes every year since the time when it was just a research project at Stanford. You would've probably noticed these changes through the years, but may have never realized how they affect your business. What's a SERP? A SERP (Search Engine Results Page) is the page, which lists the results by Google in response to your query. We don't need to go any further in detail, because we all use Google every day.
Click on the infographic below to view the full image.
Learn the complete history of the evolution of Google SERP, year-on-year. Read on!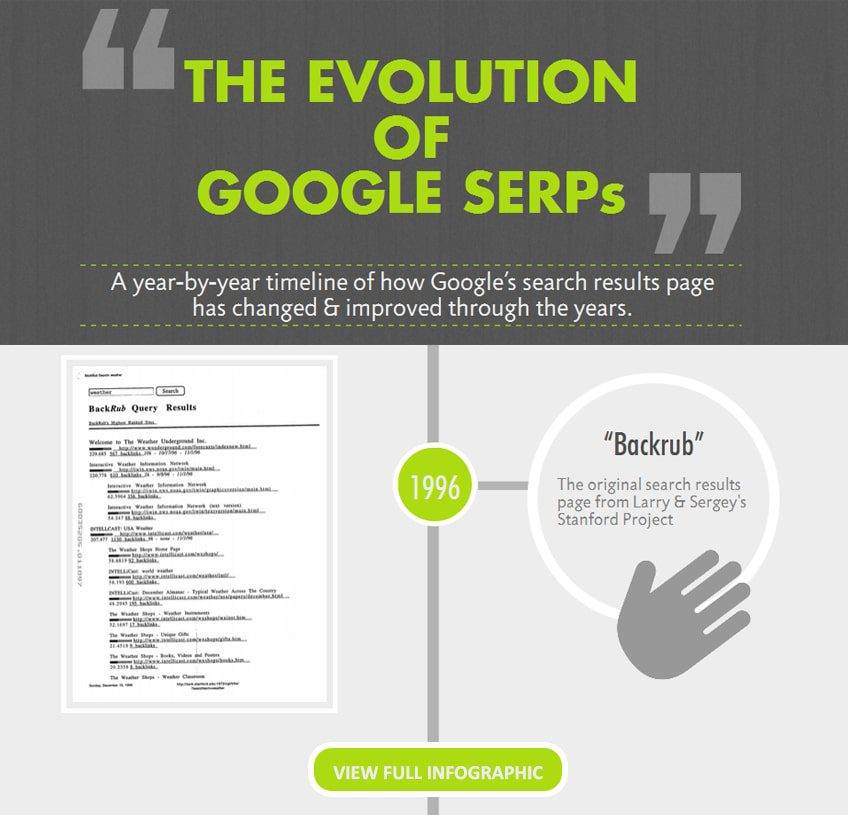 Now, why should you care about Google SERPs changes?
That's because your users find your website here! You can't expect all your customers to visit your website directly. Most of them don't even know that you exist. That's precisely why, it's important for your website to appear on Google's search results page. Having a top SERP position for your website can make a HUGE difference for the success of your business on the web. If you're an SEO expert, well, you know the pain!
Glossary of some of the major highlights shown in the infographic:
Universal Search
It's a term tagged for the revised and expanded Google search engine result page methodology. Earlier, your website would only compete with similar websites, when a user would search about your business or what you have to offer. But after universal search was launched, Google on its SERP would also include, in its listing of search results, other relevant online content, such as images, videos, news, blogs, articles, books, etc. This means that now your website has to compete with all these sources and not just similar sites.
Rich Snippets
These snippets are the page mark-ups – few extra bits of text that appear under every search result on Google's SERP. They are designed to give users a feel of what's on the site they are about to enter and why is it relevant to their query.
Knowledge Graph
Knowledge Graph refers to the knowledge base deployed by Google to improve its search engine result page by understanding the facts about people, things, places, etc. and how they are all inter-connected. Google helps users discover answers to questions they never thought to ask, and explore information. It also provides ease-of-use to the users as they do not need to navigate to different pages to get the answers to their queries, by bringing all possible information and content on the main SERP page.
Local Results
Google allows you to connect directly with your local customers when they are looking for your type of business or solutions on Search, Maps, or Google+. By putting your essential business information as well as user reviews on Google search result page, it helps you to get found by your potential customers at the right time.
To share this infographic on your site, use the code below. For different sizes of the infographic, click here.
All data and images shown in the infographic are based on the best we could find at the time. As Google keeps testing and changing, the displayed details are subject to change. As always, we welcome your comments.