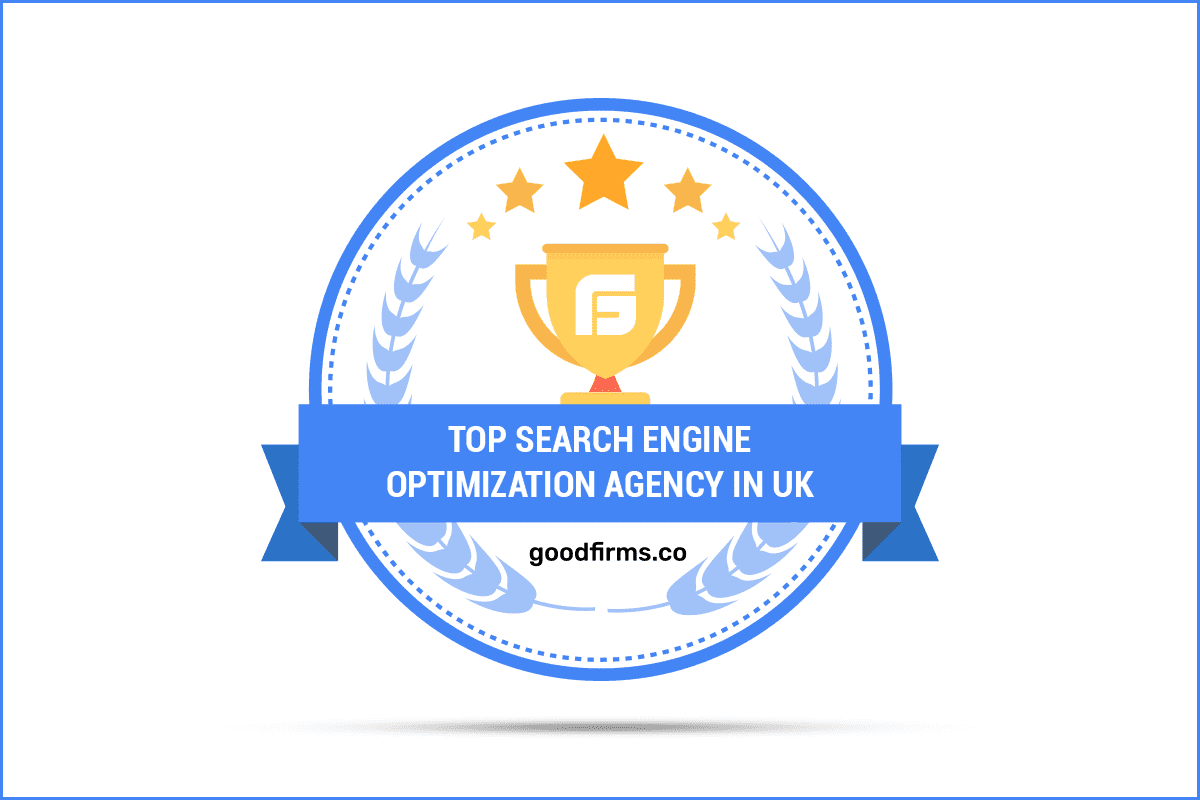 e intelligence Offers Reliable, And Growth-Oriented SEO Solutions
SEO has become a superpower of digital marketing by helping online audiences discover and explore the most relevant information about everything available. Top-notch search engine optimization professionals ensure website content is well-optimized with zero technical errors.
In 2023, SEO is still in demand because of its unmatched quality to convert your web visitors into consumers. Today, the website requires an excellent design with a user-friendly experience, but business growth and return on investment (ROI) are affected without SEO techniques.
When it comes to search engine optimization, effective strategies with result-oriented solutions e intelligence, having around 16 years of experience in digital marketing, can help. They have delivered over 6000 successful marketing campaigns for reputed brands globally.
This article aims to provide complete information about this company, providing a broad range of excellent SEO, web development, and digital marketing solutions.
An Excellent SEO Partner
e intelligence is a leading digital marketing agency specializing in SEO and web development. They offer various digital solutions from marketing to development with excellent business partnerships by providing dedicated teams and white-label SEO and web development services.
The company was founded in 2005 with headquarters in Sheffield, England. Their digital marketing services include search engine optimization, PPC management, social media marketing, Facebook marketing, LinkedIn marketing, and online reputation management. They possess expertise in WordPress, eCommerce, and custom web development.

Comprehensive Research
e intelligence's SEO team is committed to delivering best-in-class solutions that improve the brand's SERP ranking and overall reputation on search engines like Google, Bing, Yahoo, etc. The team provides reliable and insightful research that helps target the right keyword for a relatable audience and increase conversions.
Effective Strategies
The company offers customized SEO strategies to obtain the desired results and add value to its client's businesses. There are different strategies for different goals to achieve in search engine optimization. e intelligence focuses on various elements, including effective SEO techniques for lead generation, improving sales and ROI, and building customer loyalty.
Achieve Concrete Results
e intelligence states that their partnership with clients is always exceptional and rewarding because of their solid commitment to providing excellent SEO solutions with results that exceed client expectations.
The below-mentioned client reviews prove that e intelligence has all the abilities and capabilities to deliver outstanding digital marketing and reliable SEO services.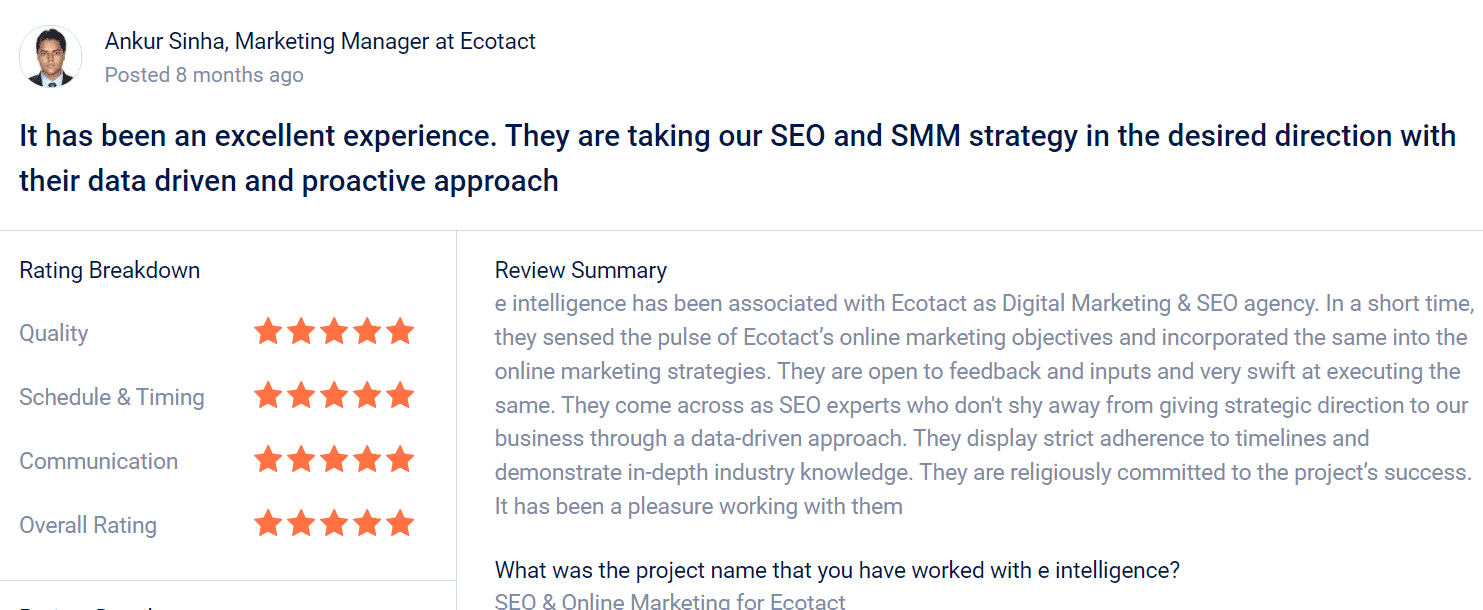 Click for more reviews.
All these things helped e intelligence achieve a prominent position in the list of top search engine optimization agencies in the UK by GoodFirms.
e intelligence's Clientele Consists of Popular Global Brands



Why Does GoodFirms Mention e intelligence As UK's Most Result-Oriented SEO Solutions Provider?
e intelligence is a premium digital marketing agency that offers the most suitable solutions to their client's businesses with a hassle-free process that helps them focus on their other critical business operations. The company's mission is to deliver worthwhile experiences to its customers and add value to their businesses.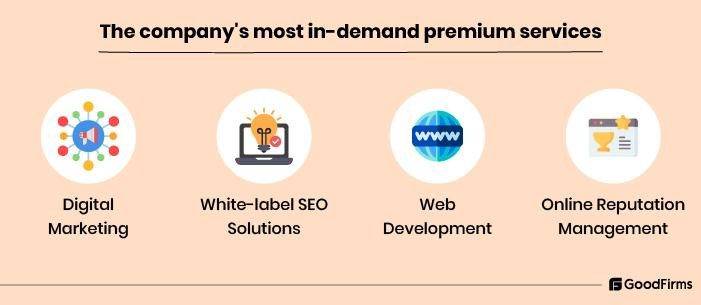 Digital Marketing
They possess expertise in creating impactful SEO strategies with creative thinking and innovative vision that take businesses to the next level. Their comprehensive understanding of various digital marketing channels, including search engine optimization, social media marketing, email marketing, and PPC management, provides measurable results.
White-Label SEO Solutions
e intelligence's highly experienced SEO professionals offer top-notch white-label services to their business partners worldwide and provide them with a sustainable business model. The company acts as a silent partner by providing its clients with SEO services under its brand name.
Web Development
The company has a dedicated web development team that comprehends clients' business requirements and creates top-notch websites which provide an exceptional user experience and interfaces that add value to the business.
Online Reputation Management
ORM is a critical factor for online businesses. People are most likely to visit websites with a good percentage of domain authority (DA) and page authority (PA). e intelligence's team implements the most advanced reputation management strategies that help increase brand awareness and trust in the online marketplace.

Conclusion
e intelligence follows the most professional and productive approach toward digital marketing, SEO, and web development services. Their dedication and determination to provide their clients with a hassle-free experience and reliable solutions distinguished them from their competitors.
About GoodFirms
GoodFirms is a trusted B2B research, review, and listing platform helping businesses accelerate their digital journey and maximize modern technology's value. The company connects service providers with service seekers through a comprehensive and thoroughly researched fact-based list of the best services and solutions. Recognized as the most reliable source for the B2B market, GoodFirms has world-class experience with partners across the globe.