SEO for Event Planners: How we helped Improve SEO Performance of our Client!
Coronavirus has left organizations scrambling for endurance. In case you're in an industry that relies upon occasions or gatherings to associate with customers, you're probably pondering where to discover customers.
Try not to surrender if an occasion or meeting is absurd; innovation makes it simpler than any time in recent memory to digitize your occasion. Implement impactful SEO strategies for better results.
Are you an event or wedding planner who wants to show up on Google? Search Engine Optimization (SEO) is all that it takes to get as much attention as various social media platforms get. All you need is a good SEO strategy to help your business website rank higher and generate more traffic. SEO for event planners is all that you will read in this blog.
As India reports a surge in Covid-19 daily cases, virtual events have become the new norm. We believe organizing an event online is a smart and effective way to connect with your customers. According to the Post Covid-19 Event Outlook Report, an overwhelming 93% of organizers plan to invest in virtual events moving forward.
Using the right amount of SEO tactics in your event planning process can help you score bonus points. Currently, people are craving connections after almost a year of loneliness or locked down; a COVID-compliant event along with good SEO practices can work wonders for your business.
Do you know what the critical piece of the puzzle is?
Proper understanding of how your audience is searching for events. There are many more missing pieces that you might want to know and incorporate into your business.
Below are the results which will make you surprised. We are sure, you will.
We give you SEO results with graphical representation for precise understanding.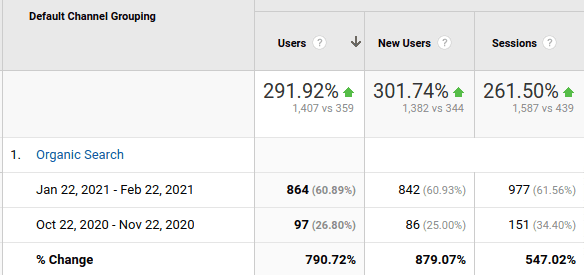 As the quote goes "Hard work pays off" – Our Team proved this! Figure 1 clearly shows the amazing efforts and strategies implemented, resulting in a 547.02% hike in the number of organic sessions in such a short period.

Well, so there is no doubt that this newly attained increment has affected how the organic sessions increased. It is essential to be aware when considering SEO for Event planners.

Figure 1.2 portrays a profound increase in organic session in the month of Jan'21 – Feb'21 as compared to Oct'20-Nov'20. As a wedding pro, the way you market your business can make or break you.

As depicted in the above figure, daily clicks troubleshooted from Nov'2020 to Feb'2021.

With smart tactics and outreaching activities, referral search increased by 146.34% – Right from 41 to 101. It isn't a small number, right?
If you're looking for a company offering SEO for wedding planners, look no further than e-Intelligence.
An event without an audience is a total flop, don't you think? Thus, you should make it easier for your audience to find your event online. Make sure your site looks attractive and responds as great as possible for search engine robots. Never manipulate search engine rankings, as it will only add to your woes.
Using the right keywords will be helpful in many ways. You need to have a proper understanding of keywords, resulting in better optimizing your content, headings, anchor text, and likewise. This is how you can communicate effectively.
Use tools like Google Ads Keyword Planner to prepare your list.
Implementing good SEO practices will make your event more accessible to a potential audience with disabilities. To improve accessibility, you can develop a text alternative for visually impaired users.
Even search engines can't see images and use alternative text to understand the image and its function. Using alt text to describe the contents of the image can increase your brand credibility.
All your event site's images should have essential keywords that are added smartly in the context of the image. It's better to create a transcript of the content or offer screen captioning such that search engines read the text and make it available for greater reach. This is how event and wedding SEO works!
The blog doesn't end here! We have listed down 11 essential on-page and off-page SEO tips to keep your business moving even during the pandemic.
11 SEO Tips to Grow your Event Planning Business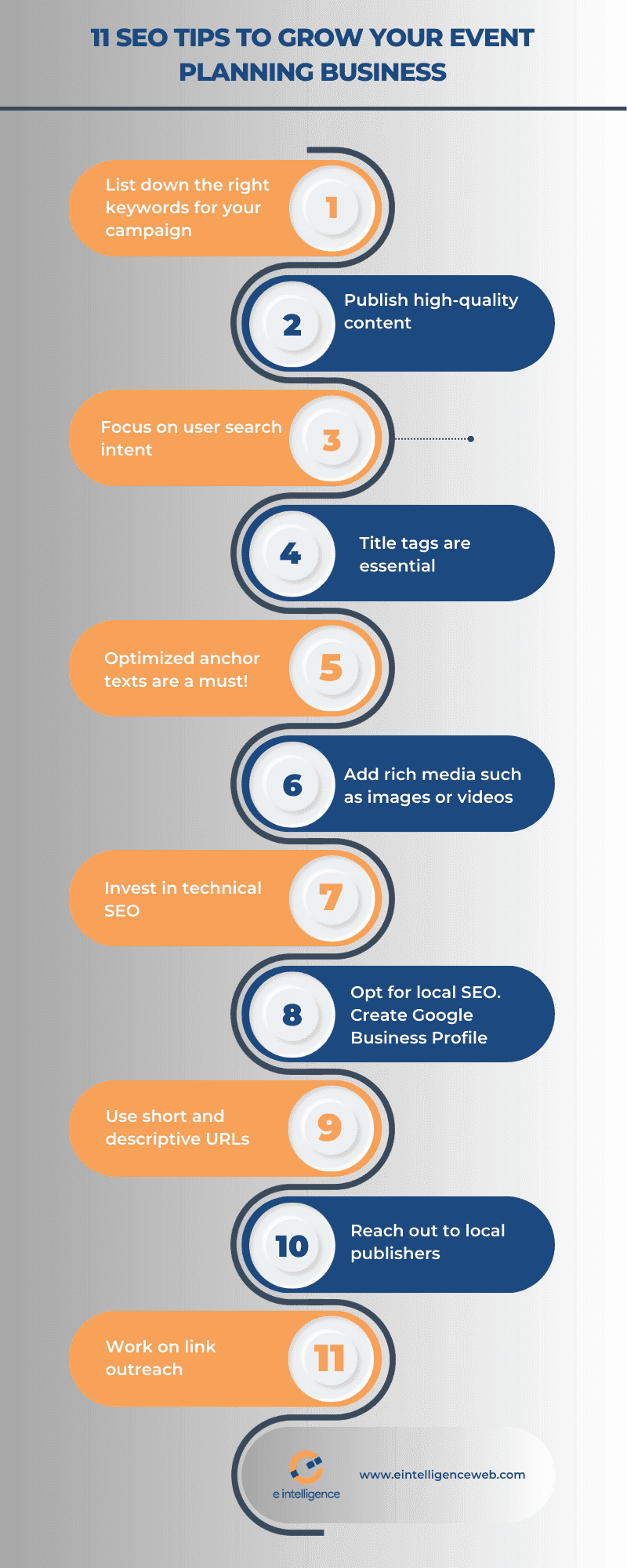 1. List down the right keywords for your campaign
Your audience uses specific keywords to generate a list of relevant results, and you want to appear in the best results. That's very obvious!
Choose relevant keywords for your SEO campaign through keyword research. Start by generating a list of appropriate keywords that can be used to reach valuable leads. Thankfully, there are numerous free tools like Google Search Console, AnswerThePublic, etc., that will work well for your business.
Focus on long-tail keywords since they drive more traffic to your website. After selecting your keywords, try to integrate them into your site, and Google will rank your pages with the right results. Make sure you don't overuse it as it may lead to keyword stuffing and negatively impact your Wedding SEO ranking.
2. Publish high-quality content
We all know that content creation is vital as it helps in increasing engagement and boosts SEO ranking. Add value to your content by providing valuable event planning insights to users who are constantly looking out for expert information. Don't hesitate to experiment using other forms of content like infographics, videos, blogs, ebooks, etc. Providing valuable information consistently will help in building trust and result in conversions.
3. Focus on user search intent
Your pages should match the user search intent if you're creating content or optimizing your pages for keywords. Users are constantly looking for specific information regarding their query, and you need to feed them with the same.
Look out for trendy topics that your audience are searching and shower them with relevant answers to their query. By doing so, users will engage with your page longer and spend more time getting familiar with your brand. More time spent on your site means a spike in your SEO ranking.
4. Title tags are essential
We all know that title tags represent the title of the web page and are shown in search results to provide a quick overview of the web page. It helps in notifying search engines about the content on your webpages. This makes it important to ensure that all your title tags are optimized to include all necessary keywords.
Your title should be under 60 characters without keyword stuffing – that's all you need to remember.
5. Optimized anchor texts are a must!
The simple fact is that off-page SEO relies on how popular your website and content are in your industry. To determine your popularity, you need to know what and how many people speak about your brand. When an individual links to your event page, the anchor text conveys Google about your content on the other side of the link.
Suppose a local event publisher writes an article regarding your event along with a link to your event page. In that case, your anchor text should look like ''International Women's Day Celebrations'' instead of your "Company Name". This will give your site greater link authority
6. A picture is worth a thousand words!
Adding rich media such as images or videos can be a great idea to increase engagement. Ditch the text with HD images, and don't forget to have an ALT tag that's named appropriately. As said earlier, Google cannot read images; adding an ALT tag is like a text alternative for images to translate the same.
Never name your image files as imgxxxx.jpg; instead, prefer naming it as xyzeventcompany-prewedding-teaser.jpg.
7. Invest in technical SEO
Technical SEO is necessary if you want to rank high in the search results. It mainly focuses on everything beneath your website's surface and how it will affect your performance.
Page speed is one of the most crucial technical SEO factors. A slow-loading page will refrain your customers from clicking on your page in the first place.
Want to prevent your event planning business from losing all potential leads? SEO for event planners will help your business achieve profits.
Use Google PageSpeed to find all necessary loopholes in your site and improve it accordingly. Other than this, keep an eye on other factors like mobile-friendliness, indexing, and coding – this will keep your site in top shape.
8. Opt for local SEO
Undoubtedly, local SEO is imperative if you wish to beat your competitor and attract customers in your area. In order to reach the right people in the right location, you need to make your event visible even if you type 'Events this weekend in India'. Local search rankings help you to be seen by many potential clients.
If you think you don't need online business listings, you're probably wrong! It's one way to ensure your business shows up in local Google searches. Make sure you create a professional and appealing Google My Business (GMB) page to lure your target audience.
9. Use short and descriptive URLs
Keep your URLs concise and easy to remember.
10. Vouch for local publishers
Every event organizer will want to be present on your local event websites around your city. Make yourself visible locally!
11. Work on link outreach
Reaching out to authoritative blogs and websites that are willing to feature you with a link back to your website is a great way to improve your link popularity and build your reputation.
And that's a wrap!
We hope these tips will help boost your attendees and online reputation. SEO gives you the power of both smooth communication and wide recognition. SEO for event planners have the responsibility to make the most of tactics to grow your business.
Professional event planning requires creativity and proactive SEO approaches. This will surely open up new possibilities to succeed with your online marketing efforts.
Lastly, start planning your SEO strategy with e-Intelligence, and we will help you improve your site's SEO ranking and earn more valuable traffic on your event planning site.
We are a professional digital marketing agency with 16+ years of the digital revolution with successful campaigns and happy clients. You can count on our team of experts who will help create a customized campaign unique to your business. Join hands with us to create impactful events.