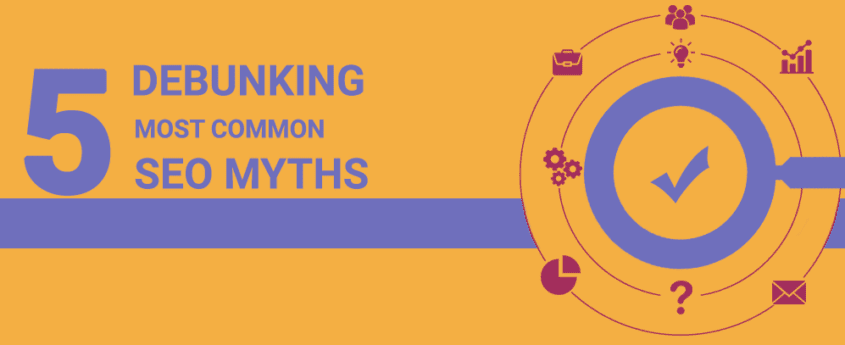 Debunking 5 Most Common SEO Myths
There is no denying that SEO is a continually changing field. A technique that was trending yesterday becomes outdated today.
There are times when Google applies the updates in the easiest way possible. But it burns down a number of trends at the same time. The infographic by SEO Tribunal you'll find below will guide you through the 72 SEO stats and trends in 2018.
However, with all the old and new trends, many business owners are still surrounded by a lot of SEO myths.
Whether you are new to SEO or are already using SEO techniques, we have debunked the five common myths for you.
Myth 1 – Keyword Stuffing Leads To High Ranking
This is now the thing of the distant past.
If you try to apply this tactic, Google will penalize your site by degrading its rank. Remember that users don't like to read repetitive content. You can use the keywords, but your focus should be on optimizing the user experience.
Moreover, add the content that is error-free and that adds value to the readers. The thumb rule is to add keywords in headlines and naturally throughout the text.
Myth 2 – Mobile SEO Is Not Important
Many business owners have not been optimizing websites for mobile devices until recently. But after Google's March 2018 update, having a mobile-friendly website became one of the most important factors for a better rank.
Considering how popular smartphones are, this comes as no surprise.
Myth 3 – SEO Can Be Automated
There are specific digital marketing techniques that can be automated, but SEO is not one of them.
If you need to optimize your website, you will have to perform on-page and off-page SEO techniques manually.
Myth 4 – Lengthy Content Gives Better Rank
Some people believe that the lengthier their content is, the better for the Google ranks. This is a mistaken view. The most important thing about content is top-notch quality, as it will engage the readers who will be eager to spend more time on your site.
The more they stay on your website, the better for your ranks.
So, make sure the audience understands what you are trying to say. Keep the content engaging. Add a call to action in the text and ensure that your point gets across in no time.
You can also test the pages and see how users respond to your content.
Myth 5 – SEO Techniques Change
It is true that Google updates the search algorithms regularly, but it does not mean that you have to respond to every single change.
Your SEO strategy will work as long as you follow the tips and tricks by the SEO experts. They will provide you with essential updates only, not with every single change Google or any other search engines implements in its search algorithm.
Along with these debunked myths, you can also turn to the infographic that follows. It is the perfect source for SEO stats, tricks, and tips you need to keep an eye on.