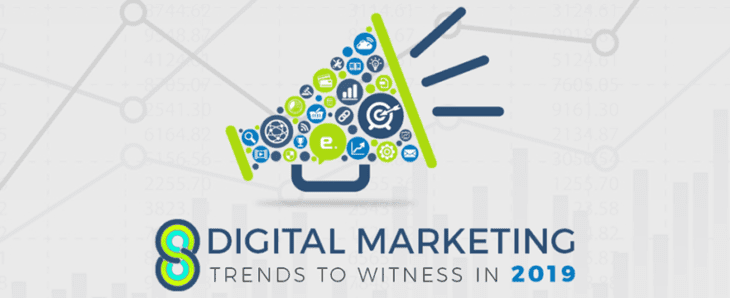 8 Latest Digital Marketing Trends To Witness in 2019
The digital marketing landscape is changing at a rapid pace. To survive the challenges of digital marketing and to stay ahead in the game, marketers need to stay updated with the evolving digital marketing trends.
By following the latest digital marketing trends even small businesses can grow and propel at an increasing pace.
So, let us understand the recent marketing trends in the digital arena-
You cannot miss AI-powered solutions
In simpler terms, Artificial Intelligence-powered solutions are ways to create intelligent machines that can think and perform like humans. Digital marketing is a sector which is truly benefiting from AI.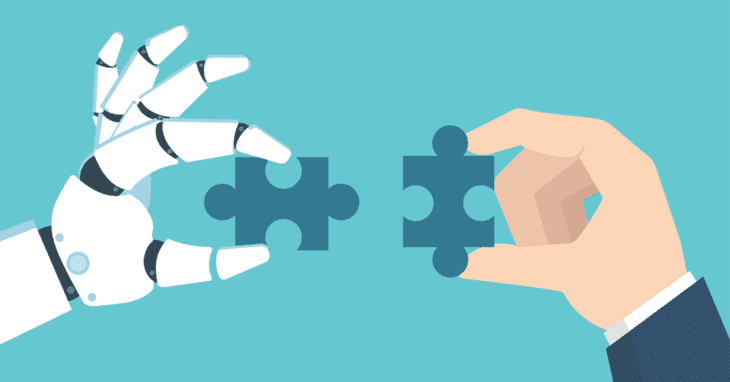 With the help of AI tools, companies are able to predict consumer behavior and after knowing the patterns of consumer behavior, companies are able to deliver better solutions and better user experiences. AI tools help business to collect accurate data of their customers and business decision-making hence becomes simple.
Businesses are able to reach their target audience fast and with ease which helps to understand buyer's journey and improve ROI.
Realize that chatbots are the future
Chatbots are effective in personalizing customer experience as they are prompt, responsive and record entire buying history. They are like virtual assistants that record repetitive tasks and offer customer service virtually. Chatbots are an efficient and cost-effective way to communicate as it saves the cost of hiring a separate customer relations staff.
Infuse voice search
A search option on smartphones, laptops and other devices that allows users to search for topics by speaking instead of typing the query is known as voice search or search by voice. The rise in voice search recently has brought new opportunities for local businesses.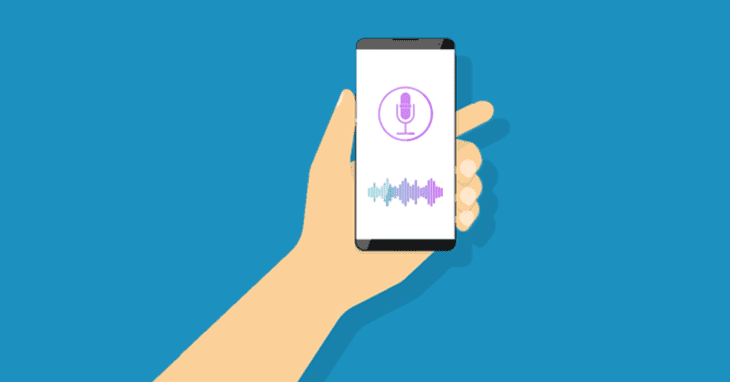 Businesses are now openly embracing voice search by providing their own versions of digital assistants to deliver information effectively and connect to consumers quickly.
The upside of voice search option is that people reach the option by themselves when searching for a specific query. Because of its ease, people tend to use it more.
Optimizing voice search will help you reach more customers. When users can find your company easily in voice search, your brand awareness boosts and increases the probability of more sales.
Influencer marketing is a hit with social media followers
Influencers are individuals who promote products and services of brands who are looking forward to expanding their customer base. Influencers are trusted public figures in their niche and have a loyal following. The major advantage of influencer marketing is that it is helpful in capturing the global audience.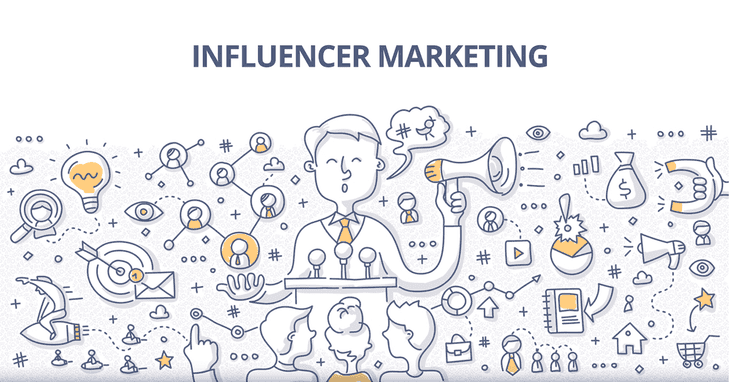 Collaborating with influencers is an economical option compared to traditional methods of marketing and has following benefits-
Credibility – Influencers are reputed and inspirational figures in their respective markets. Majority of their followers are personal connections. Because of personally knowing their audience, influencers are able to generate relatable content that boosts engagement.
Trust – If a brand wants to increase its sales, it needs the trust of the consumers. In the case of influencer marketing, the trust already exists between the influencers and their audience. So, it becomes easy for brands to sell their products.
Authenticity – Usually, influencers are people who are already end-users of the product or service. They make reviews based on their personal experiences and their messages are looked as original and impactful.
Influencer marketing is a great source to generate quality backlinks and drawing more traffic to the website. It has already shown great results and many brands are adopting this approach to boost their brand reputation.
Social media marketing is at its peak
Social media marketing has become one of the most important aspects of digital marketing today. Here's why –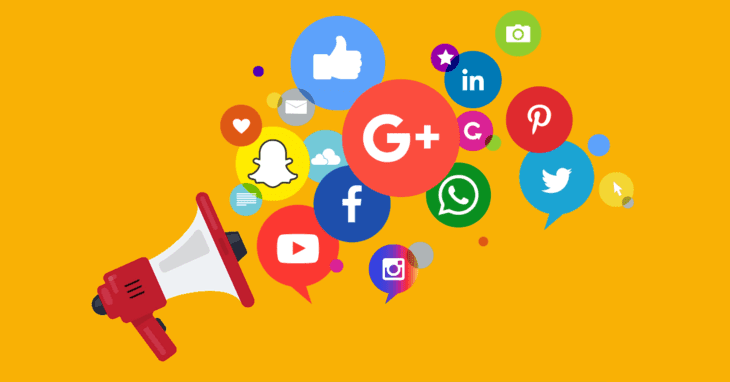 Social media marketing is an essential way for brands to reach its consumers and achieve more leads by generating more traffic and increased engagement.
63% of people who search for businesses online are more likely to convert into customers of a strong social media presence.
Following are 3 significant advantages of social media marketing –
Increased brand awareness – There are more than 2.5 billion social media users across the globe. A brand's potential clients will have a presence on at least the most influential social media platforms like Facebook. With so many social media users spread globally, imagine the number of audience that can be reached and the conversions that can be made.
Increased inbound traffic – Every social media you extend creates a new path leading back to your website. It is the best way to capture relevant traffic from search engines, which results in more leads and more conversions.
Loyal customers – Social media is a communication channel that enables interaction with the audience. Besides, it also gives you a chance to publicly demonstrate your customer service and develop a richer customer experience. Social media platforms are also service channels where they can directly communicate with the business.
Content marketing is still an essential element
Content marketing is an inbound marketing tactic to attract and engage customers by providing them with useful information. Content marketing is an effective digital marketing strategy. It helps in engaging quality audience and generate more leads. Content marketing mediums like blogging help to increase website traffic through organic search. By creating quality content, you build credibility and authority in your target audience.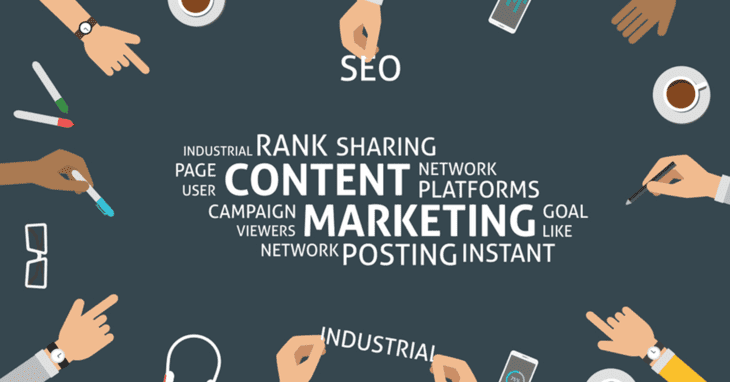 Content marketing is a cost-effective option compared to other forms of marketing. As per the Content Marketing Institute, content marketing costs 62% less than outbound marketing and generates 3 times more leads.
Embrace Video marketing
YouTube is the second largest search engine on the web today and the reason is obvious. Videos are the best medium to generate engagement and are becoming more shareable.
84% of consumers are convinced to make a purchase after watching a video.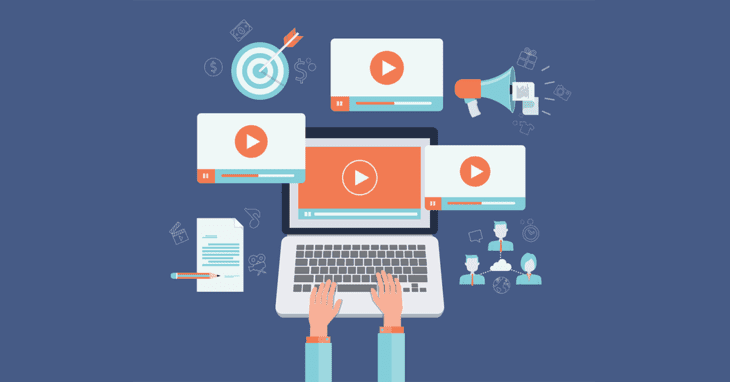 Video marketing means strategic use of video content to promote your brand and expand your audience. Videos enable small businesses to reach a large audience, quickly and in a personalized manner. Video marketing enables businesses to not only sell their products or services but also share their brand story with the world. Moreover, as the number of smartphones is proliferating, the video audience from mobile is getting bigger and bigger. Youtube reports claim that the mobile video consumption grows by 100% every year.
With videos, you are 53 times more likely to appear first in search results. Google rewards videos and it increases the time spent by visitors on your page.
Personalize Email marketing
Email marketing is easy, effective and yet a powerful tool for brands to reach and engage with their target audience. Email marketing has always been a helpful digital marketing tactic as it helps you to stay in connect with your audience on regular basis and grow your customer base. Emails like mailers and newsletters are a great way to share with your audience what is the latest news of your company and simultaneously attract new opportunities and expand your network.
When you focus your email marketing to something specific such as a product launch, then try to follow-up with the customers if they have browsed your product with an offer price or a demonstration.
Get set for 2019:
You may need to experiment and get an edge over the competitors by turning your business into an updated powerhouse in your niche. It's time to get ready for 2019 as it will be a transforming year for the digital marketers.
To conclude, let's take a look at the infographic featuring some surprising facts: