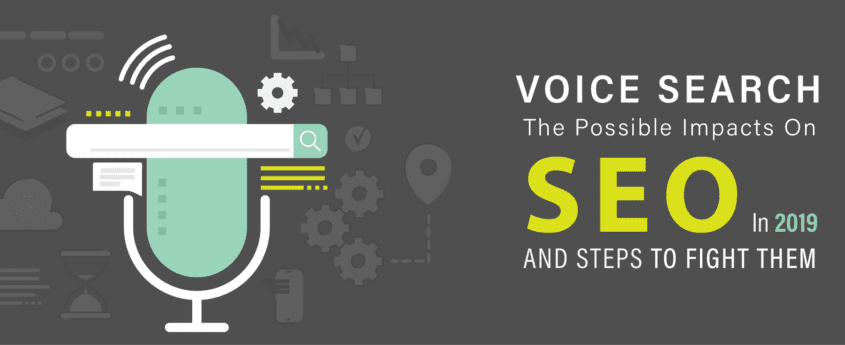 How Voice Search Will Impact SEO In 2019?
In the world of search, voice search is an emerging trend and the impact is such that it has become a necessity for us to keep an eye on it.
Google algorithms keep on changing frequently – once or twice in a day.
According to a study, by 2020, 30% of all website sessions will be administered without a screen.
One question that should rise now in your mind is:
What's the reason behind the wide acceptance of voice search?
Voice search allows users to browse the Internet and consumer information without actually scrolling through sites on desktops and mobile devices.
Let's understand voice search a bit more:
What Is Voice Search?
Voice search allows users to speak into a device in a search query to generate results. It has eliminated the tedious task of typing keywords into a search query to generate results.
Audio technology uses speech recognition to interpret what users are saying with extreme precision. The result is then delivered orally to the users.
It might seem like a brand-new concept, but voice search technology has been around for a while. Programs such as speech-to-text and voice dialing are examples of voice search.
Impact on SEO
Google changes its search algorithm around 500–600 times every year and all these changes affect search results in significant ways. This affects SEO strategies – and is a major reason for SEO being a dynamic process. That's the beauty of it, right?

The impact on SEO is sure with the advent of voice search.

Digital assistants such as Alexa or Siri answer with a short sentence, usually from a news source and the user doesn't see a long list of options to choose from. A very clear answer to the query!
Well, if you are thinking that SEO is no longer important, just because Siri and Alexa are giving good results, then you may be wrong here!
The fact is these voice searches give only the most relevant search results, making the optimization even more critical. In order to get your business noticed, companies will have to work on optimization more and notice the patterns voice searches use.

Marketers have to ensure that all the content is conversational and natural. This will help. How? This will meet the Q and A pattern of voice search.

Tools like Schema Markup make sure that Google has got the most of the details of your business.

Blogs were, are and will always be an important method to make a voice search successful.
Before proceeding further, let's have a look at some statistics:
46% of voice search users search about a local business daily

58% of the consumers used voice search to find local business information during 2017 (We are in 2019. The 2018 figures surely would have gone up!)

27% of people visit a local business website through voice search

76% of smart home speaker users use voice to search for local businesses once in a week and 53% of them are performing daily searches

The voice recognition market is estimated to $601 million industry by 2019
The above stats and figures can help you understand why the big players in the market are giving importance to voice search.
People are using it and brands are aware of this. They don't want to be left behind. Voice search may very soon even become the biggest search methods, and if brands don't optimize correctly, they might be buried by their competitors.
What are the benefits that are driving people to use voice search?
Voice search is good because:
1. It increases the search speed
The search platforms cannot match the speed of voice search due to its convenience. A user just needs to say a query vs. typing the query on the laptop or mobile phone.
2. Productivity is enhanced
The world of 4G and 5G has made people look for results fast. We can speak a sentence faster than we can type it.

The use of a touchscreen or keyboard is eliminated when a person chooses to get an answer to a query with voice search.

Time saved is time earned.
3. The access is massive
This is probably the best part about voice search.

They can be accessed by anyone and everyone.

Users who are blind or a person who cannot use the screen for some reason, voice search is the best option.

It is a big group of people that brands may be missing out on if they are not thinking about voice search.
How Does Voice Search Affect SEO?
SEO practices are sure to get affected by these technological changes and a business needs to be prepared and ready as users adopt the future of search.
Google wants to know the user's intent to make sure they give them the best results to their problem/inquiry.
#1- Interrogative statements
Interrogative statements are the queries that start with what, where, how, and why.
As humans need quick response to their queries, they will ask a question through voice search in a conversational language. So, businesses need to focus on optimizing their websites according to voice search.
#2- Devices
Voice Search SolutionBuiltGoogle indicates that over 60% of all searches come from mobile devices.

20% of them are searching using Voice Search. That number is on the rise constantly.

These speakers use Voice Recognition and Voice Search for almost all of their functions. Front-facing keyboards or buttons are absent.

The need is that the website content should be optimized for mobile devices, as well as home speakers.
#3- What We Are Searching For
Voice search users are availing the facility to get immediate answers to their problems or inquiries.

Some examples of voice search inquiries are:

"Where should I eat Tacos tonight?"

"Which is the best bar near me?"

"I need my Radio fixed today!"

"I am out of gas, where is the nearest gas station?"
Voice Search is used to get a fix to a real-time problem or question. A business' SEO practices need to be in line and up to date to stay relevant and high ranking.

Local SEO and "Near Me" strategies will matter more than ever with voice search.
#4- Ensure Your Website Loads Quickly
This is just like traditional search engine optimization.
Google voice search favors websites that load quickly like SEO.
Ensuring that:
The site responds fast and works well on mobile too

The images are optimized

Files are compressed

Website cache is being utilized to improve page speed
#5- Writing the way that we speak
When users search for content on desktop or mobile, they write in short – almost as short as a bulleted phrase.

This example will make it more clear. A user who wants to search for a good web designer will simply type "top web design companies" in a search engine.

Now in the second scenario, a user is performing a voice search for the same task. He will now command "Give me the names of top web designers near me".
Typically, a voice search result is written at a 9th-grade reading level.
With different voice search engines already introduced in the market, here are some optimization tips that will help you target each of them.
Google Assistant – Try focusing on a local pack and a featured snippet. Together with this, Google play optimization can also be taken into consideration to offer relevant results.

Alexa – Alexa pays attention to Bing places, featured snippets and Yelp.

Siri – Optimize according to Google Assistant will optimize it for Siri too. Developing more Siri compatible applications can also prove fruitful.
No matter what search engine you give value to, the two main areas to pay attention to should be local listings and featured snippets.
To round up:
Investing in voice search optimization will improve brand awareness, online purchases, and revenue.
A study found that voice search eCommerce resulted in $1.8 billion in Amazon revenue. This figure is expected to increase to $40 billion by the year 2022.
The influence of voice search is ever-growing and its popularity and professional use are still on the rise. Optimizing the website for voice search now will keep you ahead of the competition and see strong voice search rankings that will effectively grow your brand in the long term.
So make sure that the business adapts to the structural changes. Just make sure that all the pages are properly optimized for voice search. Voice UX is at its peak, hence it's the right time to hit the change button and stand out among your competitors.