Storytelling in Content Marketing: Here's How You Can Kill It
Tips to Enhance Storytelling in Content Marketing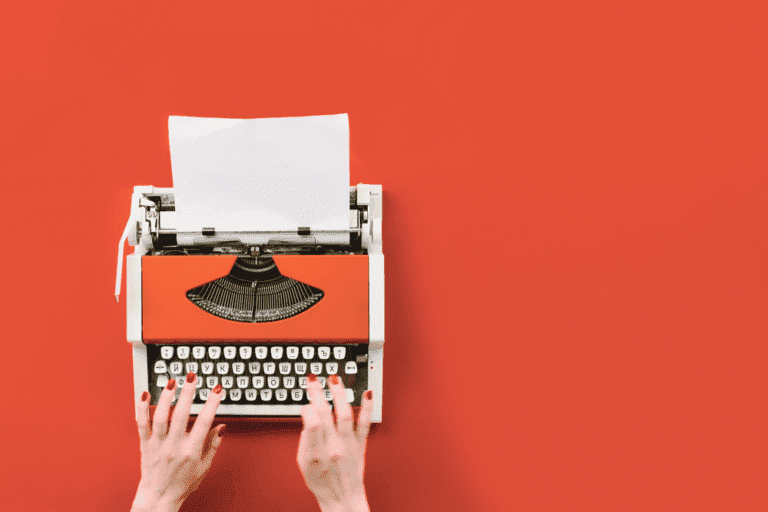 Storytelling has been alive and fascinating for centuries and even today, it plays a significant role in marketing. Good stories amaze, engage and create an emotional connection.
The podcast that you heard above is a perfect example of this.
There is a huge possibility that it will be remembered and shared. Your story should not be just revolving around your products, instead work on strengthening their belief that they are choosing the perfect product. Keep in mind that:
"Your brand is what other people say about you when you're not in the room"- Jeff Bezos, Founder, and CEO of Amazon.
Did you know?
Stories are 22 times more memorable than facts and figures. A seamlessly flowing story lightens up the sensory cortex in the story making you feel all absorbed. Also, it stimulates neural activity by 5X.
How does storytelling affect the brain?

As for B2B companies, brand storytelling is the future of content marketing. It is the art of cohesive narration with a perfect blend of emotions and facts that speak about your brand. It also provokes the customer to buy your product or services as you build curiosity by sharing some shots of behind the scenes, an insight into the existence and how it would benefit them.
Storytelling adds a warmth that keeps your reader engaged and will ultimately maximize your brand's visibility, impact and revenue. At the end of the day, you become a better seller.
Hold back, as we give you some tips why storytelling is the future of content marketing.
1. Be indelible
A huge chunk of content is being created and shared across all platforms every day. About billions of dollars are spent by marketers to grab a few seconds of attention from audiences who are bombarded with varied kinds of content every minute. Among all this, how are you going to survive?
Providing quality products and services with outstanding features won't help in gaining the desired attention. Instead, you need to focus on making your brand thoughtful, memorable, and real. For this, you need to tailor your message into an engaging story that provokes a positive response by creatively narrating your product's USP, goals, history, challenges, value propositions, etc.
The trick, however, is to be 'AUTHENTIC'!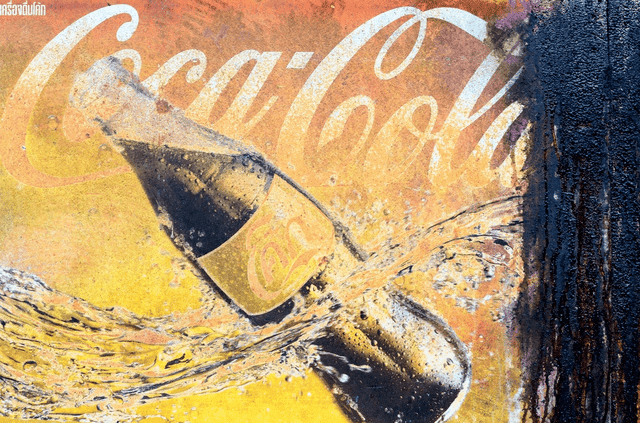 Iconic brand Coca-Cola has an effective storytelling ethos obtained from 130 years of marketing experience. The soft drink giant begins every brief with a storytelling thought-starter question 'what if?'. This helps them to explore, re-imagine and think out of the box. The brand revolves around creating Coca-Cola stories and not stories by Coca-Cola.
Thus, as you sit with your laptop, ask yourself 'What do you want to be remembered for? Your content is the king and you are the one who decides what message you wish to transmit, what tone and emotion you need to add that will make your brand stand out. Always remember emotions drive to purchase more than logic, your customer will forget your content but not the feeling.
2. Craft your message keeping in mind your clan
Storytelling helps to yield higher engagement and builds an emotional bond with your brand- the marketing team at Apple knows it well! Right from its 'Think Different' campaign to 'Share Your Gifts' ad, Apple is considered to have powerful storytelling capabilities.
In 1976, Apple introduced the world with its 'personal' computers and started creating their brand image posing Apple as free thinkers and rebels. It broadcasted their famous 1984 ad during the 1984 Super Bowl that was recognized as the best ads of all-time.
The video has managed to gain over 22 million views and 2,00,000 views in just two months.
Their recent piece of creativity is their 'Share Your Gifts' ad. It shows a young artist piling up all her artworks in a small box until its ready to burst when suddenly her dog lets her art escape into the town. As she watches her art flying at the same time she is overwhelmed by the admiration received by the people.
The video has managed to gain over 22 million views and 2,00,000 views in just two months.
Key Takeaways:
Engage your audience first before introducing your product.
Focus on building curiosity.
Build your brand story on your customers using your products.
3. Be a brand that believes in humanity first
A brand story has the potential to create a greater impact on society. The question is how? Today, customers are looking out for companies that are making efforts to bring a meaningful change beyond earning profits.
Customers tend to drift towards companies that feel more human and have a will to change the world. Empathetic companies that believe in supporting a cause and try to bring a desirable change in the world are considered to be the top performers.
According to the Global Empathy Index, social media giant Facebook grabs the title as the most empathetic company as they have a keen interest in listening to their user's feedback and make changes accordingly.
In an article in Wired magazine, Facebook said, "The main aim is that the designers will understand what their customers are experiencing and build products taking their needs into account. We want to build empathy in our engineering."
The result: Their business has increased twice in value as compared to other companies and generated 50% more earnings per employee. That's remarkable, isn't it?
Refer to the World Economic Forum lists for more!
Marketers strive to invest in the brand's story. An effective brand story will surely lead to increasing the value of the product or service. About 92% of consumers prefer making ads that feel like a story.
For this, companies need to have a set of clear vision that is creative and intuitive depending on the market. Multiple mediums allow you to do so. But, before that, you need to know 6 storytelling trends that you can't afford to miss!
Are you looking for some more? Let's talk.
6 storytelling trends to catch up with!
1. The urge of data-driven storytelling
It is estimated that by 2020, about 1.7 megabytes (almost the size of a two-minute MP3) of data will be created every second for each person on earth. Using this huge amount of digital data, brands and companies can create visually striking and engaging stories.
It is known that the human mind processes an image 60,000 times faster than text, thus using data, brands will be able to provide detailed solutions to problems and cut down on online noise.
Google Trends came up with interactive search trends for the year 2018 highlighting the good moments from 2018 in their annual 'Year in Search'- a sum of the most searched keyword phrases in the year.
The two-minute video has garnered 113,688,135 views and still counting and have been able to engage customers on a global scale.
Watch the video here! You're going to love it!
2. Rage for mini-ads
Video is a common medium that is drastically changing the social network. This platform assures great results such that companies using video can get 41% more web traffic as compared to non-users. With decreasing attention span, Facebook started an initiative to surprise their audience with 6-second video ads. Later, YouTube started with its 'Six-Second Story Challenge'.
This 6-second format will manage to drive better customer engagement. It is very important to experiment and walk with the trend that will add to your business growth. Make sure you adapt to trends that are relevant to your brand so make decision-based on deep research.
3. Leverage on customer-led storytelling
Customer-generating storytelling will lead to gain a potential audience, gain trust, and increase engagement. You can do this by inviting influential customers, hosting a social media takeover day or a blogger outreach program. It's the best way to give voices to your audiences rather than telling your version of the story.
The 'Stories from the Airbnb community' is an amazing platform that brings stories directly from customers who have used their services. It gives a sense of ownership and gives your audience a chance to reveal their side of the story.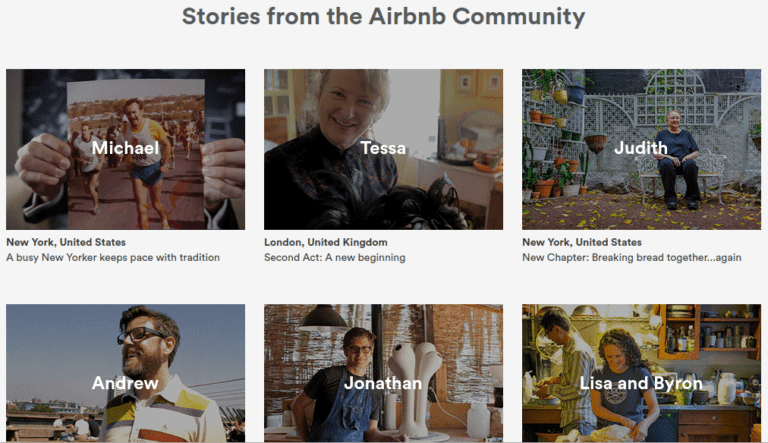 4. Venturing towards Philanthropy
Companies are venturing towards social outreach programs to mingle with the general public. A giant company that participates in charity work and also pays attention to environmental problems will surely be trusted and appreciated.
Patagonia organized a fundraiser for the planet along with various grassroots environmental organizations. The outdoor clothing and gear giant announced that it will be donating 100% of its sales to organizations working to protect the environment on Black Friday. The campaign was a huge hit as they were able to collect $10 million.
In this type of approach, customers expect companies to be transparent including business turnover, the origin of raw materials, history, employee policy, etc. Many marketers are unable to determine the changing behavior of customers that leads to negative impact. Be with the trend!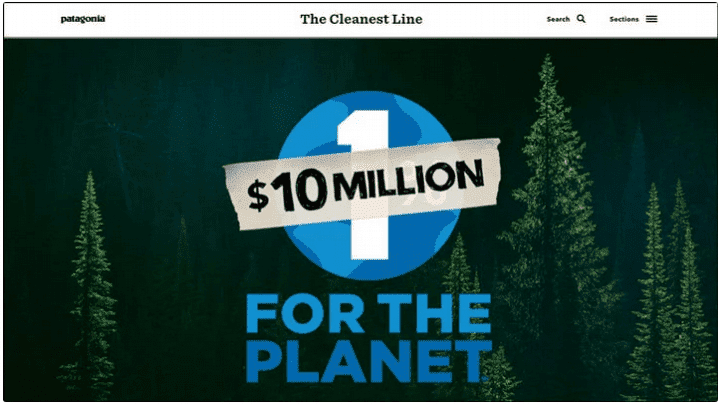 5. The Onset of Immersive Storytelling
Brands have been making continuous efforts in creating a compelling experience for their audience. The wait is finally over with the emergence of AR and VR. Now, customers have leverage through quality content, interactive images, and engaging videos popping on their websites and social media platforms.
Brands have been making continuous efforts in creating a compelling experience for their audience. The wait is finally over with the emergence of AR and VR. Now, customers have leverage through quality content, interactive images, and engaging videos popping on their websites and social media platforms.
Augmented app Pokemon Go was a huge success wherein 65 million users downloaded the app in the U.S. alone. In 2018, IBM and Unity launched the IBM Watson Unity SDK that will bring conceptual expertise and AI capabilities to the employee. Car manufacturers like Ford and Toyota are giving their potential customers to experience a virtual ride.
Immersive storytelling has a huge amount of scope with many new skills that will pave the road ahead for innovative and inventive future.
6. Dark social
The name might be ominous, but about 70% of online referrals come from dark social globally.
Dark social includes links copied and pasted emails, instant or shared via text messages. It refers to social sharing that cannot be tracked or the data that is not registered by the web analytics platform.
With the rise of private messaging apps like WhatsApp, Slack Snapchat and emails, customers find them easy and convenient to stay in touch with their peers and engage in personal level conversations.
This gives digital marketers a better understanding of how people share content and find innovative ways to share their brand stories. Thus, it is important to increase your spectrum beyond conventional mediums and improve your business exponentially.
Bottom line
A book by Rob Biesenbach titled 'Unleash the Power of Storytelling: Win Hearts, Change Minds, Get Results' highlights six keys to powerful stories: stories trigger emotional responses, put a face on an issue, connect us to deeper issues, humanize us, raise the stakes of the discourse, and go beyond telling to showing. The narratives and incidents described help transcend generic keywords and set us apart.
He further adds saying, "Stories help to define who we are and what we stand for. They set us apart in a noisy, competitive world and help ensure we're remembered."
Feel free to share your story and create your brand loyalty. Your audience is obviously interested in the process of its creation.
e intelligence offers premium digital marketing and SEO services that will help you in boosting your marketing game. Contact us for more!