eCommerce SEO Strategies – How We Helped Our Client to Increase their Organic Traffic
eCommerce SEO isn't a piece of cake!
It requires strategies and effort to achieve the expected results.
SEO is a process of optimizing your website in accordance to rank higher in search engines like Google. Google aims to answer all of the searchers' queries.
eCommerce is a marketing platform that displays detailed and concise product description with clear and eye-catchy photographs and plenty of quality reviews.
So, the question arises why we need SEO for eCommerce websites?
SEO + eCommerce = higher conversion rate with high organic traffic.
39% of people initiate their online shopping journey with searching on Google. Search has now become an integral part of our decision-making process. Moreover, 27% of eCommerce browsing time comes from smartphones, and 43% of users will do an online search from their smartphones when they are in the store.
In this blog, you will discover some of the strategies implemented to improve organic traffic of the eCommerce website of one of our profound clients. The client has an online jewellery brand in India, expanded overseas as well. By the end of reading this blog, you will know the impact of eCommerce SEO in driving organic traffic. The May Core Algorithm Update 2020 created a vast difference in the SEO performance for distinct industries. Despite the rapid changes, we managed to maintain the brand image of our client and growing website organic traffic.
Let's see the SEO results with graphical representation for precise understanding: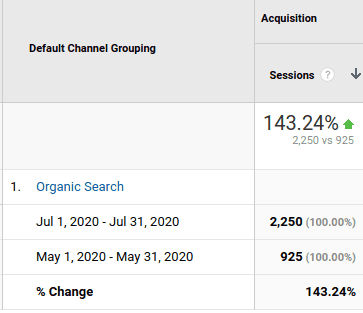 Figure 1.2 portrays an unprecedented increase in organic sessions in July compared to May. eCommerce SEO proved to be a very profitable medium for our online jewellery client.

With the efforts of our efficient team and innovative eCommerce SEO strategies, there was an immense improvement in daily clicks. As we can see in figure 1.3 due to the vast increase in organic traffic in two months from May to July, SEO performance continued to be improved in August.
Read on to know the effective strategies we implemented to improve the performance of our jewellery client.
1. Keyword Research
It shouldn't be surprising that it is important to find high-value search terms. We found untapped keywords with the help of tools like Ahrefs, SEMRush and Google Keyword Planner.
Most keyword research tutorials focus on "informational keywords." Informational searches have their place in eCommerce wherein the majority of your site's keywords is tailored around product searches. Hence, we searched for product-focused keywords.
My team incorporated some beneficial eCommerce SEO best practices. We focused on a category that is unique and ensured to add a unique feature in the keyword.
I recommend taking a look at the keywords your industry competitors use to describe their category.
Wikipedia is also one of the best places to find keywords for product and category pages. Just like the competitors' websites, Wikipedia does the hard work for you. Just entering a keyword that describes a product or category in the search bar will give you some of the impactful keywords.
This way, we strategize our keywords for our client, conquering the eCommerce SEO market.
2. On-page and Technical SEO
On-page SEO
As mentioned before, we created a list of keywords and began working on it. We optimized product and category pages with those keywords.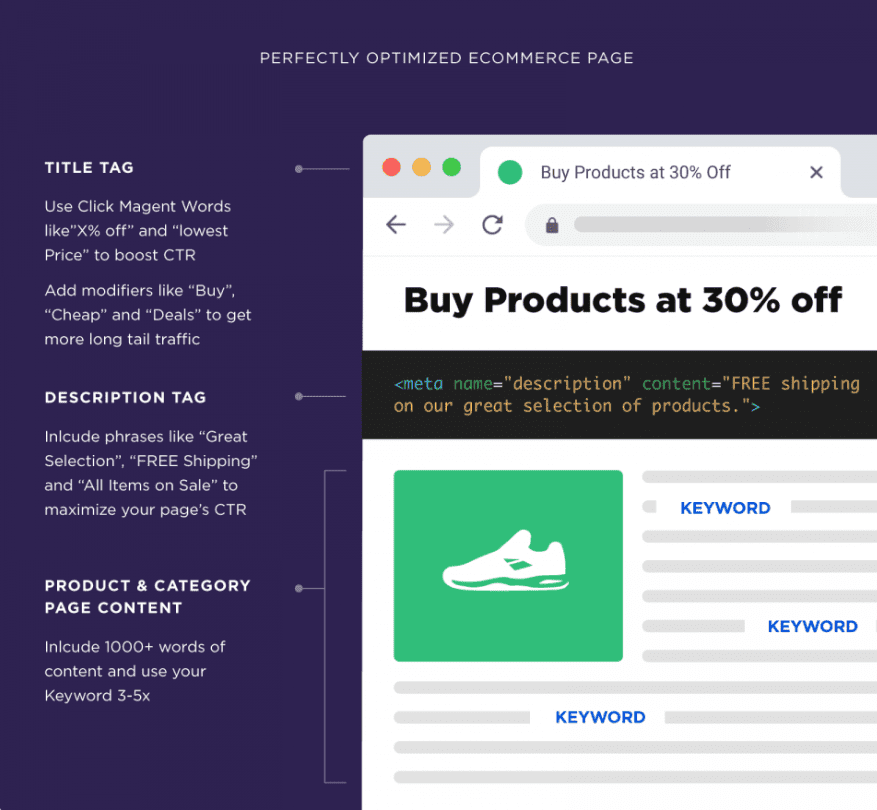 As we can see from the image above, we made these three sections as keyword optimised. The three sections are: Title tag, description tag and product & category page content.
Title Tag:
We added modifiers like "Buy" and "Online" to get more long-tail traffic.
Description Tag:
It is an essential part of on-page eCommerce SEO. In the description tag you have more room to include longer phrases, maximising your pages' CTR.
Product and Category Page Content:
As we know, Google puts slightly more weight on keywords that appear at the top of a webpage. We wrote >1000 words of keyword description, optimising keywords 3-5x.
Technical SEO
eCommerce sites tend to have lots of pages, and these pages can increase the chances of technical SEO issues. Additionally, they don't have backlinks directly for the website. Thus, we regularly conducted technical SEO site audits.
We used SEO tools like SEMRush, Ahrefs, ScreamingFrog and Raven to run technical SEO audits for the eCommerce website of our client.
We fixed various technical SEO problems like too many pages, duplicate content, thin content and site speed to make the website more search engine friendly.
3. Content Marketing and Link Building
The question arises – How do you use content to get higher rankings and more traffic to your eCommerce website? And how link building activities can drive organic traffic towards your website?
We implemented methods like guest posting, infographics and blogger outreach. Let's dive deep to know how these content activities worked beneficially well in terms of eCommerce SEO for our client.
Guest Posting
We created creative and informative guest blog content for some of the reputable sites with the approval of our client. We knew this way it would improve brand awareness and website traffic.
With good response from some of the reputable sites, we became more and more condiment with our content. Guest posting proved for us a long-standing link building technique for our client.
Eventually, we started distinguishing between various authoritative sites and started posting content for them. This way, we increased website traffic for our client.
Infographics
We used infographics to promote the brand image of our client. Well-designed and research-backed infographics worked wonders for our client, taking the content marketing strategy to another level altogether.
Moreover, talking about eCommerce SEO, we need to get the SEO factor function properly as well, so we created infographics (striking the right balance between text and visuals) that were keyword optimised. These infographics we posted on the client's website, off-page SEO content and social media platforms of our client.
High-quality backlinks with infographics for our client improved brand recognition and SEO performance.
Blogger Outreach
We reached out to bloggers and influencers to build strong relationships with them and post our AMAZING content on their site.
Blogger outreach is seeking exposure for a brand, establishing a substantial following and asking them to write about it in exchange for free access to products or services. We tried a similar way of fetching talented blog websites and posting content with high-quality backlinks.
Firstly, we grabbed a list of bloggers and used tools like BuzzSumo to find people who recently shared content about list building. Finally, my team emailed each of them a personalised content a few days before our post went live.
This way, it increased email subscribers and social media followers for our client.
Conclusion!
eCommerce SEO is a vast topic to cover in one blog, but we believe that the experiences shared in this blog would help your business and give you the zest to know more about the strategies. Every company has different goals, competitors, results, performance, etc. so methods would differ from business to business.
With patience and compelling strategies, you can also achieve some great results, improving organic traffic and brand image than ever before. Knowledge, talent and efficiency will help in generating organic traffic for your business website.
If you want our team to work on generating organic traffic for your business, then contact us! Our representative will guide you with the process!