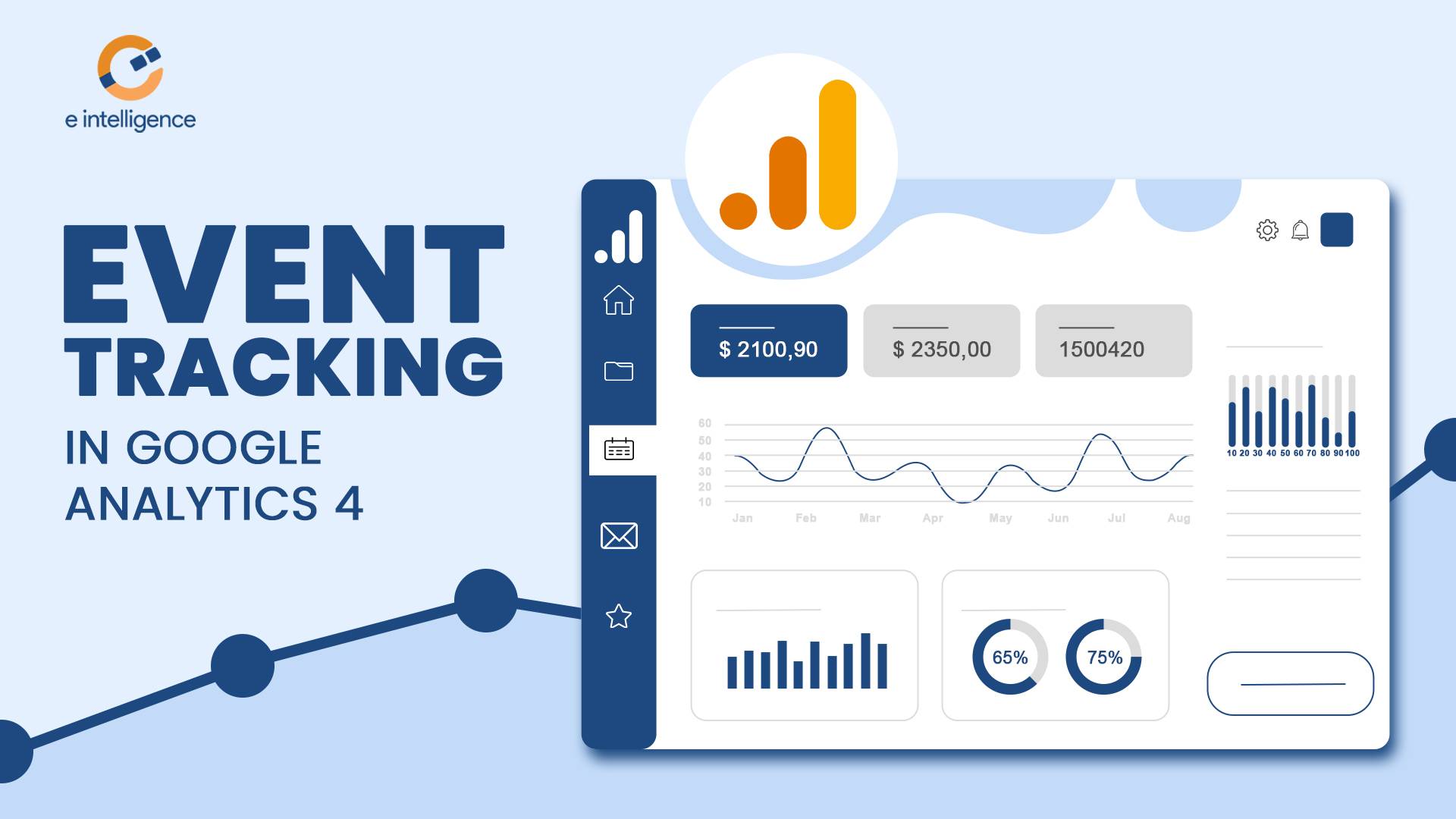 Event Tracking in Google Analytics 4: A Complete Guide for Marketers to Unravel Data Insights
Google Analytics is one of the most popular online analytics tools in the world, used by businesses of all sizes to analyze and monitor website traffic, accurately assess marketing channels, and comprehend key performance indicators (KPIs). 
GA 4 is the most recent version of Google Analytics, released in October 2020. It includes a completely new and more aligned user interface, a highly focused dashboard, and a slew of new features to make it easier than ever for digital marketers and SEO experts to obtain insightful and in-depth analytical results. This has helped them come up with top-notch strategies for SEO optimization for website.
As stated, the new platform comes packed with advanced features, such as AI-powered insights and predictions, that can provide marketers with insights into key changes in audience behavior, such as when demand for certain products suddenly spikes. 
GA4 allows marketers to gain a deeper insight into user interactions on websites and apps by focusing on interactions rather than pages and sessions. Instead of viewing metrics such as bounce rate, GA4 will produce reports showing the number of engaged sessions who actively engage with your products or services offered on your site.
If you are unfamiliar with Google Analytics 4, its features, and what impact it will have on online businesses, it's highly recommended that you hire a leading digital marketing agency or get in touch with e intelligence for our optimized and result-oriented SEO services for your business. Contact us now!
What is Google Analytics 4?
Google Analytics 4 is Google's free web and app tracking software that was officially introduced in October 2020. Set to replace Universal Analytics (UA) starting July 1st, 2023, its data model, user interface, capabilities, and implementation are significantly different from previous GA versions. If you are unsure about GA 4 or how it will impact the marketing scenario for businesses, it's recommended that you get in touch with one of the leading digital marketing agencies for their optimized SEO services now!
GA4 will initially focus on event-based analytics – any actions taken by users on your site – while departing from some metrics based on its old data model, like bounce rate. Instead, Google has introduced engagement rates as an indicator to measure how many visitors come and interact with your site at some level. Furthermore, Google Ads integration will be improved further, enabling tracking of user behavior across devices.
Event tracking in google analytics will only be possible if you start early. Google Analytics 4 will also impose significant changes that will have an impact on digital marketers – specifically, first-party data from sites and apps directly tracked by Google Analytics. This change means any third-party plugins or services currently used for tracking will no longer work with this new version of GA4, affecting how marketers utilize its platform. This is an enormous shift that could dramatically change how many use it.
Before planning your SEO strategies for website with GA4, there are a few points you should keep in mind when moving forward with GA4. First, if you already have an account set up with UA and would like to continue using it temporarily – however, you will need to start configuring sites for GA4 as early as possible in order to populate data on them. Second, as GA4 becomes your sole option on July 1st, 2023, it is vitally important that all your sites and apps be prepared.
If you haven't done so already, we strongly suggest opening a GA4 account and setting it up on your websites and apps as soon as possible. Doing this will prepare your businesses to transition seamlessly when Universal Analytics data stop being collected in mid-2023 and start using Google Analytics 4. We at e intelligence have released an excellent video update about Google Analytics 4, while an in-person training course can also provide more details. To learn more, register here for one.
What is Event Tracking in Google Analytics 4?
Google Analytics (GA4) not only records pageviews and sessions but also tracks user interactions through event tracking. Events tracked can include clicks, form submissions, video plays, and much more, offering valuable insight into users' behavior that can help your website or app provide better experiences to its visitors. Understanding the events in ga4 is crucial to understand why it is essential for digital marketers and why businesses should consider hiring professionals to manage their analytics.
Every time an action occurs on your website, GA4 sends requests containing details of that activity directly to a server – these requests are known as events (formerly "hits") in Universal Analytics – these events can then be grouped and organized into reports to give marketers insight into how visitors engage with content they produce or curate. It is event-based analytics that offers in-depth information about the users, and their online activities and behaviors, which is vital for growing any business online.
Events can be set off by button or link clicks; the page scrolls depth measurements, or even by using Google Tag Manager's prescribed tag within your tracking code or through another tool like it. However, not all events should be seen as equal: before creating events in google analytics 4, it is important to consider whether its data collection will provide any insightful data – for instance, measuring clicks can provide valuable insight while tracking how far down people scroll is less so.
GA4 provides a list of predefined events which can be automatically tracked, such as session start, first visit, and user engagement. To track uncovered actions, create your custom events in GA4. You can do this by logging in and clicking the 'Create New Event' button in the top right-hand corner. This will launch a window where you can set the parameters for this event.
Google Analytics 4 custom events provide marketers with an immense amount of power by being cross-device compatible and supporting cross-device tracking – one of GA4's most advanced aspects. Not only can data from websites such as cash registers or washing machines be tracked this way – creating and setting up custom events provides invaluable marketing skills while helping overcome some limitations inherent in GA4.
What are Events, and How are They Tracked in GA4?
Google Analytics 4 offers an array of event types. Some can be automatically collected when certain user activities take place, while others require enhanced measurement for proper tracking and measurement purposes. You'll find an event based tracking model in GA4 when you start working with this tool.
Unlike previous versions of Google Analytics, Google Tag Manager allows for effortless setup of recommended events without the need for code changes on your site. Read along for the complete list:
Some of the noteworthy Events in Google Analytics 4:
Page Views
GA4 replaces Universal Analytics' multiple hit types with events. Each event can be classified with categories, actions, labels, and timing criteria to provide more granular data collection. Page views have now become an Enhanced Measurement event called page_view, triggered upon page loads or optionally browser history events for Single Page Applications. Before setting up events in ga4, it's wise to review GA4's Pages and Screens report for page_view metrics. Furthermore, its automatic collection, enhanced measurement, and Recommended Events lists should all align with your goals.
Session Stats
Change an event recommended as online_purchase to something other than what it was originally specified (e.g., purchase_getting_started), and your revenue or predictive metrics won't work since these events rely on predefined naming conventions to populate standard reports. Google Analytics 4 event tracking sessions begin when someone visits your website or app and end when they don't interact for 30 minutes (or manually time out the session). Each session can contain numerous events like page or screen views, conversions, and more.
First Visit
Events are user interactions that can be tracked independently from the page or screen load, such as file downloads, link clicks, form submissions, and video plays. They are commonly organized into Categories, Actions, and Labels within Analytics reports. GA4 introduces several new events and modifies existing ones, like the session start event. Furthermore, data is presented differently with users rather than sessions at its center, and an engagement rate metric is introduced as well. Contact an SEO expert at e intelligence to learn more about the first visit and overall even sessions in GA4.
Mobile Ad Clicks
Events allow you to track and report user interactions without modifying code on-site. You can set up custom events or utilize Google's recommended events. Recommended events consist of pre-defined events like the first visit and page view. You may also send parameters along with these recommended events (similar to dimensions in the old GA). These event parameters can you help analyze the performance of digital marketing campaigns. It's crucial to understand all the events in ga4 so as to get the best of this magnificent tool for your online business.
Downloads
GA4 provides file download events (file_download). When users click links containing specific file extensions such as pdf, xlsx, docx, rtf, or zip, these file types can then be sent for processing by GA4. As is readily evident, Google Analytics 4 properties offers far greater event collection capabilities than Universal Analytics did, which is one of the main benefits of switching to GA4. You can learn more about Internal click tracking, download event, and other essential features of Google Analytics 4 by getting in touch with e intelligence, your reliable digital marketing partner in business.
Site Search
Site search data can be more difficult to interpret than other events in GA4, yet it is one of the most essential sources of insight you'll get from GA4. Enhanced Measurement should automatically collect all of the data needed to create these reports; however, if your website uses forms with query parameters or doesn't conform to traditional URL structures, additional events may need to be added manually.
Ensure that your event's name matches one from Google's list to ensure data is correctly sent to GA4. This will ensure your data reaches GA4.
Video Engagement
Video engagement refers to the number of times viewers watch a portion of a video and can help determine its effectiveness as well as your call-to-actions within videos. For instance, if a call-to-action placed at the end of a two-minute video isn't clear or compelling, viewers may not take action after watching. Offering valuable and original content is key to increasing video engagement. Sprout's Premium Analytics tools enable tracking organic video engagement metrics like view conversion rates so you can understand how your videos perform on social media platforms.
GA4 requires some patience as you adjust to its changes, but the rewards for doing so can be significant – improving marketing performance while giving more insight into user behavior on websites and apps. Understanding the event-based analytics in GA4 will help you develop the best-suited  SEO strategies for website that will fetch you desired results effectively. To learn more about GA4 and how it can help you grow your business online, contact an SEO expert at e intelligence now! We are here to help you redefine your online presence with proven online marketing strategies and techniques.
How is Google Analytics 4 Different From Universal Analytics?
Replacing Universal Analytics, GA4 emphasizes privacy-first tracking, improved predictive insights, and more granular data controls to meet evolving user needs and data regulations like GDPR and CCPA. Google Analytics 4 event tracking provides more accurate visitor data, enabling marketers to observe key user trends such as device types, locations, and times of day. Furthermore, GA4 features advanced reporting that lets you filter data based on devices and operating systems, enabling you to optimize and target marketing campaigns with messages tailored more precisely toward their audiences.
Read along to learn some key differences between GA4 and UA: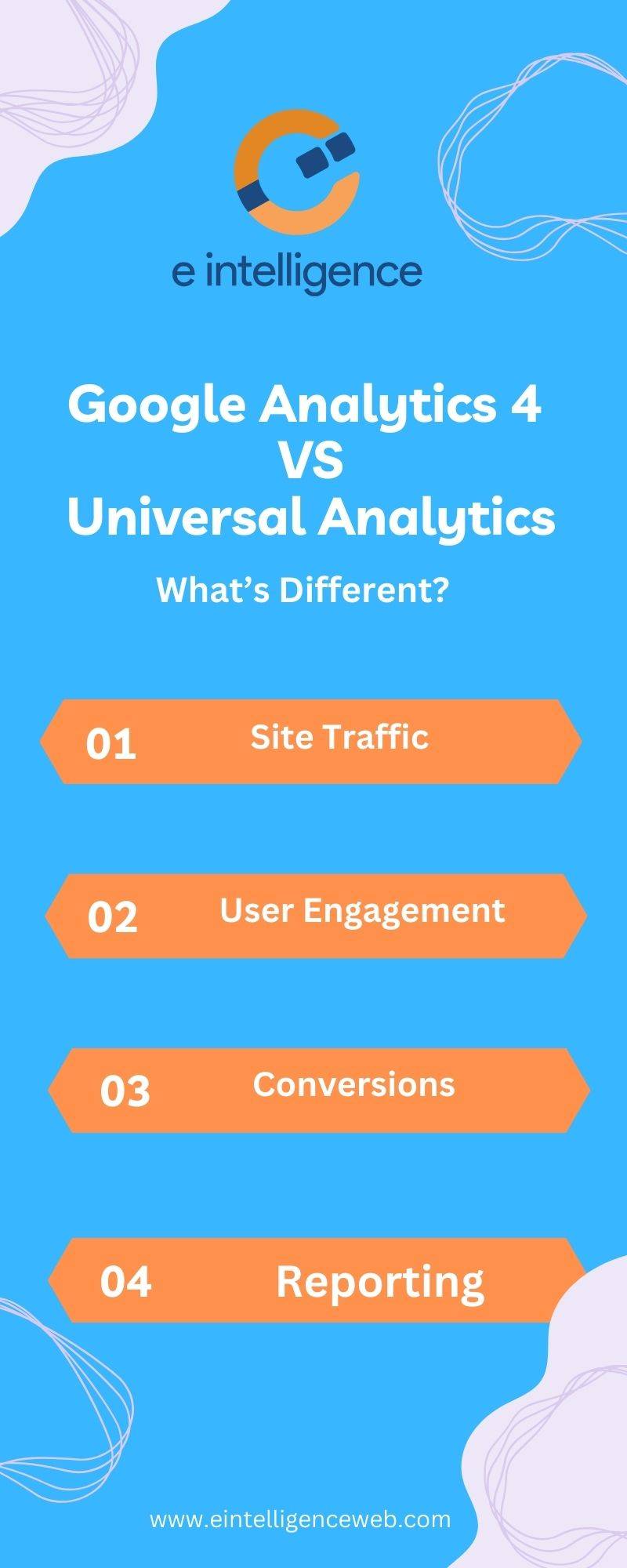 Site Traffic
One of the key differences between GA4 and UA is their respective methods for tracking website traffic: one tracks sessions and pageviews, while GA4 tracks user interactions through events. As a result, your reports might look different than when using UA unless you set up specific filters to bridge these two systems together.m Understanding how event tracking in Google Analytics 4 works and how it differs from UA will enable you to focus on specific metrics and detect any discrepancies that may exist. It may take a while to get a hold of GA4, but with enough practice, you can easily ace its operations.
User Engagement
User Engagement (UE) is a new metric in Google Analytics (GA4) that replaces sessions and pages per session, offering more accurate measurements of how users engage with your content than just looking at pageviews or sessions alone. Engagement in GA4 can be measured by adding together events to their total duration in seconds – giving an idea of the quality and how engaged users are with content. The bounce rate remains but has been replaced with an engagement rate metric, which measures the percentage of engaged sessions over the total number of sessions in any time period.
Conversions
GA4 differs from UA in several key ways when it comes to conversions. First, its platform has moved away from a "hits-based model" toward an event-based one to better align with how apps function and provide a unifying view of data across web and app properties. GA4 has also improved how it manages conversions and attribution models. Where previously they relied on hits for calculations of contributors on conversion paths, now with the presence of machine learning algorithms and employing the best-suited SEO optimization for website, you can determine conversion credits more accurately.
Reporting
GA4 may present some limitations and require you to update your conversion tracking code, but its short-term pain will pay dividends in terms of deeper and more insightful reports. Furthermore, GA4's intuitive search function makes getting answers to specific questions much simpler. GA4 uses an alternative data model to that used by UA, moving away from sessions and pageviews towards events, making the reporting process more efficient and time-saving as compared to the earlier versions of GA. It also made it possible to create custom reports and analyze data in ways not possible before.
How is the Google Analytics Reporting Dashboard Different?
Google Analytics offers an abundance of reports, but they may be difficult to navigate and comprehend. A dashboard is one way to make this information easier to process. Unlike earlier versions, the Google Analytics reporting dashboard offers a high-level overview of data. It displays your information visually so that it's easier for you to spot trends and KPIs quickly. This helps digital marketers develop the most competitive SEO strategies for website, thereby fetching some of the remarkable results for their clients worldwide.
Google Analytics comes with an effective dashboard that can also assist in making informed decisions about how to enhance your website. It provides insight into which channels are driving visitors, the pages visitors spend the most time on, and goals or conversions that haven't been reached so that marketing campaigns can be tracked more closely. Google Analytics reporting dashboards contain the following main sections for reporting: Acquisition, Behavior, Audience, and Conversions. Each of these covers an array of reports that cover various aspects of web analytics.
Google Analytics Acquisition section of their reporting dashboard addresses how users locate your website. It contains a graph and pie chart which illustrates the number of visits received from various sources (search engines, social media platforms, etc) each month. By clicking each source, you can gain more detailed reports for that source. Under the Behavior tab, you can view a list of top-performing keywords which are driving visitors to your website. This data can prove invaluable when planning out SEO optimization for website.
Under the Audience tab, you will find various reports detailing the characteristics of your site users, such as demographics, languages spoken and locations visited, device usage data, etc. Google Analytics reporting dashboard's Conversions section shows how your website is doing in terms of lead or sale generation. It includes a pie chart illustrating conversion percentage by channel and a table with goal completions by destination. Goal Flow, one of the main areas to focus on in a Google Analytics reporting dashboard, provides a visualization of user conversion paths across your entire website.
Dashboards are an excellent way to share GA data with team members and clients, whether you construct one from scratch or use pre-built themes. Reach out to e intelligence to learn more about Google Analytics 4 and how to use its dashboard at its best to get the best results for all your online marketing efforts. We are the leading digital marketing agency known for our highly optimized SEO services. Contact us now!
How Does Google Analytics Event Tracking Work?
Google Analytics makes it possible to track almost everything on your website – from page clicks to form submissions – known as events, which are extremely powerful tools for helping you understand how well your site is performing and where improvements need to be made. But how exactly does event tracking work, and what are best practices when setting up events in ga4 and using them efficiently? Hiring a leading digital marketing agency for your business is highly recommended, given this massive shift from Universal Analytics to Google Analytics 4. Contact e intelligence now to learn more!
Google Analytics 4 revolutionized how events function, providing more options and flexibility – but it can also create a bit of confusion. Let's understand them better: An event is a syntax code sent from your website when a tracked action takes place on it, whether manually created with a custom code snippet or automatically by Google Tag Manager. A Google Analytics 4 custom event has four parameters that define its structure – category, action label, and value, respectively. These parameters determine what information will be sent back into Google Analytics reports that show up.
Your events allow you to keep tabs on virtually every action imaginable; however, it is wise to remember that certain actions may prove more useful than others. To get the most from events and to ensure maximum value is gained from them, it is advisable to carefully choose which types of actions and insights they provide for your business – otherwise, they risk becoming useless data sources that clog up storage. Step one in creating an event is selecting a category – this refers to the collective of objects being tracked. Choose something meaningful and descriptive that is easily understandable.
When creating events in Google Analytics 4 on your own, it is crucial to follow Google's recommended naming convention and guidelines to keep reporting simple and logical. Any future alterations won't affect historical data. Once your events have been created, Google Analytics provides an ideal place for you to review them: the behavior> Events > Top Events report will give a high-level view of all of the most crucial Event metrics on your site. Connect with us to learn more about how the event based tracking model in GA4 works!
GA4 makes conversion tracking on both websites and apps simpler by enabling you to create events representing specific actions (add to cart or purchase), which will then be turned into conversions in the reporting screen. This allows you to more accurately gauge the success of marketing initiatives and increase the efficiency of paid advertising campaigns. If you are unsure how to set up your Google Analytics 4 account or start using it most effectively, it's highly recommended that you hire e intelligence for our proven and well-defined SEO services for your business. Call us now!
How to create a custom event in GA4
As many of us transition to Google Analytics 4, we are exploring ways to gain a deeper insight into the visitor conversion journey. Creating events in google analytics 4 is an integral component of Google Analytics but can be more complicated than simply adding tags. It's vital to understand and learn how to create custom events in GA4 using Google Tag Manager (GTM). GTM allows users to keep tabs on events via tags. Once you understand the basic workings of GTM and have experience using its user interface (UI), creating your events should be easy.
Start by opening your GTM account's Tags section, clicking on the "New" button, and choosing to create a GA4 event. In the subsequent window that appears, please enter a name for your custom event (this won't show up in GA4 but will help identify it when working with reports in the future). It may be beneficial to take Google's recommended names as they offer a uniform naming convention which makes tracking events much simpler. After creating the name of your event, select the GA4 configuration tag, which will be used to record and report it. 
Next, you must enter your measurement ID, which is unique for each property in GA4. Finally, you must add an event trigger that tells GA4 when your event is ready to be tracked – typically, this involves clicking an element such as a button; but any type of trigger suitable to your site would work just as well. Once your trigger and event have been configured, it's time to test their new tracking. Realtime reports or the debugging feature in GA4 allow for this, and once an event has been triggered and recorded, you can verify its functionality by viewing its Event Table.
If the results you expected were different than anticipated, adjusting event parameters or creating a different version of your custom event could be necessary. To do this, familiarity with GA4 event parameters will help; reach out to e intelligence to get the professional support you need to set up your GA4 account and create your custom event for your campaign. Businesses now are rapidly making themselves well-versed in Google Analytics as acing this tool is the only way they can survive in this ever-growing competitive landscape.
Conclusion
Google Analytics 4 makes it easier than ever for businesses to track client behavior and enhance user experience, meeting clients' needs more effectively. Offering Life Cycle Collection and user collection capabilities, GA4 gives digital marketers an in-depth view of customers and their journey with you. This helps them create some of the best-suited SEO strategies for website and businesses.
Google's AI is powering GA4 to automatically deliver helpful insights and predictions, such as alerting you of new customer acquisition opportunities by recognizing which of your existing customers may be ready for another purchase and the revenue your business could earn from certain groups via predictive metrics. Such intelligence is valuable for all types of businesses but especially e-commerce enterprises.
GA4 differs from Universal Analytics by employing an event-based measurement model that does not break user activity into separate sessions, providing detailed metrics without compromising privacy, and helping companies to reduce user drop-off, increase product page clickthroughs, and shorten internal analysis time.
Acclimatizing your new analytics platform may take some time, but you must make this change as soon as possible. Switching from Universal Analytics to GA4 will enable you to explore the endless possibilities for your business online. Contact e intelligence to know how GA4 can be used strategically and fetch desired results for your business!