SEO Resolution 2020: Time to Boost Your Organic Traffic
At the starting of 2020, many of you might have taken the New Year resolution to boost organic traffic on your business pages and rank for keywords that drive traffic and revenue.
We all know that linking the main website to your money page is a different ballgame.  While for e-commerce, landing pages, review pages, and brick & mortar pages, the task becomes even more difficult.
Are you searching for a solution?
The easy solution is to use the many benefits of subdomains and come up with a repeatable and scalable SEO strategy that will help you to rank on the initial web page of Google. It's high time that you brush some of your basics to boost your Google rankings in 2020.
We bring you a simple yet powerful SEO strategy to pull up your SEO game for 2020. All you need is to develop a highly informational post to generate high-quality links to your money pages (i.e., product pages, landing pages, etc.)
Let's drill down a bit more!
Search engine optimization (SEO) is based on two things:
Content: It helps in bringing context to your pages.
Links: It's a process of getting other websites to link back to your desired web page. Links act as a signal to Google stating that your site has a quality resource.
Usually, websites have two types of content:
Information:
Your website will have content that will be intended for providing information or simply for promotion. Informational content should have 'BLOG POSTS' and other engaging content, built solely on the objective of educating your audience.
Informational content like guides and reviews are considered to be authoritative pages since it provides helpful content to their audience and carries relevant solutions to their pain points.
Promotion:
Commercial pages are created to sell a business's products and services, just like E-commerce pages. These are known as money pages since they generate revenue. These pages include landing pages, sales pages, category pages, product pages, etc.
Sadly, these pages show poor performance rates as they bring poor visibility.
Now, the question is how to boost organic traffic and earn high-quality links?
Several websites are waiting to link to your content. To build links to your money pages, you need informative and detailed blog posts (like power pages) to attain potential links to relevant blogs and informational sources.
Providing authoritative information will help in building authority, which is passed on to the money pages in the form of internal links. More internal links will help to rank your page. That's how SEO works!
Are you still confused thinking about how to do this? We take you to a 2-step guide on how to make the most of this 'effective' SEO strategy.
STEP 1:
Figure out which pages bring revenue to your business
You will be having a web page that you want to rank or rather a 'money page' to boost. Start by finding the best pages that have the possibility to drive high traffic and business values.
To make this process easier, opt for a data-tracking tool like Google Analytics, and identify your website's sales and conversions.
If not this, then you can get your Organic Keywords Report by pasting your domain in the site explorer and filter the keywords that rank in the first 5 or 10 positions.
Use the exclude features to filter URLs containing '/blog/' or the subfolder used for the bulk of your informational content. All the keywords obtained have a commercial value and will help drive traffic to your website.
Now that you have all the potential organic keywords in hand, it's time to create a blog post that is – keyword-rich and highly informative.
Take a long walk to get your creative juices flowing before you start writing. Dig in deeper and come up with something that highlights the pain points of your audience. Make it look personalized with a super-friendly tone, HD photos, GIFs, etc.
STEP 2:
Find a relevant blog post to link your revenue pages
After you finish writing your blog post, it's time to select a few relevant pages to fit your internal links. This can be done by using tools like:
Google's 'Site' search
'Best by Links' report
To get your site search, go to your Google tab and search for site: your website.com + the topic of your money page.
Example:
For e-Intelligence, it would look like this: site:eintelligenceweb.com/blog/ + "digital marketing"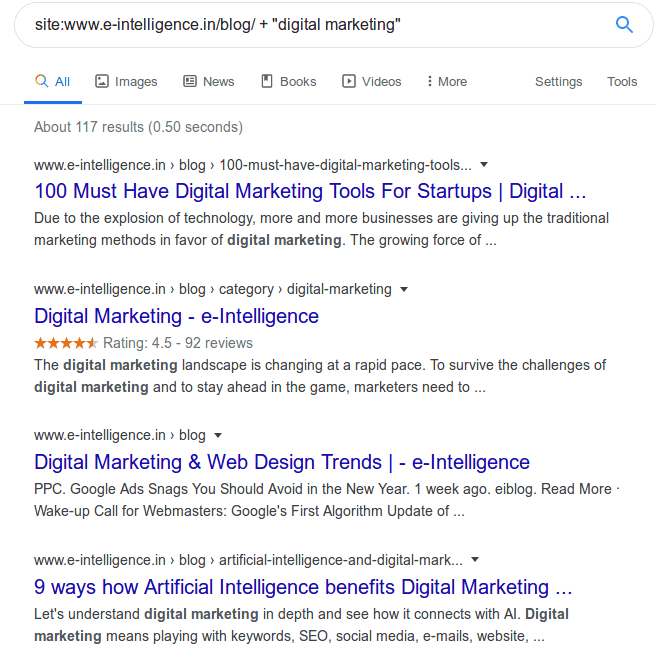 You have a list with the majority of the blog posts carrying the keyword 'digital marketing'. If you are getting only 2-3 webpages, then try changing your keyword phrase to collect multiple blog posts that can fetch you more internal links.
You can also check the domain authority of the published blog post to know the website's ranking on search engine result pages (SERPs). Check out on 'Small Seo Tools' to determine the credibility of the website.
Is it too much to check?
There's another trick for you to prioritize the blogs you need. The best method is to set the number of Google search results per page up to 100 results.
Later, install the Ahrefs toolbar and click on the download button to get your desired results.
The URL Rating (UR) and organic search traffic are one of Ahrefs SEO metrics that shows the strength of your target page's backlink profile. It will give you a clean correlation with Google's ranking and will help to understand the page's link profile strength.
To get your 'Best by Links' report. All you need to do is use Ahrefs site explorer and add your domain or the subfolder to get your report.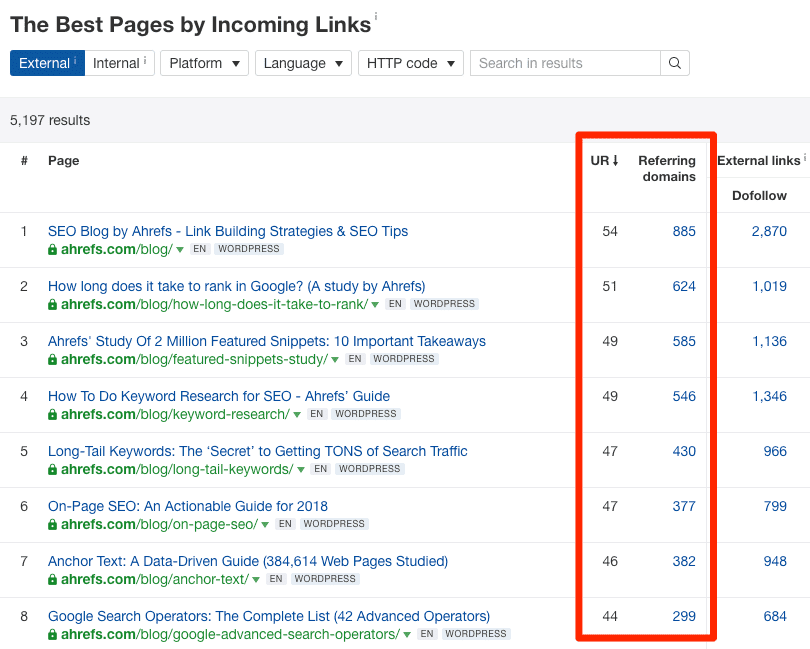 Skim this list to get a curated list of pages ranked from your target by URL rating. Go through the list to get multiple internal linking opportunities.
If you are a budding digital marketer and don't have any relevant pages to add internal links to your money pages, then you may need to search for pages related to your money page. The process is just similar.
Take your existing piece of content and make it more detailed with up-to-date facts and attractive with visuals, figures, videos, etc.
After finishing the task of creating and publishing the article, search for internal links on the Site Explorer, copy-paste the URL, and click on the Backlinks Report. Add filters and analyze the report to determine your pool of prospectus.
Don't forget to ask people to link to the interior pages instead of the original blog post. With this, you have opened the gates for more customers and revenue.
We hope this 2-step SEO strategy will help you to reach out to a broader audience and fetch good organic traffic.
Key takeaways:
It's mandatory to build direct links to your money pages.

Your blog posts will rank for informational keywords to get invaluable traffic to your business page.

This strategy is an excellent SEO medium that boosts your high ranking pages. Period!
The End…
e-Intelligence is known to be the most preferred SEO company in India with a 99% satisfaction rate providing local SEO, National SEO, franchise SEO, E-commerce SEO, mobile SEO, enterprise SEO, Inbound marketing, and a lot more. We believe in using the latest strategies and technologies to bring sustainable business across the world. Contact us to know more about our SEO services!