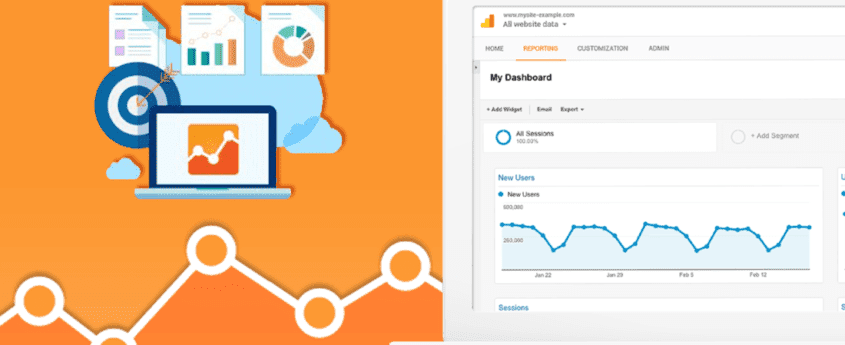 10 Questions You Should Ask Yourself About Google Analytics
Analytics is everything. We live in a digital era. We create and consume data at all times. Data is everywhere. And data is accumulating at an unprecedented rate, than ever before in the history of marketing analytics. In fact, if we go by the recent stats, by 2018, there will be 50,000 GB of data added every second.
That includes both structured data, such as Google Analytics and Search Console data as well as unstructured, such as social media feeds, images, posts, etc.
Successful online marketers do not just create and consume data. They use it to improve their overall digital marketing performance. To guide their important business decisions to achieve the marketing performance goals.
Talking about Google Analytics specifically, it's a wonderful marketing tool that offers a plethora of useful business information about your website, your social media channels, your customers, and your online marketing initiatives. Google Analytics is the most widely used digital marketing tool across the globe. From the local mom 'n pop shops to the multinational conglomerates, everyone is using Google Analytics on an everyday basis. But there are two different things: Having the data from Analytics and implementing the date into useful insights.
The insights marketers attain from Google Analytics are only as good as how they respond to them. It's what you do with the data provided by Analytics that separates the rock star digital marketers from the rest. Just setting up Google Analytics and not create strategies out of the data it provides is meaningless. Just saying "Hmm, I see" to the figures like 45% increase in the website's bounce rate doesn't help the marketer. What's important is what you are going to do about it.
What most marketers fail to do is to use Google Analytics for getting better, faster, stronger and more efficient in delivery of the marketing messages. When using Analytics, marketers constantly need to keep asking themselves some important questions. Here's a process you should follow to make your use of Google Analytics more effective:
1) Develop the purpose of your online marketing campaign
2) Define a question you wish to be answered by Analytics
3) Create a Google Analytics report for your specific question
4) Shape a strategy around that question
5) Measure and manage your results
We have compiled a list of ten vital questions you should be asking yourself about Google Analytics:
Question 1 – What content or page/s resonates the most with my target audience?
All content is not created equal, and neither are all pages. Sometimes, no matter how hard you push it, some content just is destined to fall flat on its face. Therefore, it is crucial to understand which type of content is appreciated the most by your target audience and what is not meeting with their expectations.
For this, you can go to, Behavior > Site Content > All Pages in your Google Analytics. Once here, just focus on the pages that your visitors choose to view rather than the ones that they are forced to view (such as the home page or the search results page, etc.). By default, the results are organized by the most to the least viewed pages. Click on the comparison view. Here you will see the individual pages as against for the average site figures like time spent on a page, exit rate, bounce rate, entrances as well as unique page views.

Now, click on "advanced" to only see the pages or content that matter the most to you, for example, the blog posts. The more specific you are, the more accurate data you will get. The trick is to find the metrics that are the most crucial to you. Once you find this data, you are looking at your content from your visitor's eyes. You can see what your visitors like to see and seem to enjoy on your site. For the content or pages that don't seem to perform well, you can consider either to reduce or remove them. And on the other hand, beef up the content that is found useful by the visitors. The higher the bounce rate, the lower the engagement around the content or page.
Question 2 – Which platform is performing lesser than other platforms?
Your target users are scattered across different devices, platforms and even browsers. And, in this omnipresence requirement age, you cannot afford to ignore any platform. You can use Google Analytics in order to identify whether or not you're meeting expectations of your users across different platforms.

For this, browse to Audience > Technology > Browser & OS. The results you see will be about what browsers and operating systems are most used by your visitors in accessing your content. Here, you should keep an eye on the bounce rate and conversion rate, when comparing between the platforms. The ones with significantly lower conversion rates or very high bounce rates indicate the ineffectiveness or other development related issues, such as CSS rendering problems, etc.
For example, if most of your visitors are using Chrome for accessing your website, but it is not optimized for Chrome, then you will see a high bounce rate and quite a few missed conversion opportunities.
Similarly, go to Audience > Mobile > Overview. Again, check the bounce rate and conversion rate averages. The most important thing to check is whether your website is mobile-friendly or not. If it's not, then you MUST take an action immediately. If your website is not good on mobile, you will lose your customers for good. Also, use the comparison view to have a side-by-side analysis of important performance metrics such as average sessions, bounce rates, and conversions.
The goal is to create the most engaging experiences for your users across platforms. Let the Analytics data guide you. Channel your efforts based on your users' preferences.
Question 3 – What keywords are bringing in the highest traffic and what on-site search keywords are most frequently used?
It's the game of keywords – Digital Marketing. You must be aware of the words and phrases that your target audiences use the most when searching for your business or the products and services you have to offer.
Search engines rule the Internet. They bring in the biggest chunk of the traffic to your website. Search is the most carried out activity by users on the web, even on your website, if you have an internal search engine built in.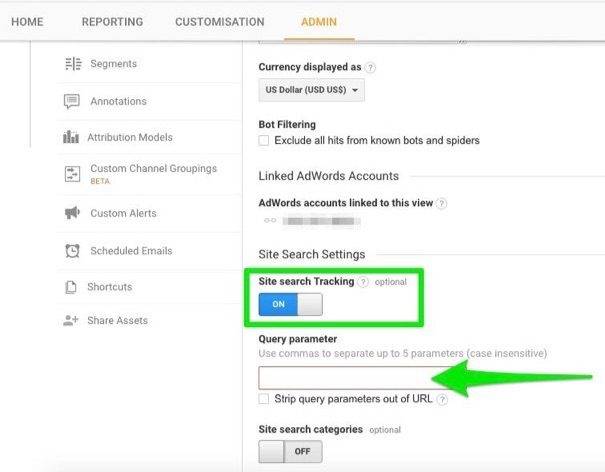 In order to find the keywords widely used by your target users, you would need to enable data sharing between Google Analytics and Google Search Console. In Analytics, you can do this by going to Admin > Property > Settings and then Search Console Settings. You would need to put your website URL listed therein.
As soon as this connection between the two accounts has been established, you can go to Acquisition > Search Console > Queries. This way you can see the most search keywords about your website. Now you need to filter those keywords and phrases that bring the most traffic and conversions.
Other than the keywords that people use to get to your website, you should also look at the keywords they use when they are on your website and carrying out searches. For that, go to Admin > View > Settings > Site Search Tracking. It should be turned on.
From the results you get, what keywords are your visitors using the most on your site. You can go to
Behavior > Site Search. This will give you all the terms, categories, number of sessions, exits and time
spent respectively. If you look at the pages report, you will be able to find out the words with the highest searches. Based on the popularity of these terms, you can shape your future content strategy, in terms of retargeting campaigns.
Question 4 – Which landing page is the most effective in your campaign?
In your different types of website related campaigns online, you design and deploy several landing pages. And landing pages have a tough job to carry. Other than your website's home page, each landing page is the first impression of you to your target audience. They are the entry gate to your main information or content. They are designed in such a way that they are able to convince your visitors to take an action. And therefore, it's important to understand how each of your landing pages is performing.
The idea is to identify the top performing landing pages and optimize them in terms of design and content to achieve superior results.
Here's how you can do this. Go to Behavior > Site Content > Landing Pages. Here you will see pages
organized from highest to lowest sessions. This gives you an instant comparison of the performance of each page. Try to identify the most common mistakes across pages and improve the design and content by eliminating those mistakes. This will help you reduce the bounce rates and increase website conversions.
Question 5 – How do visitors engage with the website's pages?
As an online marketing, it is the most important for you to understand how your visitors prefer to interact with your content and your website pages. And Google Analytics can provide you with all essential insights for this. For this, you would need to install the Page Analytics browser extension for Analytics.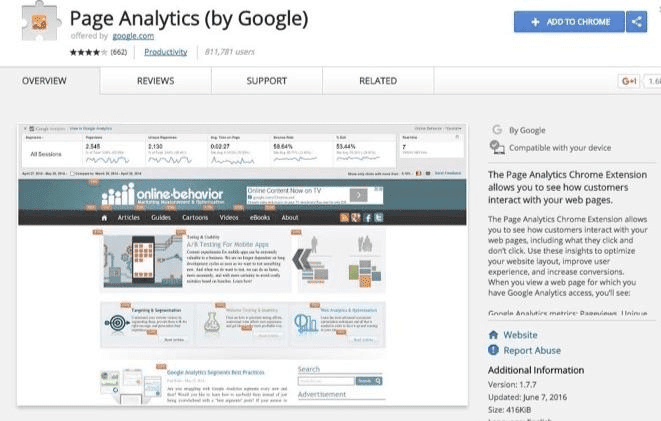 Once you have this extension, you will be able to get insights galore for each of the pages on your site. The tool gives you vital data like bounce rate, exit rate, page views, session durations, visitors per page, and above all in-page click analysis data. Such insights can help you improve the layout and content of each of your site pages to be able to better engage with your target audiences.
Question 6 – What is the typical behavior flow of users on my site?
It's very important to see the journey of your visitors while on your site. Google Analytics provides you with Behavior Flow report which shows you the visual path that your visitor follows throughout your website.
This behavior flow helps you understand the bottlenecks on your website. By highlighting the problem areas on your website, it helps you comprehend how to invest your resources and efforts to improve your design and content.
For this, go to Behavior > Behavior Flow. The report you get is how your users flow from one page to other pages on your site. It shows different paths they take before they take an ultimate action, or leave your site. Unexpected pages show the potential misleading content that may confuse your users. Here, you should focus on simplifying your website navigation structure. And also, work towards improving your website's content.
Carefully scrutinize the users' behaviors from the entry point until the very last exit page. Each journey tells you a unique story. It tells you about how you can enhance your customers' experiences while on your website and improve their interactions with your content.
Question 7 – What are the most popular events on the website?
Event tracking provides you with data on your consumers' behavior on your website. However, event tracking set up is a little trickier in Google Analytics. Once you have it set up, you can see reports that offer insights on how consumers consume content on your site, and interact with different elements across pages, like rate the content, click a button, post a comment, download a file, etc.
You can use event tracking code generator tool to easily set up event tracking on your website. After that, you can see which blog posts are getting the most attention, which products are getting the most views, which files are most downloaded, which forms are most used, which videos are most watched, etc. This data can effectively lead your future marketing strategies. You can shape your future content around these figures and stats. You can work on promoting the video that's popular on your website, elsewhere to get higher visibility and engagement.
Question 8 – Which channels are the most effective in the marketing campaign?
It's a given, but worth restating the fact that in your digital marketing campaign, you must focus only on the channels that bring in the most sales and engagement to you. And while traffic is a good indication of a channel's performance, you should really focus on conversions.
For this, go to Acquisition > All Traffic > Channels. The results you see will be a breakdown of channels by direct, organic search, social media, emails, affiliate websites, referral sources, display ads and search ads. In this list, specifically look for the bounce rates and conversion rates. Identify the underperforming channels. Give the channels that are performing well a better attribution, in terms of time, money and efforts. For the referral sources, check the exact pages through which the users land on your site. Once you have identified the referring sites, reach out to them for affiliation opportunities. Nurture those relationships. Dig deeper into your channel report to find out the best ways to connect, interact and engage with your target audience.
Question 9 – What are the exit points on the website?
Just as important as knowing the different entry pages to your website, it is equally important to see what pages are the most popular exit pages on your site. Google Analytics can help you identify those pages.
For this, go to Behavior > Site Content > Exit Pages. Here carefully review all the pages listed. Do you see any pages that are not supposed to be on this list? In that case, you should identify the loop holes on those pages, fix them and bring them back in the performance cycle. You should examine the content you serve you on each exit page. That will help you recognize the bounce rate. What type of content is boring your audiences? Or what elements on your page are frightening away your users? You can use elements like social media follower counts, customer testimonials, user ratings, reviews, website security seals, etc. to improve the credibility score of your content and page.
Question 10 – What does the typical funnel look like on my website?
Whether you are running direct sales campaigns or content marketing campaign, you should look at the funnel through which your visitors go. For this, go to Conversions > Goals > Funnel Visualization. The results you see will be show how each visitor passed through your established funnel on the website. You can also see what pages are bleeding out the users. But in order to get this report, you first need to set up goals under Admin > View > Goals.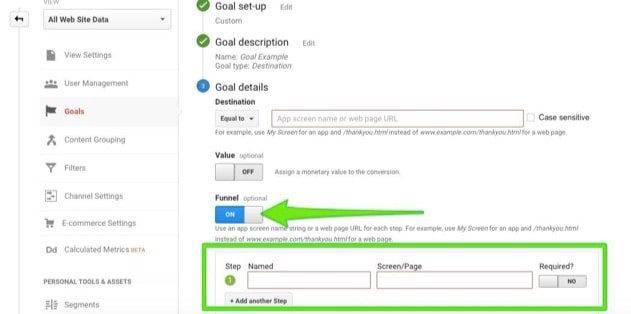 If you see your funnel to be leaking visitors, you would need to fix the issues as soon as possible. This is one report you should be checking the most frequently, if not daily. You must start experimenting with your content and site design to get superior results.
Google Analytics offers you an ocean of data. Some is more important than others. Therefore, it is completely up to you to decide which reports to prioritize. But, don't just stop at collecting such data. More importantly, respond to it with appropriate strategies.
These are the ten most important questions to keep asking yourself repeatedly about Google Analytics. However, this list is not exhaustive. What are the questions you ask? Leave your thoughts below in the comments.