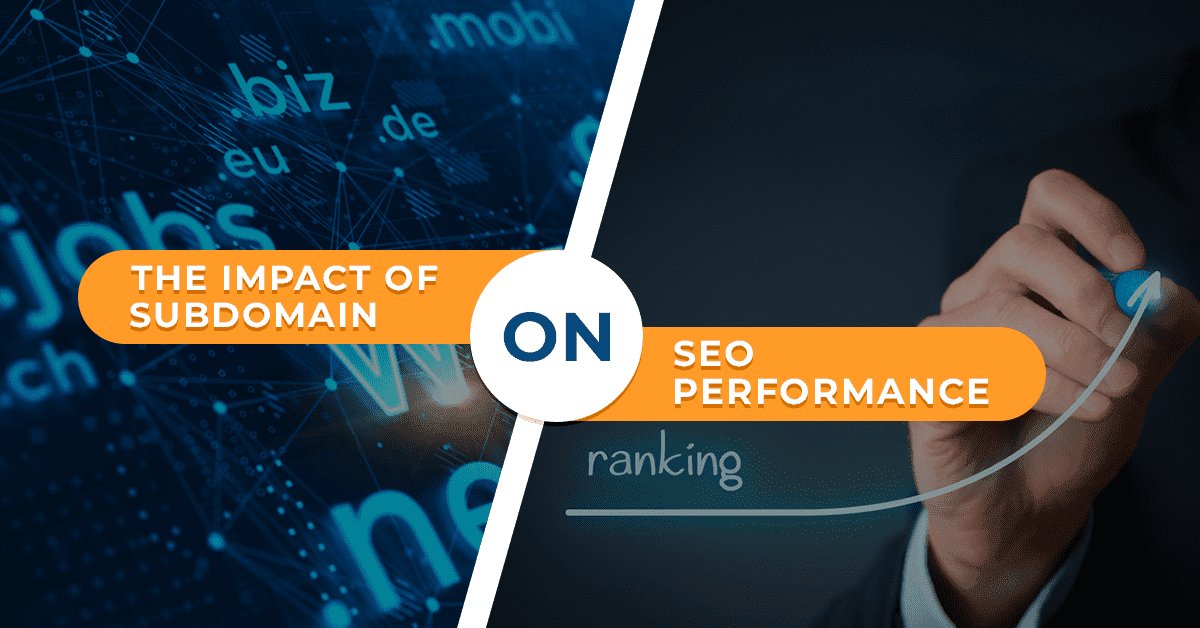 How Does A Subdomain Impact SEO Performance
If you have a website, you may have wondered, "What is a subdomain?". This article will explain the importance of the subdomain and SEO process. If you are not sure, read this article to learn about subdomain SEO and its benefits. It will explain what they are, how they work, and why you should use them. We'll also talk about how to use subdomains for your SEO.
What is a Subdomain?
If you've ever wondered what a subdomain is, you're not alone. Subdomains are part of other domains, like example.com and shop.example.com. In fact, a subdomain is an entirely different territory from the main website, but they still have some similar properties.
Let's say you want to create an online store, for example.com, and you would like to set up a subdomain for SEO. You can use this subdomain for testing different ideas or markets. Adding a subfolder to your primary domain will help make your site easier to navigate. It will also pass more trust from the primary domain.
Before making the final decision, you must consider your goals and purpose for setting up subdomains. It will take time to understand the domain name ecosystem fully. Once you know it, however, it will be worth the wait.
You can create subdomains once you've purchased a domain name. You should develop subdomains at the location where you manage DNS records (usually your hosting company) and store the domain's DNS records. You can find the instructions for creating subdomains on your hosting provider's website.
Once you have your subdomain name, you can continue building the website. The subdomain will be a part of your site's URL, and the domain will be accessible to all visitors.
Subdomains are made up of different activities that support the core domain. For example, an ATM subdomain would contain activities that support money management via debit cards and credit cards. An ATM subdomain would have experts on the machines and how to make them work, as well as security measures.
The subdomains are complex, and it makes sense to specialize in a particular domain to ensure it's optimized. You can also create subdomains that contain similar activities across different domains.
Subdomain and SEO
Whether you're running a traditional brick-and-mortar business or an online ecommerce website, it's crucial to create an engaging website. A well-designed website not only is an excellent place for your customers to find out more about your business but also improves your brand awareness and SEO.
The benefits of subdomains are numerous, but it's essential to use them wisely. Using a subdomain for SEO gives you more flexibility in targeting keywords. For example, a bakery website may want to target niche markets such as coffee beans. This allows them to focus on one specific area without distracting from the main website's purpose. Using a subdomain also gives the site authority in a particular field and can be beneficial for SEO.
Subdomain SEO requires sites to avoid duplicate content and themes. A subdomain works in the same way as a subdirectory. For example, if a person searches for the Grand National, he'll land on the horse racing section of the site. If different departments are working on the same content, they might cause duplicate content. This can lead to a loss of rankings, and you'll have to make sure that your subdomain is unique and optimized.
A subdomain can be an excellent way to target challenging keywords. When done correctly, subdomains can improve the user experience on your site. Remember to avoid keyword stuffing, though! Subdomains should have relevant keywords to target traffic.
A subdomain can be a valuable addition to your website if you have a primary domain with low domain authority. It can increase your website's popularity and reach in a particular industry.

Why should you use a Subdomain?
Using a subdomain is a great way to improve your website's SEO performance. While it may be difficult to distinguish your website from the rest, subdomains can help your SEO performance. In addition to improving user-friendliness, they can also help you rank better in search results. Basically, using a subdomain can make your website more searchable and more appealing to visitors.
When using subdomains, you should know that Google treats them like separate entities. Some sites place content on subdomains and let others control them. This makes subdomains a good choice if you want to boost user-friendliness or user-generated content. However, Google does not support factoring subdomain content in the main domain's ranking. It will rank the main website for the content on the root domain.
Another benefit of using subdomain SEO is that it allows you to insert specific keywords into your domain. Subdomains can help you with SEO performance, especially when you're targeting challenging keywords. However, they can also make your site more confusing to users and can lower your domain authority. Therefore, you should always consider the goals of your subdomain and SEO before making the switch.
Although it may be tempting to avoid using subdomains for SEO performance, there are a number of advantages to subdomains. For instance, a subdomain may be a better choice if your site consists of many different themes. You should integrate a subdomain with your primary website for optimal SEO performance. Otherwise, the subdomain will have no impact on your main site's ranking in search engines.
Read on if you're wondering how to use subdomains for SEO performance.
How to use Subdomains for SEO?
Subdomains are a great way to target keywords that don't naturally fit within your main site. However, you should not use subdomains for keyword stuffing. You should only place relevant keywords that will help your site attract qualified organic traffic.
A subdomain can give your website structure and organization. This is particularly useful for small websites with little variation in content. Additionally, it can improve user experience. Having a lower domain authority can negatively impact your ranking. You can also use subdomains to appeal to niche markets.
Another way to use subdomains is to separate a section of your website. You can separate this from other content to insert keywords that Google will more easily recognize. While subdomains can help your site rank higher in Google, they can also cause problems. If you're looking for an isolated subdomain, you'll need to be aware of Google's guidelines to get it right.
Regardless of how subdomains work, it's important to consider the benefits and disadvantages of subdomains. In general, subdomains are a win for SEO performance because they separate diverse content. Google's spokesman Matt Cutts has said that subdomains and subdirectories are "roughly equivalent," but you'll have to choose the strategy that works for you.
If you're unsure about how to use subdomains for SEO, get in touch with our expert team.
Why Subdomain Is Helpful
Subdomains are useful for spreading SEO efforts across multiple websites, but they're not without drawbacks. For starters, they make internal linking and crawling harder. Even if they do benefit SEO, they require a lot of work and time to set up and maintain. Moreover, they count as separate websites for most purposes and may require extra subscriptions and tools. Still, they can be an effective way to boost your SEO efforts.
SEO and keywords go hand in hand. A subdomain is a great way to include relevant keywords for your website. Although it might seem obvious, subdomains enable you to target specific keywords that are not easily found with the main domain name. This, in turn, improves your SEO rankings. Also, you can target a particular niche market with subdomains. However, don't overdo it. Stick to relevant keywords and focus on quality traffic.
Subdomains require a completely different SEO strategy. The same strategies and tactics may work for your main website, but subdomains are like starting over with a new backpack. Nonetheless, a subdomain can be useful if you're concerned about getting penalized by Google. While it won't give your primary URL an SEO boost, it can improve user experience. It will also split your analytics between the two sites, which will cause a divot effect.
Another key benefit of subdomains is that they can increase domain authority. Search engines place a lot of weight on links that point to your website, and a subdomain helps your site build more links. Google considers these links as internal links, which are not external. This means that when visitors come to your website, they'll be more likely to trust it – and your domain authority will grow with it.
How Does A Subdomain Impact SEO Performance?
If you are wondering how a subdomain can affect the SEO performance of your website, here are some reasons. These include negative and positive effects, monitoring, and uncertainty. Let's take a look at each of these factors.
In general, the adverse effects of subdomain use will be minimal compared to the positive. Therefore, focusing on content audit and mobile optimization will be better. But before doing that, be sure to check out the pros and cons of subdomains and decide whether they're worth using for your website. Ultimately, it's all about what you want to achieve.
The Positive Aspects
Firstly, Google treats subdomains as separate entities rather than paths within a domain. As a result, Google doesn't consider subdomain content in ranking the main domain, which can make the task harder. However, when treated as full-fledged websites, subdomains can have a positive impact on SEO performance, as they can rank alongside the main domain, bringing in more traffic.
Another way subdomains can benefit SEO performance is by providing a different experience to users. By creating a separate subdomain for each topic, a site can provide a richer user experience for visitors, which improves the overall website's performance. Subdomains are also a much cheaper option than multilingual websites, which require multiple domains. In addition to improving the user experience, subdomains can boost SEO rankings.
A subdomain is a great way to create unique authority within a domain and can boost the overall SEO performance of a website. For example, if the main website focuses on baking products, a subdomain will focus on coffee beans and other niches. The subdomain can also target specific keywords and create unique authority. Therefore, consider creating a subdomain for SEO if you have a niche-specific product or service.
Subdomains are useful for creating separate web pages for different regions or countries. They can also be useful for websites with varying design elements and large amounts of content. For example, if your website has a blog and English-language content, you can create subdomains for each region to improve the user experience. Subdomains will be much cheaper than multilingual sites if you have many different languages on your site.
The Negative Aspects
If you are looking to increase your search engine ranking, you might be wondering if subdomains are bad for SEO. Although they can be helpful for ranking in niche markets and building authority, subdomains can also hurt your search engine ranking.
In the wake of the recent controversy over the positive impact of a subdomain on SEO performance, Moz has begun looking at data on the subject. The company has published case studies, conducted analyses, and distilled its findings in a video on its Whiteboard Friday series. The results show that structuring a site with subdomains can be a risky move because it separates a substantial portion of a site's keywords and weakens the impact of backlinks, which consistently funnel to the main domain.
There are many reasons why a subdomain is helpful for some companies, but if the main domain is not well-designed, it can harm your SEO. So it isn't the best way to increase SEO performance. A subdomain should help you support your main domain site with additional features or products. If it doesn't, it will likely result in a high bounce rate and a poor user experience, which will have little benefit. However, if the subdomain and SEO are appropriately managed, it can boost your primary site's rankings.
While you should make use of a subdomain for your blog, you shouldn't make it your primary site's homepage. That's because a subdomain's posts will be viewed as external links. Although this may seem like a good thing, it's unlikely to be a beneficial factor in search engine optimization. A subdomain's content can boost its own ranking, but it won't be as powerful as your main site's.
Another downside of using a subdomain for SEO is that the main domain doesn't see them as separate entities. This makes it more difficult to get ranked for your main domain. When treated as full-fledged websites, subdomains can be beneficial for your SEO. In addition to bringing more traffic to your main site, subdomains can boost your overall ranking and SEO performance.
Subdomains may be a good option for SEO purposes, but they require a dedicated person to maintain them. A subdomain may need additional tools or subscriptions to boost its SEO performance. Subdomains will not automatically inherit domain authority from the primary domain, so you may need to invest in extra tools or subscriptions. Moreover, subdomains typically count as separate websites in the eyes of search engines.
If you're concerned that subdomain use might harm your SEO performance, try a subdomain first before deciding to use it.
The Uncertainty
The inevitable question that arises is whether or not the existence of a subdomain for SEO will affect its ranking on Google. In Google's core algorithm update, internal linking plays an important role, and links within subdomains can improve this. However, some SEO experts think that subdomains have a downside and will hurt a website's search engine optimization performance. Moz, the leading SEO firm, has already made a statement to this effect.
One of the most significant benefits of subdomains is that they allow the use of keywords that are difficult to rank for in the main domain. In addition, because the main domain is linked to the subdomain, its authority will increase and contribute to the overall website's SEO performance. However, subdomains will not add to the authority of the main domain. On the other hand, a subdirectory's keywords are linked to the main domain, which may give them added credibility.
Another benefit of a subdomain is that it provides a better user experience. People do not want to sift through hundreds of pages to find the needed information. Subdomains are also useful for smaller websites with limited content variety. As a website owner, it's essential to follow best practices and learn about the latest SEO strategies.
Go through our blog for subdomain use and SEO guidance to get the most out of your website.
Constant Monitoring Is Essential
While subdomains are not ideal for SEO, they can have real, tangible benefits for your website.
When it comes to SEO, you might wonder how to monitor how subdomain use impacts your performance. If done correctly, subdomains can help your keyword rankings by delivering value to users. Whether you have a general website or a niche site, subdomains can be helpful in countering negative SEO. Here are some tips to keep in mind:
Use subdomains to improve the organization of your site. People don't want to scroll through dozens of pages just to find one answer. If your website is in more than one language, you might want to create a subdomain for SEO ease. That way, Google will focus on the correct language, ensuring that your visitors have a better experience.

Using keywords in your URL is essential for good SEO. Using relevant keywords will help potential clients find your website. However, business names don't always match their products and services. A subdomain URL allows you to include the keywords that your target customers will be searching for and improves your SEO performance. It is also a better way to keep track of your website's ranking in search results. It is important to remember that keywords are not the only thing that will affect your SEO performance, but they can make or break a website's success.

Another important thing to remember is that subdomains and subdirectories are separate entities, but Google doesn't see them as two separate entities. As such, if you're using multiple domains for your website, it's important to update all the records for each one. The update may take up to 24 hours. As long as you make sure to update the records, you'll see a dramatic boost in traffic and organic visibility for your main domain.
Last Words
In this article, we explained the importance of subdomains, why to use a subdomain, and how to optimize them for search engine results. Once you've decided to create a subdomain, make sure to keep these points in mind for better results.
While setting up a subdomain SEO to increase website traffic may be tempting, it's important to note that the risks sometimes outweigh the benefits of using subdomains. If you're concerned about the SEO benefits of subdomains, you can consult our expert SEO Agency in India to create a custom strategy for your website. This will increase traffic, improve website performance, and boost conversions, all of which will benefit your online business.