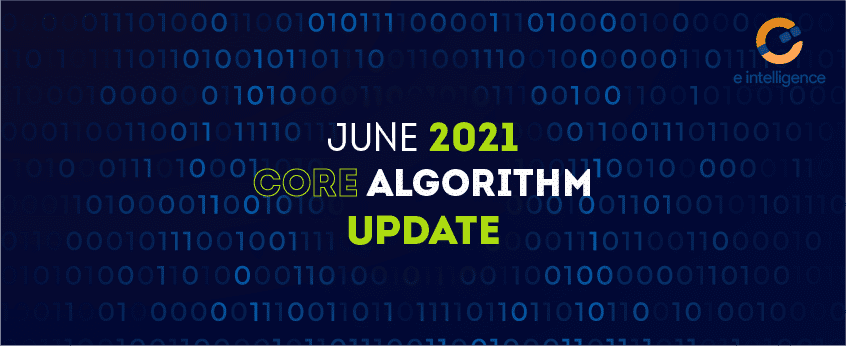 June Core Algorithm 2021: Google's Big Core Update for the Year!
Google has finally released another big core update which is named Google June 2021 core update. They release new updates several times a year. Their last core update was released in December 2020.
The two major updates
The update started rolling out on June 2, 2021, when SEO masters enjoyed their relaxing evening.  Google dropped the bombshell with a core algorithm update – June Core Algorithm 2021, followed by another update in July. Having two updates in two consecutive months is a new subject for SEOs.
Initially, these two updates were meant to be one, but somehow a few elements were not prepared in time, so search giant has decided to move ahead with what is ready, and the rest will be released next month.
Why does Google release updates?
Google mentioned in their recent blog that search gets billions of queries each day in 150 languages from different countries around the world. Their automated systems find the most relevant information from hundreds of billions of pages to aid people in finding what they're looking for.
The key goal behind updates like these is that Google becomes better at assessing content and determining what content serves the best information to searchers' queries.
They believe that many different systems are needed for delivering excellent results at this type of scale and intricacy. They also revealed that they are always looking for effective ways to improve displayed results.
What to expect with June core algorithm 2021?
The most notable thing about this year's algorithm update is that it might bring an increase and drop in ranking in terms of statistics and numbers (particularly when the release completes two weeks).
Google advised not to panic if the June 2021 core update impacts you. It is possible that with the July 2021 core update, the impact can reverse itself.
Google has also informed that typically most websites won't see the updates, but SEOs who handle many sites will likely notice many changes in the Google search results.  Also, this update will be a worldwide rollout, impacting all languages.
What can we do?
The next question that will pop into your mind is – what to do if you are hit. Well, you are not alone who is seeking help for this. There are no specific actions to take to recover from this. A negative ranking impact may not indicate anything is wrong with your pages. Google has suggested what to consider if a major update negatively impacts your website in the past.
Not to panic: During the initial days after the algorithm update, you may notice significant fluctuations. If you see a sudden decrease in traffic or a sudden fall in ranking, do not panic. Just try to make a plan for your next steps to improve your content.
This is not just for you: Google states that these core updates don't target any specific websites or web pages. Instead, the updates are about enhancing how our systems evaluate content overall from millions of websites. These updates may help some web pages which were earlier under-rewarded to do better.
Practice good SEO: Check your SEO knowledge and use best practices such as a mobile-friendly website, accurate page title, loading time & speed, Alt-tag for images to make your site easily searchable and accessible.
In the early days of the June core algorithm 2021, Google has not specifically disclosed who will be the Winners or Losers in terms of statistics and numbers. But within two weeks of its integration, it would be clear for managers and users.
Google informed that as the web changes and new websites emerge, constant updates are keys to ensuring we support a range of publishers, businesses, and creators while delivering online searchers the best information available within our index.
So, Google is always coming up with new updates. Google revealed that it might roll out dozens of updates that are meant to improve search results in any given week. The company cannot share details about all of the updates in the future. But they will announce updates when released, just like how they announced June core algorithm 2021.
Whenever Google rolls out a new update, it means that your website can do better or worse in the search results. As we know, Google will keep on releasing core ranking updates; SEO managers need to keep an eye on your analytics and rankings.
In a Nutshell
The next two months are crucial for SEOs, with the core vitals update and the long-awaited Page Experience update likely to roll out in just a few weeks.
Lastly, we want to suggest you that after noticing the fall in ranking, jumping to conclusions or making drastic modifications is not the solution. Though Google says sites should not necessarily notice the impact of the broad core update, it's vital to stay positive if you do notice a change in the rankings.